Michael Foust
| ChristianHeadlines.com Contributor
| Monday, June 1, 2020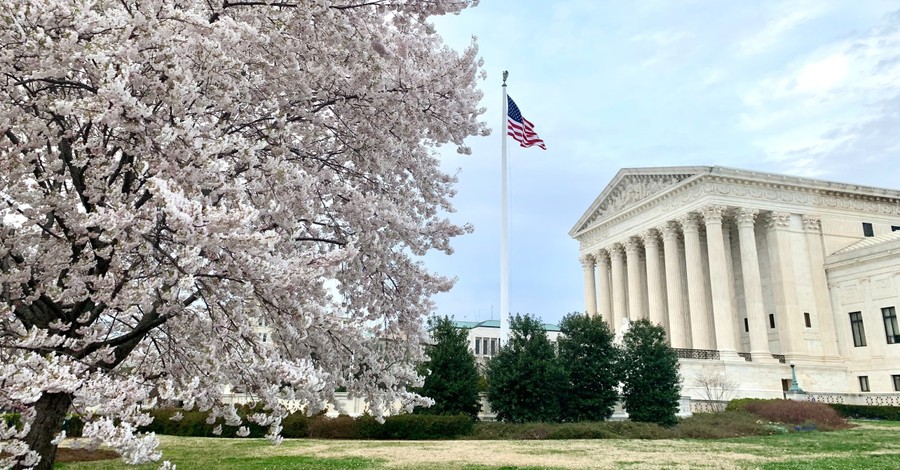 The U.S. Supreme Court declined on Friday to intervene in the legal battle over state restrictions of churches during the pandemic, disappointing religious leaders and activists who believed the body's conservative bloc might side with houses of worship.
The justices, in a 5-4 ruling, turned down a request by a California congregation to issue an injunction against Gov. Gavin Newsom's order limiting houses of worship to 25 percent capacity or 100 individuals, whichever is lower.
The congregation, South Bay Pentecostal Church, a Chula Vista, Calif., asserted it could meet safely while practicing social distancing and following health guidelines – just as stores and businesses are permitted by the state to do. Thomas More Society represented the congregation.
Chief Justice John Roberts, who joined the court's liberal bloc in denying the injunction request, rejected the comparison between churches and businesses. California's restrictions, he wrote in his own concurring opinion, "appear consistent with the Free Exercise Clause of the First Amendment."
"Similar or more severe restrictions apply to comparable secular gatherings, including lectures, concerts, movie showings, spectator sports, and theatrical performances, where large groups of people gather in close proximity for extended periods of time," Roberts wrote. "And the Order exempts or treats more leniently only dissimilar activities, such as operating grocery stores, banks, and laundromats, in which people neither congregate in large groups nor remain in close proximity for extended periods."
The "precise question of when restrictions" should be lifted "is a dynamic and fact-intensive matter subject to reasonable disagreement," Roberts wrote.
"Our Constitution principally entrusts '[t]he safety and the health of the people' to the politically accountable officials of the States 'to guard and protect,'" Roberts wrote. "... When those officials 'undertake to act in areas fraught with medical and scientific uncertainties,' their latitude 'must be especially broad.' Where those broad limits are not exceeded, they should not be subject to second-guessing by an 'unelected federal judiciary,' which lacks the background, competence, and expertise to assess public health and is not accountable to the people."
The court said Justices Clarence Thomas, Samuel Alito, Neil Gorsuch and Brett Kavanaugh would have granted the injunction. Kavanaugh wrote a dissenting opinion that was joined by Thomas and Gorsuch.
"The basic constitutional problem is that comparable secular businesses are not subject to a 25 percent occupancy cap, including factories, offices, supermarkets, restaurants, retail stores, pharmacies, shopping malls, pet grooming shops, bookstores, florists, hair salons, and cannabis dispensaries," Kavanaugh wrote. "... That raises important questions: 'Assuming all of the same precautions are taken, why can someone safely walk down a grocery store aisle but not a pew? And why can someone safely interact with a brave deliverywoman but not with a stoic minister?'
"The Church and its congregants simply want to be treated equally to comparable secular businesses," Kavanaugh added. "California already trusts its residents and any number of businesses to adhere to proper social distancing and hygiene practices. The State cannot 'assume the worst when people go to worship but assume the best when people go to work or go about the rest of their daily lives in permitted social settings.'"
Thomas More Society's Charles LiMandri said in a statement the case is not over. He also noted that California changed its rules on churches only after Thomas More filed the initial suit. Newsom's 25 percent/100 attendees order was issued after the case was appealed to the Supreme Court. Previously, churches could not meet at all.
"This is not a decision on the merits of the case," he said. "... We will proceed with our expedited appeal in the Ninth Circuit and, if necessary, seek a decision from the U.S. Supreme Court on the merits under a much more favorable standard.
"It is absolutely imperative," LiMandri added, "that the U.S. Supreme Court considers these important issues on the merits – after the rulings in the lower courts become final. Although this interim ruling is disappointing, it's clear to us that, without the filing and vigorous litigation of this lawsuit, churches would still be closed in California under Governor Newsom's original shut-down orders."
In an unsigned order, the Supreme Court also declined to get involved in a case involving a Chicago church. The justices noted that Illinois had lifted all restrictions on houses of worship.
Related:
'Whatever Means are Necessary': Chicago Threatens to Close Church that Defied Order
'Stand up for Jesus' – Businessman Will Pay $500 Fines for Churches that Defied City's Order
Photo courtesy: Bill Mason/Unsplash
---
Michael Foust has covered the intersection of faith and news for 20 years. His stories have appeared in Baptist Press, Christianity Today, The Christian Post, the Leaf-Chronicle, the Toronto Star and the Knoxville News-Sentinel.
---
---