Michael Foust
| ChristianHeadlines.com Contributor
| Monday, September 28, 2020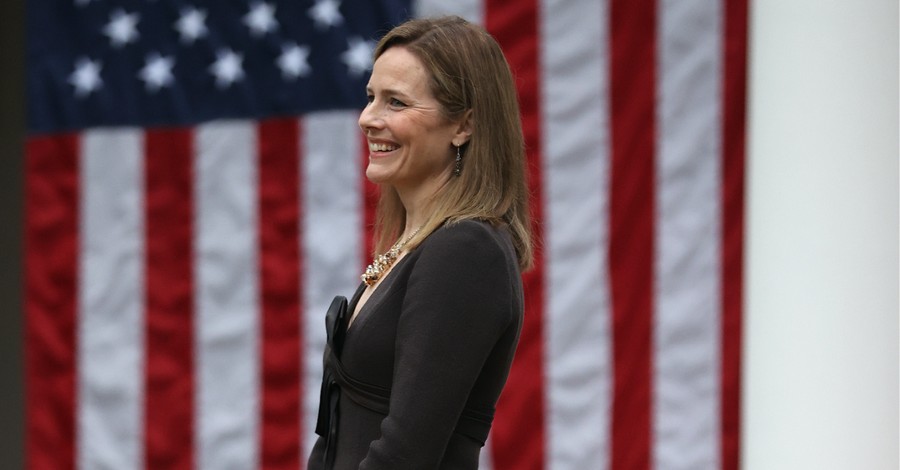 Christian and social conservative leaders are applauding President Trump's selection of Amy Coney Barrett for the Supreme Court vacancy, calling her highly qualified and saying she could swing the court in a direction more favorable to their causes.
Barrett, currently a justice for the U.S. Seventh Circuit Court of Appeals, would replace the late Ruth Bader Ginsburg and become Trump's third justice appointed to the high court. It would be the most Supreme Court justices appointed by a single president since Richard Nixon.
She formerly was a law professor at the University of Notre Dame.
Albert Mohler, president of Southern Baptist Theological Seminary, noted that Barrett clerked for the late Justice Antonin Scalia – a legal hero to the Right – and made legal arguments at Notre Dame "that conservatives have been looking for and listening" for, for decades.
"Conservative Christians need to understand this: We are looking at a game-changer," Mohler said during his podcast, The Briefing. "... This is not just another conservative appointment to the Supreme Court."
Although conservatives had a 5-4 majority on the court prior to Ginsburg's death, Mohler noted that Chief Justice John Roberts has become a swing vote, siding with the liberal bloc in some cases and with the conservatives in others. A 6-3 conservative majority would make the court "far more predictable, and actually far more conservative," Mohler said, adding he is "very thankful" for the nomination.
"There are very clear reasons why … conservative Christians committed to the sanctity of human life are so encouraged by her nomination," Mohler said.
Further, Mohler said Barrett and Ginsburg are "light years separated in terms of their understanding of the role of a judge and their reading of a constitution."
Brian Burch, president of CatholicVote, said Barrett deserves a "speedy confirmation." Barrett is Catholic.
"Catholics are thrilled with the ... nomination of Judge Amy Coney Barrett and believe she represents the best choice to protect the rule of law and our constitutional rights," Burch said.
Russell Moore, president of the Ethics and Religious Liberty Commission of the Southern Baptist Convention, said there is "no question" that Barrett "is qualified by intellectual acumen and years of experience to serve on the highest court in the land."
"I have long respected Judge Barrett, not only as a highly accomplished jurist but also as an adoptive parent active in the advocacy for adoption and for special needs children," Moore said. "As she goes before the Senate Judiciary Committee, I'm confident she will lay out a thoughtful defense of commitment to the constitution and the proper limits of judicial authority in our system of government."
Michael Farris, president and CEO of Alliance Defending Freedom, applauded the selection of Barrett and criticized those who have attacked her for her faith.
"Any nominee should be an originalist with a public record demonstrating deep commitment to protecting Americans' constitutional freedoms, including religious freedom and free speech for all," Farris said. "Judge Barrett has an encouraging record of advocating for constitutional freedoms, and she deserves a fair and respectful confirmation process in the Senate. Unfortunately, critics have wasted little time in criticizing her Catholic faith and suggesting that her convictions disqualify her from public service. Like Justice Ginsburg, she has deep convictions.
"Judge Barrett has repeatedly stated her commitment to decide cases based on law and not on personal opinion," Farris said. "It's religious bigotry to suggest that any judge would do otherwise simply because she is a person of strong faith. If that bigotry becomes part of the confirmation process, it will violate the Constitution."
Kelly Shackelford, president and CEO of First Liberty Institute, said he is "confident" Barrett "will protect the religious freedoms and constitutional rights of all Americans."
"Judge Barrett's record demonstrates her commitment to the Constitution's text and its purpose," Shackelford said. "Judge Barrett understands that government exists to protect the God-given rights of the people and the Constitution exists to prevent government from infringing on those rights. She will make an excellent Supreme Court Justice, and we expect the Senate to confirm her without delay."
Tony Perkins, president of the Family Research Council, said Trump had followed "through on his promise" and "selected a nominee who has a proven, originalist track record."
"Judge Amy Barrett is a highly qualified nominee who is committed to the Constitution and understands that a judge's role is not to legislate from the bench," Perkins said. "Senate Democrats have already made clear there will be a fight over the nominee regardless of who it is, so the president is making the fight worth it.
"Thanks to President Trump, we now have the opportunity after many decades to finally return lawmaking back to the legislatures that are elected by the people," Perkins said. "The Left, failing to win in the court of public opinion and in legislatures, has increasingly relied on the courts to rewrite laws to suit their purposes. However, the reality is sinking in among Senate Democrats that the era of legislating from the Supreme Court bench may soon be over. That's why the president's judicial nominees face smears and attacks on their faith."
Further, "millions of Americans" will stand with Barrett if Democrats attack her faith, Perkins said.
"Senate Democrat Dianne Feinstein once infamously told Judge Barrett that the 'dogma lives loudly within you' – more than insinuating that it is somehow impossible to serve both God and country," Perkins said. "Implying Barrett's religious beliefs somehow disqualifies her for the job is a violation of Article VI of the Constitution."
Photo courtesy: ©Getty Images/Chip Somodevilla/Staff
---
Michael Foust has covered the intersection of faith and news for 20 years. His stories have appeared in Baptist Press, Christianity Today, The Christian Post, the Leaf-Chronicle, the Toronto Star and the Knoxville News-Sentinel.
---
---