Michael Foust
| ChristianHeadlines.com Contributor
| Thursday, April 4, 2019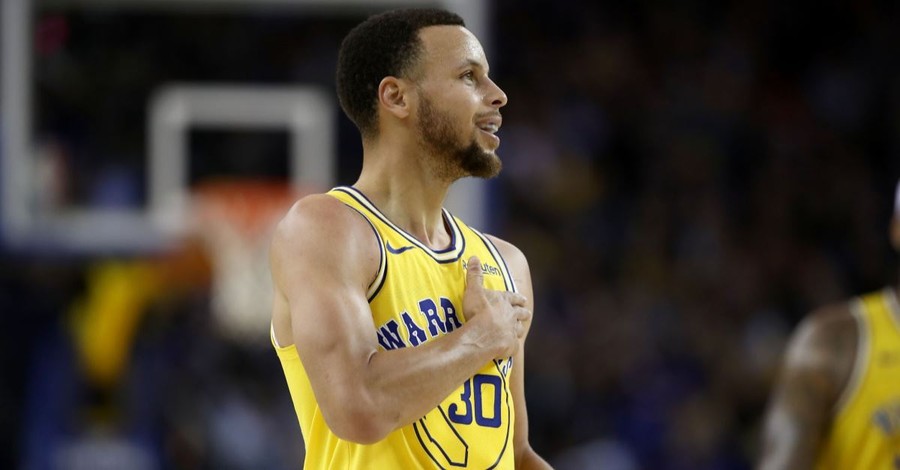 ---
Less than a year after announcing his desire to help make family and faith-based films, NBA star Stephen Curry's first movie is set to debut in theaters.
Curry is executive producer of Breakthrough, which releases in theaters April 17 and tells the true story of a 15-year-old boy named John Smith who is thought dead when he falls through an icy pond but regains a pulse when his mom begins praying. Chrissy Metz of This Is Us plays the mother. 
It is the first film to have Curry's name on it as a producer. 
Breakthrough producer DeVon Franklin recruited Curry for the project, believing it was a good fit. The boy, Smith, is a basketball player. 
"He really wants to do entertainment that's based in sports and family and faith," Franklin told a panel of Christian media members last month. "And, I said, 'Dude, take a look at Breakthrough. … It is family-affirming. Obviously it has faith in it. And if you're interested, I'll make you an executive producer.' 
"And he read the script in a day and he said, 'I gotta be a part of this.' And he said, 'If you'd have me, I'd love to do it.'"
Curry's involvement helps the film, Franklin said. The NBA All-Star and Golden State Warriors guard has discussed the movie in various forums, including during an appearance on The Late Late Show with James Corden. John Smith, in Breakthrough, is a Curry fan. 
"It's the first movie that he's put his name on, which is great," Franklin said. "His involvement is fantastic. It helps amplify the message of the film. In order to be successful, you've got to have teams. And I'm just so grateful that he wanted to be a part of the Breakthrough team."
The boldness of the mom's faith, Curry said, is what made him want to get involved. 
"When she goes to the hospital and hears of her son's chances of living, she wasn't taking 'no' for an answer, because of her belief in God and knowing that He can do miracles and He can do powerful things," Curry said in a video for the movie. "... The power in the community and the power in faith is strong, and it's something that this world needs."
According to the Internet Movie Database, two upcoming documentaries – Emanuel and Jumpshot: The Kenny Sailors Story– also list Curry as an executive producer. 
"You're gonna be moved," he said of Breakthrough.
Related:
Steph Curry on Making Family Movies: 'I Don't Mind Being Called Corny'
Chrissy Metz of This Is Us Says It's 'Hard to Deny' Power of Prayer
Stephen Curry Signs on as Executive Producer of New Faith-Based Film
Michael Foust is a freelance writer. Visit his blog, MichaelFoust.com.
Photo courtesy: Getty Images/Ezra Shaw/Staff
Video courtesy: 20th Century Fox