Michael Foust
| ChristianHeadlines.com Contributor
| Monday, October 7, 2019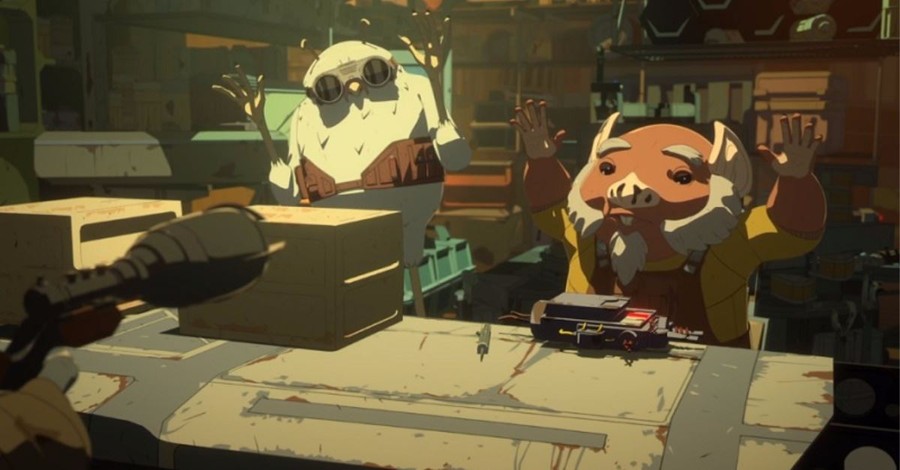 The Star Wars universe now has an openly gay couple on screen, although it involves characters in a children's animated series instead of the iconic live-action films.
Star Wars Resistance executive producer and director Justin Ridge told media members last week that alien characters Orka and Flix are a gay couple – thus confirming a fan theory from Season 1 when the two characters traveled together to visit Flix's mother. 
The Emmy-nominated Star Wars Resistance airs on Disney Channel and Disney XD. Season 2 debuted this month. It features CGI animation and is rated TV-Y7.
"I think it's safe to say they're an item," Ridge said, as first reported by the Coffee with Kenobi podcast. "They're absolutely a gay couple and we're proud of that."
Actor Bobby Moynihan, who voices Orka, said he knew his character was gay throughout Season 1.
"Oh, I'm so happy we're allowed to say it," Moynihan said. "I have had a sentence prepared for a year-and-a-half if someone would finally ask me. 
"I would say, 'All I can say is when Flix says, 'I love you,' Orca says, 'I know.'"
The line is a reference to a conversation between Han Solo and Princess Leia in 1980's The Empire Strikes Back.
The group One Million Moms criticized Disney, saying the company "is sacrificing children's innocence." 
"While such news is not shocking coming from Disney, it is extremely disappointing, and the inclusion of a gay couple is completely unnecessary," One Million Moms said. "... Disney has decided to be politically correct instead of providing family-friendly entertainment. Disney should stick to entertaining instead of pushing an agenda. Conservative families need to urge Disney to avoid mature and controversial topics such as homosexuality." 
As Christian Headlines previously reported, multiple Disney series have featured gay characters. The live-action show Andi Mack included 13-year-old Cyrus Goodman confiding, "I'm gay." In the final season, he and a male character held hands. 
Related:
12 Popular Children's TV Shows that Have Gay Characters 
Arthur Becomes 1st PBS Cartoon with a Gay Wedding – 'It's a Brand-New World'
Michael Foust is a freelance writer. Visit his blog, MichaelFoust.com.
Photo courtesy: Star Wars/Disney
Video courtesy: Star Wars
---
---