Michael Foust
| ChristianHeadlines.com Contributor
| Wednesday, June 24, 2020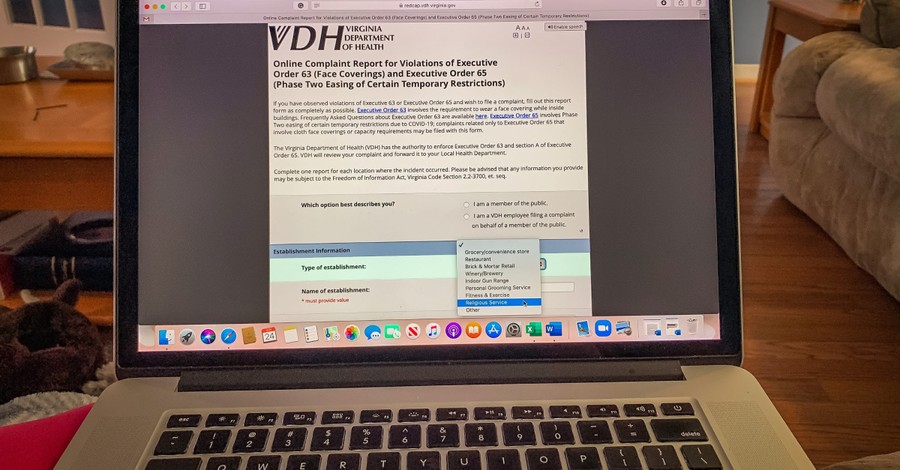 ---
A new Virginia Department of Health webpage that allows citizens to report churches and businesses in violation of the governor's coronavirus orders has sparked pushback from lawmakers, who say it's a form of "police snitch" government overreach that could be abused.
The portal on the Department of Health website allows citizens to file a complaint if they "have observed violations of Executive [Order] 63 or Executive Order 65."
It asks the public to list the establishment's name and address, along with the date of the alleged violation. A toggle allows the complainant to list the type of establishment, such as "religious service," "restaurant," "grocery/convenience store" or "indoor gun range."
The complainant also is asked to list the type of complaint: people "were not wearing cloth face coverings"; "the number of people present in this establishment was above the current required capacity" or "people in this establishment were not following social distancing guidelines."
Executive Order 65, issued by Virginia Gov. Ralph Northam, limits church capacity to 50 percent and requires individuals to be seated six feet apart. It also prohibits attendees from passing items to non-family members. Executive Order 63 requires the wearing of masks in public facilities.
Virginia state Sen. Mark D. Obenshain, on his Facebook page, said Northam had turned "us into a society of informers and snitches."
"Gov. Northam is asking private citizens to tattle on their fellow citizens regarding his mask order and encouraging complaints to be submitted specifically as to churches and gun ranges," Obenshain wrote. "And these complaints can be made anonymously. There is nothing to prevent businesses from snitching on competitors, or to prevent the outright fabrication of reports.
"[I]t appears that the full force and weight of the state government is poised and ready to drop on restaurants, churches and wineries for perceived violations of the Governor's orders while the Governor equivocates and prevaricates when it comes to its enforcement in connection with protests, demonstrations and riots – as long as participants are his allies," Obenshain added.
Bethany Harrison, the Commonwealth's attorney for the city of Lynchburg, called it "government overreach."
"You can have a hate group who has decided that they want to harass a predominantly African American church, for example," Harrison told WSET.
State Sen. Steve Newman also criticized Northam, saying the governor had set up the "snitch police."
"That's right … you too can enlist to be a government insider to report on your neighbors, your friends, or even your church," Newman wrote on Facebook. "... Three months ago, could we imagine a Virginia where the government would set up an online form and encourage you to report on a neighbor or your neighborhood church? … This is a serious power-move by your government."
Photo courtesy: Kayla Koslosky
---
Michael Foust has covered the intersection of faith and news for 20 years. His stories have appeared in Baptist Press, Christianity Today, The Christian Post, the Leaf-Chronicle, the Toronto Star and the Knoxville News-Sentinel.