Michael Foust
| ChristianHeadlines.com Contributor
| Wednesday, November 30, 2022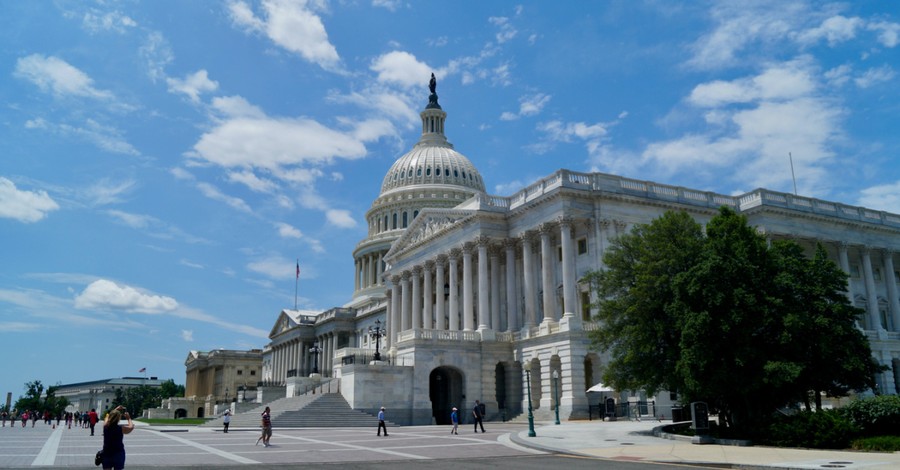 The U.S. Senate on Tuesday passed a bill that codifies same-sex marriage into federal law but that critics say threatens religious freedom in spite of a religious liberty amendment that was added to gain support.
By a vote of 61-36, the Respect for Marriage Act passed the Senate and now heads to the House of Representatives, where it is expected to pass. President Biden has pledged to sign it into law. The bill defines marriage as the union of "2 individuals" and overturns the 1996 Defense of Marriage Act, which defined marriage as between one man and one woman for purposes of federal law. Voting for it were 11 Republicans, 48 Democrats and two Independents who caucus with the Democrats. All 36 "no" votes came from Republicans.
Majority Leader Chuck Schumer (D-NY), a bill supporter, called the day historic.
"No one should be discriminated against because of who they love," Schumer said.
Critics, though, said the bill could cause more division within the country. Senator James Lankford (R-OK) said the bill, if it becomes law, will "create years of litigation and distrust across the country." He voted against it.
"The bill was intentionally written to exclude religious and conscience protections for individuals, nonprofits, and businesses by creating a new 'private right of action' lawsuit option to file charges against any entity that partners with local or state governments," Lankford said. "All Americans should be honored, and no one should be discriminated against. But, as President Obama stated in 2015, 'Americans of goodwill continue to hold a wide range of views on this issue. Opposition in some cases has been based on sincere and deeply held beliefs.' Today's vote unnecessarily chose to run over millions of people who hold those deeply held beliefs."
Lankford and others, including many religious liberty groups, say the religious freedom protections in the bill are too limited. A lengthy amendment was added to the bill to protect "nonprofit religious organizations, including churches, mosques, synagogues, temples, nondenominational ministries, interdenominational and ecumenical organizations, mission organizations, faith-based social agencies, religious educational institutions, and nonprofit entities" whose "principal purpose is the study, practice, or advancement of religion." The amendment further says the listed entities "shall not be required to provide services, accommodations, advantages, facilities, goods, or privileges for the solemnization or celebration of a marriage."
The U.S. Conference of Catholic Bishops (USCCB) released an analysis of the bill, saying the religious liberty protections are "too narrow."
"It only applies to religious organizations in the solemnization or celebration of a marriage, not to religious individuals or to any entity in any other context," the USCCB analysis said.
The USCCB analysis listed three ways the bill imperils religious liberty:
"The IRS could revoke the tax exemptions of religious organizations that practice traditional beliefs about marriage.

"Government agencies could exclude religious schools from eligibility for public benefits and programs like scholarships and school choice vouchers.

"Government agencies could exclude religious organizations from access to or use of public facilities or property."
The amendment does "not solve these problems," the USCCB said.
Further, USCCB said, the amendment provides no protections for privately owned businesses – such as cakeshops and florists – whose owners are Christians and believe marriage is the union of one man, one woman.
"These are all cases that fall outside of the scope of" the amendment, USCCB said.
The bill explicitly allows lawsuits against those who break the law, saying the "Attorney General may bring a civil action in the appropriate United States district court against any person who violates" the text of the Respect for Marriage Act. The bill also says, "any person who is harmed by a violation … may bring a civil action in the appropriate United States district court against the person who violated such subsection for declaratory and injunctive relief."
A broader religious liberty amendment offered by U.S. Sen Mike Lee (R-Utah) was defeated.
Alliance Defending Freedom (ADF) said the bill jeopardizes "the religious freedom of millions of Americans."
"This dangerously cynical and completely unnecessary bill is a direct attack on the First Amendment," said ADF's Ryan Bangert. "It does nothing to change the legal status of same-sex marriage anywhere. But it undermines religious freedom everywhere and exposes Americans throughout the country to predatory lawsuits by activists seeking to use the threat of litigation to silence debate and exclude people of faith from the public square. Today, the Senate has chosen to disregard legitimate concerns about the undeniable harms of this bill."
Photo courtesy: ©Samuel Schroth/Unsplash
---
Michael Foust has covered the intersection of faith and news for 20 years. His stories have appeared in Baptist Press, Christianity Today, The Christian Post, the Leaf-Chronicle, the Toronto Star and the Knoxville News-Sentinel.
---
---