Michael Foust
| ChristianHeadlines.com Contributor
| Tuesday, October 27, 2020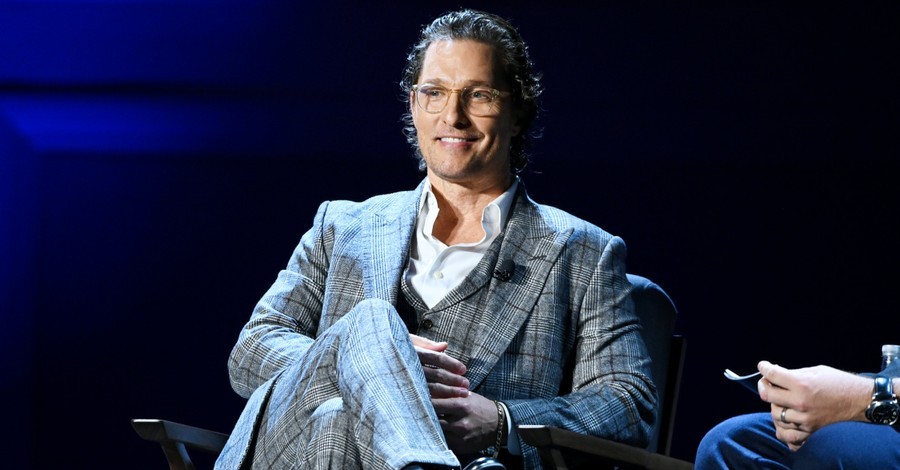 ---
Actor Matthew McConaughey says in a new interview that he sees no contradiction between science and faith, and that the Bible has helped him become a better person.
He also says Hollywood is sometimes "condescending" to people of faith.
McConaughey, a professing Christian, made the comments during an interview on The Joe Rogan Experience podcast.
Asked if he considers himself religious, McConaughey replied, "Yeah, absolutely." He told GQ Magazine in 2014 that he attends a non-denominational church that is "based in the faith that Jesus is the Son of God, that He died for our sins."
McConaughey told Rogan he took a role in the 1997 film Contact in part because of his beliefs about the compatibility of science and faith. The movie tells the story of scientists attempting to make contact with extraterrestrial life.
"I had written a college paper called 'John Wayne goes West,' and it was about how do you – how can you – be a believer in a world of science. And I remember writing things during the making of that movie, like, 'Science is the practical pursuit of God.' The two are not exclusive. They dance together. They go together – belief and science.
"I never saw those as contradictions. And that's part of the reason I attacked that role and became part of that movie. I wanted to play a person that had that point of view, of a believer in a world of science. Not an exclusion of science, and not at the exclusion of belief."
He said he applies the teachings in God's Word to his daily life.
"I felt improvement. I felt success in my relationships … by treating others how I wanted to be treated," he said.
McConaughey, who won an Oscar and a Golden Globe in 2014, also addressed the subject of faith in Hollywood. He said he has seen audience members refuse to applaud him when he discusses God.
"I won't throw any people under the bus, but I have had moments where I was on stage receiving an award in front of my peers in Hollywood. And there were people in the crowd that I have prayed with before dinners many times. And when I thank God, I saw some of those people go to clap but then notice that, 'This could be a bad thing on my resume,' and then sit back on their hands," McConaughey said. "I've seen people read the room and go, 'Whoa, that wouldn't bode well for me in the future for getting a job, getting votes or what have you.' I have seen that. I've witnessed that. I don't judge them for it. ... [But] it seems like a silly argument."
"Some people in our industry," he said, "go to the left so far" that they're "condescending and patronizing" to people of faith.
"It's just so arrogant – and in some ways hypocritical," he said.
But McConaughey added, "I haven't measured or noticed where it has harmed or gotten in my way of what I wanted to achieve in Hollywood."
Photo courtesy: ©Getty Images/Noam Galai/Stringer
---
Michael Foust has covered the intersection of faith and news for 20 years. His stories have appeared in Baptist Press, Christianity Today, The Christian Post, the Leaf-Chronicle, the Toronto Star and the Knoxville News-Sentinel.