Michael Foust
| ChristianHeadlines.com Contributor
| Updated: Nov 19, 2019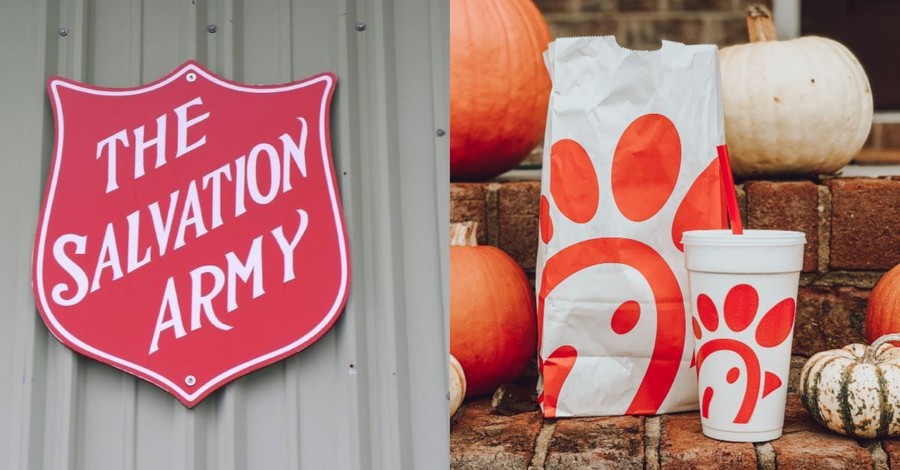 The Salvation Army expressed disappointment in a "corporate partner" Monday after Chick-fil-A announced it would no longer donate to the ministry and instead would give money to other homeless and hunger charities beginning in 2020.
The move by Chick-fil-A has angered fans and sparked pushback from some of its most well-known supporters, including from Mike Huckabee, who said in a series of tweets the company had "betrayed loyal customers" and "surrendered to anti-Christian hate groups." 
In Aug 2012, I coordinated a national @ChickfilA Appreciation Day after they were being bullied by militant hate groups. Millions showed up. Today, @ChickfilA betrayed loyal customers for $$. I regret believing they would stay true to convictions of founder Truett Cathey. Sad.

— Gov. Mike Huckabee (@GovMikeHuckabee) November 18, 2019
Chick-fil-A donated $115,000 to the Salvation Army and $1,650,000 to the Fellowship of Christian Athletes in 2018, according to a tax form released Monday. 
But Chick-fil-A said Monday that beginning in 2020, its Foundation would donate to Junior Achievement USA, Covenant House International and local food banks. It is part of a new strategy to "deepen its giving to a smaller number of organizations working exclusively in the areas of education, homelessness and hunger," according to a press release. 
LGBT groups have long criticized Chick-fil-A for its donations to the Salvation Army and the Fellowship of Christian Athletes. 
The Salvation Army, in a statement, said it already works in the areas of education, homelessness and hunger – the three areas Chick-fil-A said it would target.
"We're saddened to learn that a corporate partner has felt it necessary to divert funding to other hunger, education and homelessness organizations – areas in which The Salvation Army, as the largest social services provider in the world, is already fully committed," the Salvation Army statement read. "We serve more than 23 million individuals a year, including those in the LGBTQ+ community. In fact, we believe we are the largest provider of poverty relief to the LGBTQ+ population.
"When misinformation is perpetuated without fact, our ability to serve those in need, regardless of sexual orientation, gender identity, religion or any other factor, is at risk," the statement said. "We urge the public to seek the truth before rushing to ill-informed judgment and greatly appreciate those partners and donors who ensure that anyone who needs our help feels safe and comfortable to come through our doors." The Salvation Army's statement does not directly mention Chick-fil-A, though it came soon after an interview with Chick-fil-A President and Chief Operating Officer Tim Tassopoulos was released by Bisnow.
We love all. We serve all.
Read The #SalvationArmy's full statement in the image and here: https://t.co/F079r7lbMX pic.twitter.com/0jJv0Ed2zP

— Salvation Army USA (@SalvationArmyUS) November 18, 2019
Feedback to Chick-fil-A's new giving strategy has been overwhelmingly negative on its social media accounts. 
The most popular comment on Chick-fil-A's Facebook page, with 1,100 likes, read: "Did you not realize the reason you had so much support wasn't for you chicken but for your strong Biblical stance? SMH Such a shame. This isn't going to work out as you planned. I cannot believe you don't see that. You had our full support and $ whenever we were in an area where you were, but now you're just another fast food joint. So disappointing."
Meanwhile, LGBT groups say Chick-fil-A must go further. 
"In addition to refraining from financially supporting anti-LGBTQ organizations, Chick-fil-A still lacks policies to ensure safe workplaces for LGBTQ employees and should unequivocally speak out against the anti-LGBTQ reputation that their brand represents," the gay rights organization GLAAD said in a statement. 
A Chick-fil-A executive said the new charities strategy would benefit the company as it expands.
"There's no question we know that, as we go into new markets, we need to be clear about who we are," Chick-fil-A President and Chief Operating Officer Tim Tassopoulos told Bisnow. "There are lots of articles and newscasts about Chick-fil-A, and we thought we needed to be clear about our message."
Chick-fil-A Fans Outraged after Company Caves, Halts Donations to FCA, Salvation Army 
Chick-fil-A's Sales Have Doubled Since LGBT Boycott Began in 2012 
Michael Foust is a freelance writer. Visit his blog, MichaelFoust.com.
Photo courtesy: Ryan McFarland/Creative Commons, image cropped; Kayla Koslosky
---
---