Michael Foust
| ChristianHeadlines.com Contributor
| Tuesday, December 29, 2020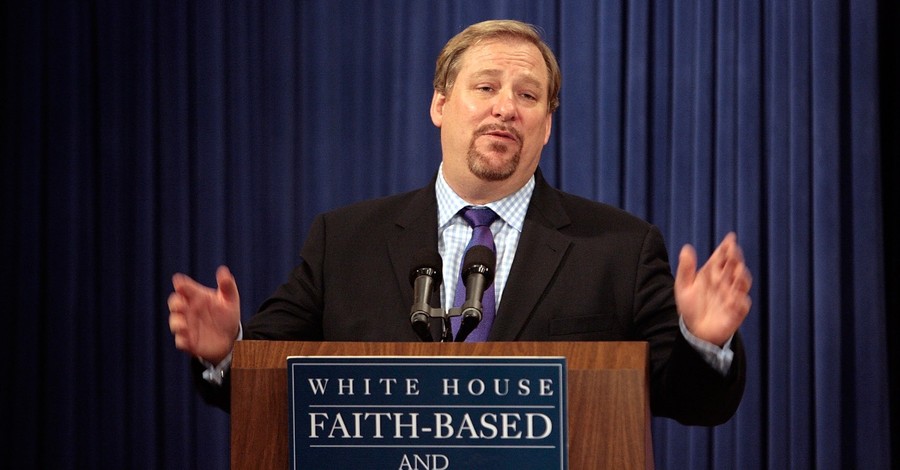 Author and pastor Rick Warren says in a new interview that the COVID-19 pandemic exposed a "fundamental weakness" in American churches: They're too focused on corporate worship.
He also disagrees with those who say the U.S. church has experienced religious discrimination during the pandemic.
Warren, the pastor of Saddleback Church in California and the author of The Purpose Driven Life and The Purpose Driven Church, made the comments in an interview with Relevant Magazine.
"COVID revealed a fundamental weakness in the Church. Most churches only have one purpose: worship," Warren told Relevant. "And if you take worship away, you've got nothing. They're in a hurry to get back to worship because that's all they've got. Saddleback is built not on one purpose, but on five. You take one circle out, we've still got four other circles. We've got ministry going on. We've got mission going on. We've got fellowship going on. We've got discipleship going on. Those all stand on their own."
Saddleback has led more than 16,000 people to Christ since March, Warren said.
"We're in revival. We're averaging about 80 people a day coming to Christ – 80 people a day," he said.
Instead of worrying about restrictions on indoor worship, Warren said Saddleback "looked around and made a list of all the different problems that COVID was creating."
"For instance, the first one was food," Warren said. "People needed food. There are a lot of people out of work, and they're hand-to-mouth, and 126 food banks shut down in Southern California when COVID started, because there was a rush on food. 126 shut down. Saddleback had three food pantries already up and running. Typically, in a normal month, we feed about 2,000 families. The first month of COVID, we fed 45,000 families.
"Then we figured out, you don't have to have a building. We invented a new way of doing food pantry we called pop-ups. We said, 'We'll come to your school. We'll come to your neighborhood. We'll come to your park.' We partnered with every school district in Orange County. According to the recent report I got, over 13,000 Saddleback volunteers have served over 3.5 million pounds of food to over 300,000 families. We're the largest food distributor in Southern California.
"We teach our people that every member of the church is a minister. Everybody's a missionary too. You're a witness. Those people already know how to share their faith. When people would pull up, they'd talk to them about the Lord."
Of the 16,000 that have come to Christ, more than 12,000 have come "through personal, one-on-one witnessing" by Saddleback members.
U.S. churches, he said, have not faced discrimination. He also said churches should promote the wearing of masks.
"They might have a discrimination case if theaters weren't closed, football games weren't closed," Warren told Relevant. "But they are. We're not being discriminated against. This is a safety issue. Regal Cinemas closed down 650 theaters. Disney laid off 28,000 people. We're not being discriminated against. Some churches are willing to gamble the health of their people. I'm not. The good shepherd prays for his sheep, cares for his sheep. One day I will be responsible. I don't want to be a super-spreader. I'm not doing this out of fear; I'm doing this out of love. You wear a mask for love your neighbors, yourself."
Too many Christians, he added, are "making decisions based on political values rather than biblical values."
"This is a real problem," Warren said. "The whole election, regardless who you voted for, revealed that most Christians don't have a biblical worldview. They don't vote from a biblical worldview. They vote from a political worldview. Their identity comes primarily from politics. It's partisan. If somebody asks, 'Is Jesus right-wing or left-wing?' Jesus has an answer: 'I'm neither wing.' Jesus says, 'My kingdom is not of this world. If it were of this world, my servants would fight.' As the author of Hebrews says, 'We have an unshakable Kingdom.'
"Every dictator dies. Every president gets out of office. The Church goes on," Warren said. "We have an unshakable Kingdom. What we're called to do has no bearing on who gets elected. I've said many times: It's not who we put in the White House, it's who we put on the cross that really is our savior. No politician is going to save us. They never will."
Photo courtesy: ©Getty Images/Chip Somodevilla/Staff
---
Michael Foust has covered the intersection of faith and news for 20 years. His stories have appeared in Baptist Press, Christianity Today, The Christian Post, the Leaf-Chronicle, the Toronto Star and the Knoxville News-Sentinel.
---
---