Michael Foust
| ChristianHeadlines.com Contributor
| Monday, October 12, 2020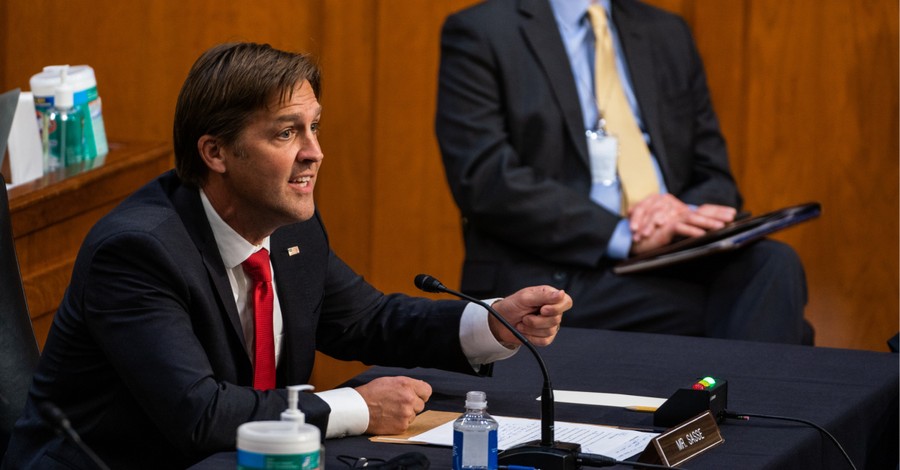 Republican senators during the first day of the Senate Judiciary Committee hearings on Monday defended Supreme Court nominee Amy Coney Barrett's Catholic faith and said she had been a victim of "religious bigotry" in recent days.
The comments from GOP Sens. Ben Sasse (Neb.), Josh Hawley (Mo.) and Joni Ernst (Iowa) came amidst a media infatuation with Barrett's membership in a Christian community, People of Faith, and a spotlight on her devout Catholic beliefs as a former professor at the University of Notre Dame. In 2017, when Barrett was confirmed to the Seventh Circuit Court of Appeals, Sen. Dianne Feinstein (Calif) famously told Barrett, "The dogma lives loudly within you."
President Trump nominated Barrett to fill the seat held by the late Justice Ruth Bader Ginsburg.
"Whatever you or I or Judge Barrett believe about God isn't any of the government's business," Sasse said.
Religious liberty, he said, "is the default assumption of our entire system."
"We don't have religious tests," Sasse said. "This committee isn't in the business of deciding whether the dogma lives too loudly within someone. This committee isn't in the business of deciding which religious beliefs are good and which religious beliefs are bad, and which religious beliefs are weird.
"And I just want to say, as somebody who's self-consciously a Christian, we've got a whole bunch more really weird beliefs – forgiveness of sins, the virgin birth, resurrection from the dead, eternal life – there are a whole bunch of really, really crazy ideas that are a lot weirder than some Catholic moms giving each other advice about parenting," Sasse said somewhat tongue in cheek, referencing People of Praise. "And yet there are places where this committee has acted like it's the job of the committee to delve into people's religious communities. That's nuts. That's a violation of our basic civics."
Ernst criticized what she called "religious attacks" on Barrett.
"They are attacking you as a mom and a woman of faith because they cannot attack your qualifications," Ernst said.
The Left, Hawley said, acts "as if you can't be both a devout Catholic and a loyal American citizen."
"Other nominees who have come before this committee for years now have been asked by my Democrat colleagues over and over their views on sin, their views on the afterlife, their views about the membership statements of Catholic organizations, about their membership in other Christian organizations and on and on and on. Let's be clear about what this is: This is an attempt to broach a new frontier, to set up a new standard." Hawley said.
Article 6 of the U.S. Constitution "explicitly forbids" a religious test for office, Hawley said.
"She's a devout Catholic. We all know that. She and her husband have chosen to raise their family according to their Catholic beliefs, and faithfully fellowship with other Catholics. We all know that" he said. "Heck, 65 million Americans are Catholics. ... Are they to be told that they cannot serve in public office, that they are not welcome in the public sphere unless the members of this committee sign off on their religious beliefs? I, for one, do not want to live in such an America. And the Constitution of the United States flatly prohibits it."
Questioning a person's faith, Hawley said, is "religious bigotry."
"When you tell somebody that they're too Catholic to be on the bench when you tell them they're going to be a Catholic judge, not an American judge," Hawley said. "That's bigotry."
Hawley criticized Democratic Sen. Chris Coons (Del.), who on Monday said Barrett's confirmation could mean the U.S. Supreme Court may overturn a 1965 case that prohibited the banning of contraceptives.
"Your approach to reviewing and reconsidering and possibly overturning long-settled cases," Coons told Barrett, "may overturn some of the very principles for which Justice Ginsburg fought her entire adult life, principles that protect settled fundamental rights for all Americans. What might this mean? Cases like Griswold versus Connecticut – that established married couples have a right to obtain and use contraception in the privacy of their own home – may be in danger of being struck down."
Hawley said he "can only assume" Coons' comments were "another hit at Judge Barrett's religious faith referring to Catholic doctrinal beliefs."
"I don't know what else it could be. Since no one has challenged this case," Hawley said. "It's not a live issue and hasn't been for decades. This is the kind of thing I'm talking about. And this is the sort of attack that must stop."
Related:
'The Dogma Lives Loudly in Me': Mike Pence Defends Amy Coney Barrett's Faith ahead of Confirmation Hearing
Photo courtesy: ©Getty Images/Pool/Pool
---
Michael Foust has covered the intersection of faith and news for 20 years. His stories have appeared in Baptist Press, Christianity Today, The Christian Post, the Leaf-Chronicle, the Toronto Star and the Knoxville News-Sentinel.
---
---