Michael Foust
| ChristianHeadlines.com Contributor
| Thursday, April 11, 2019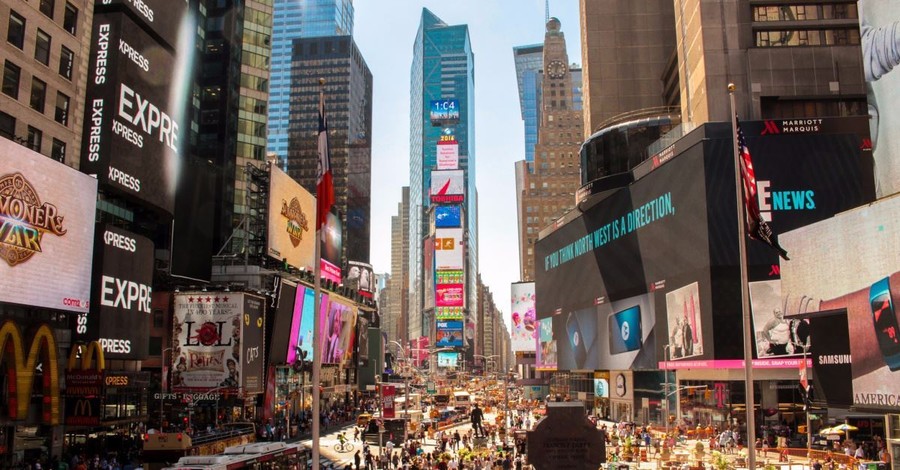 More than 350,000 walk through New York City's Times Square each day. This week, they're getting a pro-life message from young women. 
Students for Life of America began running a pro-life digital ad on a 50-foot-tall billboard Wednesday showing women who oppose Planned Parenthood, the nation's largest abortion provider. 
The ad features women holding signs reading, "I Don't Trust Planned Parenthood," "I Reject Abortion Extremism" and "I Am The Pro-Life Generation." 
Stand-alone text in the ad includes three rotating messages:
"Today, Planned Parenthood Will End The Lives of 910 Human Beings."
"Only 7% of Millennials Support the Abortion Extremism in New York State."
"The Pro-Life Generation Has Arrived to Vote out Abortion." 
Each message includes the tag: "Learn More at StudentsForLife.org. #ProLifeGen." 
The ad began running Wednesday at 6 a.m. Eastern and is scheduled to run through Saturday at 2 a.m. Eastern. Students for Life is accepting donations to pay for the ads, which are 15 seconds each. The ads are running as the organization holds its annual Gala in the city. 
Nearly 380,000 people enter the heart of Times Square each day, according to Times Square's official website. On the busiest days, that count can be as high as 450,000.  
"We had to fight to have our message heard as twice companies pulled the plug on our custom-made ad after intensive negotiations," Students for Life president Kristan Hawkins told LifeNews. "But we don't give up on college campuses, even when facing threats of violence, and we didn't give up on sending a message to the vast majority of New Yorkers who reject infanticide and are horrified by the abortion extremism recently legalized in New York.
"Our billboard is set to run on a 50-foot-tall HD video screen in one of the busiest locations on the planet," Hawkins said. "Over three days, the 15-second video ad will run a minimum of 720 times and be seen by tens – if not hundreds – of thousands of people." 
The Students for Life website says the organization is "going to the abortion capital of the United States to proudly declare that We are the Pro-Life Generation, and We Reject the Abortion Extremism of New York State."
Related:
Pro-Life Group to Show Live Third-Trimester Ultrasounds in Time Square
NY Legalizes Abortion up to Moment of Birth, Defines Person as Someone 'Who Has Been Born'
Michael Foust is a freelance writer. Visit his blog, MichaelFoust.com.
Photo courtesy: Unsplash/Daniel Barbarics
Video courtesy: Students For Life
---
---