Michael Foust
| ChristianHeadlines.com Contributor
| Thursday, August 13, 2020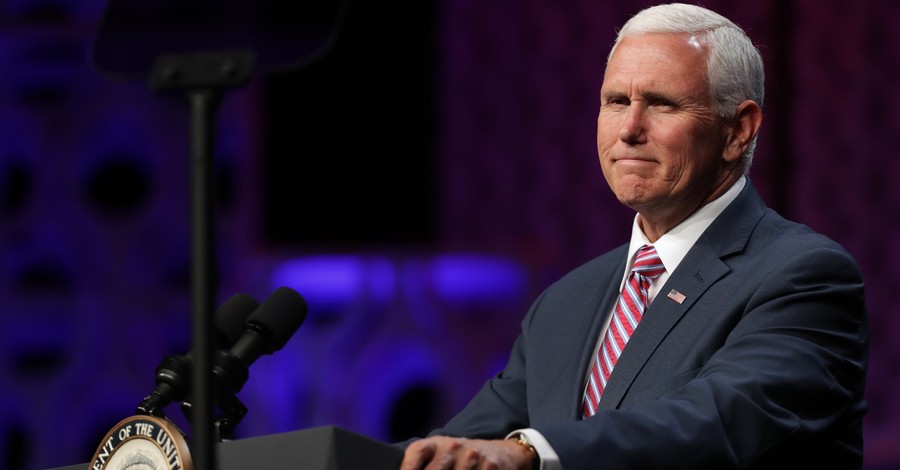 Vice President Mike Pence on Wednesday night denounced the Democratic presidential ticket as having "have been overtaken by the radical left" and said if Joe Biden and Kamala Harris are elected, Americans will experience higher taxes, public funding of abortion, "socialized medicine," "activist" judges and open borders.
"The choice could not be clearer," Pence said on Fox News' Hannity, the same day Biden and Harris appeared together in public for the first time as the presumptive Democratic ticket.
"Joe Biden's decision to add Kamala Harris to the ticket confirms everything President Trump and I have been saying, and that is that Joe Biden and the Democratic Party have been overtaken by the radical left," Pence said. "Kamala Harris, like Joe Biden, supports higher taxes, socialized medicine, open borders, abortion on demand. And where Joe Biden said he'd be willing to cut funding to police, she said recently that she thought that we should reimagine the police in this country."
"I like the matchup," Pence said.
The vice president claimed the Trump administration has "created more jobs in the last three months than Joe Biden and Barack Obama created in their eight years in office."
Pence also said Trump "has done exactly what he told the American people he would do." Pence said Trump rebuilt the military, cut taxes, rolled back regulations, fought for "free and fair trade" and appointed "conservatives to our courts at every level."
The two political tickets, he said, are offering "two competing visions."
The Biden-Harris team, he said, will "raise taxes by $4 trillion. They want to do their own version of the Green New Deal of a $2 trillion massive environmental agenda. They're gonna appoint activists to our courts. They're gonna support taxpayer funding of abortion. They support open borders."
"With everything that's happening in Chicago and New York and Portland and Seattle, you have in President Trump a leader who is standing without apology with the men and women of law enforcement," Pence said. "And in Joe Biden and Kamala Harris and the Democratic Party and the radical left, you have people talking about cutting funding to law enforcement, a party that is advocating defunding law enforcement. The choice could not be clearer."
The U.S., Pence said, experienced the "the lowest unemployment ever recorded for African Americans" during the Trump administration.
"We saw the creation of thousands of opportunity zones in creating billions of dollars of investment in our inner cities," Pence said. "This is a president who doubled the school choice program here in our nation's capital [and] has been fighting for educational opportunities for every American, especially our minority communities."
Earlier in the day, Biden and Harris appeared together in Wilmington, Del., where Biden publicly introduced his choice. Harris called the election a "a moment of real consequence for America."
"The president's mismanagement of the pandemic has plunged us into the worst economic crisis since the Great Depression, and we're experiencing a moral reckoning with racism and systemic injustice that has brought a new coalition of conscience to the streets of our country, demanding change," Harris said. "America is crying out for leadership, yet we have a president who cares more about himself than the people who elected him. A president who is making every challenge we face even more difficult to solve. … In just 83 days, we have a chance to choose a better future for our country."
Related:
Kamala Harris Is the 'Most Pro-Abortion of Pro-Abortion Politicians,' Nat'l Right to Life Says
4 Reasons Kamala Harris' Selection for VP Concerns Christian Leaders
Photo courtesy: ©Getty Images/Chip Somodevilla/Staff
---
Michael Foust has covered the intersection of faith and news for 20 years. His stories have appeared in Baptist Press, Christianity Today, The Christian Post, the Leaf-Chronicle, the Toronto Star and the Knoxville News-Sentinel.
---
---