Michael Foust
| ChristianHeadlines.com Contributor
| Tuesday, January 17, 2023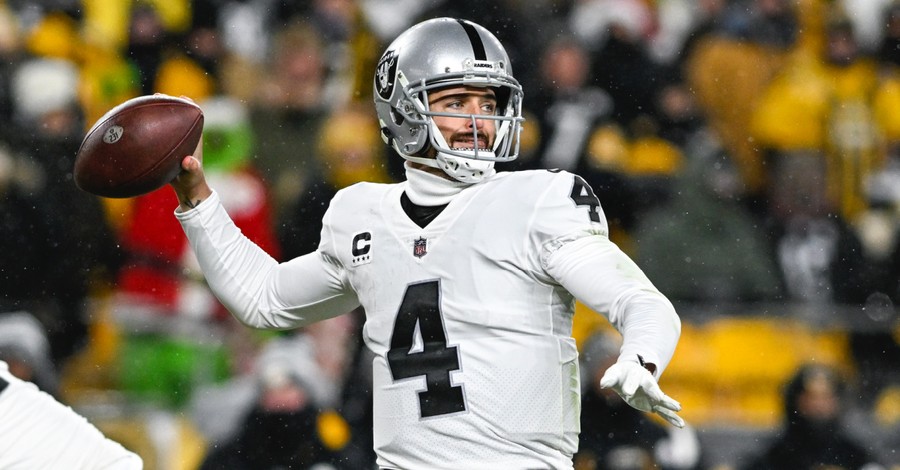 NFL quarterback Derek Carr says he has found peace in Christ following a disappointing season in which he was benched as the starter for the Las Vegas Raiders.
Speaking at Church LV in Los Vegas on Sunday, Carr joked that he's "had a few weeks off" to reflect on life. The Raiders finished the season 6-11 and did not qualify for the NFL playoffs, Raiders Beat reports.
"I removed myself from a situation, and I just got in God's presence every day," Carr said. "I got in His presence, and I found peace. And I found joy. I found answers to my questions."
A three-time Pro Bowl selection, Carr guided the Raiders to a 10-7 record and a playoff appearance in 2021 but struggled this season, finishing with his lowest quarterback rating in five years. NFL observers say he likely will be playing for a different team next season.
Carr spoke for nearly an hour at the Las Vegas church. Most of his sermon did not involve the topic of his career, although he addressed it from the outset, knowing that Raiders fans were in the crowd.
"Everybody is asking me, 'How are you doing?'... I'm doing great, and I'm gonna tell you why. … I'm doing great walking with Jesus. He has been speaking so loud to me. It's been so clear to me," Carr said. "That doesn't mean that it has felt easy. That doesn't mean that I haven't woken up and felt angry at times. That doesn't mean I haven't woken up and felt a little upset at times, sad at times. Dang, I really wish I could have done more. I really wish that I could have helped more or I could have done better.
"... I didn't accomplish the things that I wanted to accomplish … with the Raiders. [But] there are things still for me to accomplish in Las Vegas."
Derek Carr speaking at the Church of Las Vegas last night.#DerekCarr pic.twitter.com/VmRttVrSIH

— NJRaiderNation ⚪️🏴‍☠️☠️⚫️ (@NJRaiderNation0) January 15, 2023
Every person, he said, comes up short at times in their life.
"I came up short. But does that mean that I come up short with who God sees me as? Does that mean that because you didn't accomplish your goal, you're not a Son or a Daughter of the Most High? ... No, because I know that there's a God in heaven that sees me in a new light. There's a God in heaven that doesn't put these cultural lenses on me. He sees me for everything He created me to be. He sees you for everything … that He created you to be. Just because we come up short does not determine our worth."
The job of the Christian, Carr said, is to reflect the light of Christ for others.
"So, yeah, I see people saying certain things about me. Yeah, I see people holding up signs outside when I'm driving in [to the stadium]," Carr said. "Yes, I see all those things. But my job as a believer is to reflect the light of Christ back to them. And so when they see me [and think,] 'Why doesn't he react a certain way?' It's because I'm reacting the way Jesus is telling me to react. I'm reacting the way that my Father is telling me to react."
Meanwhile, Carr urged the congregation to embrace God's Word while living in a culture that is constantly changing.
"There's some things that I read in the Bible, and it messes with me. … But if the Word says it, that's what I stand on. If the Word says it, that's what I believe. If the Word says it, that's what's true. That's what's right – not Derek's opinion."
Photo courtesy: ©Getty Images/Gaelen Morse/Stringer
---
Michael Foust has covered the intersection of faith and news for 20 years. His stories have appeared in Baptist Press, Christianity Today, The Christian Post, the Leaf-Chronicle, the Toronto Star and the Knoxville News-Sentinel.
---
---