Michael Foust
| ChristianHeadlines.com Contributor
| Wednesday, March 6, 2019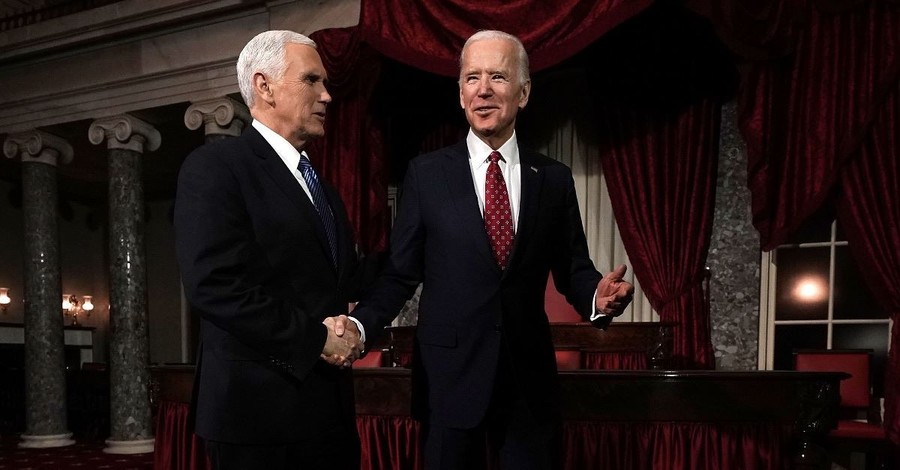 Former Vice President Joe Biden had to apologize recently after calling current Vice President Mike Pence a "decent guy," and that's not sitting well with conservative commentators.
The controversy began when Biden was speaking about foreign policy last month and the international community's reaction to an earlier speech by Pence.
Biden called Pence a "decent guy" who "stood before this group of allies and leaders and said, 'I'm here on behalf of President Trump,' and there was dead silence. Dead silence," CNN reported. 
The comment about Pence wasn't the focus of Biden's speech, but it nevertheless became the source of criticism from some of the Left. Actor Cynthia Nixon, a lesbian, tweeted to Biden, "You've just called America's most anti-LGBT elected leader 'a decent guy.' Please consider how this falls on the ears of our community."
Another actress, Nancy Lee Grahan, wrote on Twitter, "Perhaps someone should inform Joe of the new rules. We no longer engage in BS political niceties like a lounge lizard. We tell the straight truth which can still be done respectfully." 
Biden soon responded and retracted his earlier comment. 
"You're right, Cynthia," Biden wrote. "I was making a point in a foreign policy context, that under normal circumstances a Vice President wouldn't be given a silent reaction on the world stage. But there is nothing decent about being anti-LGBTQ rights, and that includes the Vice President."
Conservative commentator Ben Shapiro said the pushback against Biden reminded him of the time when actor Mark Duplass made kind remarks about Shapiro and received criticism from liberals. Shapiro called it being "Duplassed." 
"Here's the truth: We have large-scale disagreements in this country," Shapiro wrote at NationalReview.com. "Very few of those disagreements are rooted in animus. By casting all disagreement as hate-based -- and by destroying those with whom we disagree on a character level -- we worsen both hate and politics. Enough with the Duplassing. Enough of the moral cowardice. It's just fine for Joe Biden to think Mike Pence is a decent guy. And it's pretty indecent to disagree."
Author and conservative commentator Jay Cost said Biden's comment about Pence was "hardly a controversial statement." The Right, Cost added, has a similar problem: Polarizing voices dominate the conservative conversations, too. 
"We have allowed the angriest, most strident, least compromising forces within our society to have the best position to decide who wields political power," Cost wrote at NationalReview.com. "Sure, swing voters in the middle of the country get to choose between the Democrat and the Republican, but months, even years, before that happens, the eventual nominees have to curry favor with the hardcore ideologues."
Michael Foust is a freelance writer. Visit his blog, MichaelFoust.com.
Photo courtesy: Getty Images/Alex Wong/Staff
---
Did you know you can get Christian Headlines flash briefings on Amazon Alexa?
---
---