Michael Foust
| ChristianHeadlines.com Contributor
| Monday, June 8, 2020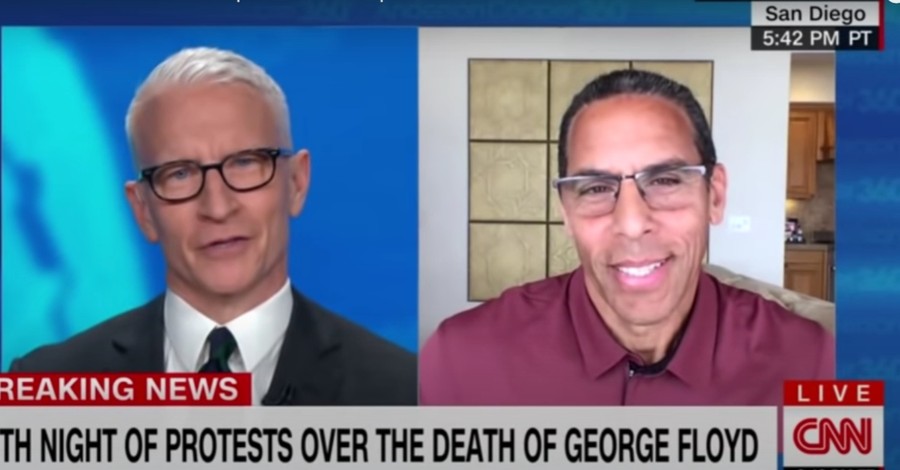 ---
The pastor of one of the nation's largest churches told CNN Friday that Americans must start listening to one another and see others as image bearers of God in order to heal the current divide.
Miles McPherson, the pastor of the Rock Church in San Diego, said the "us-versus-them culture" impedes unity and progress. McPherson made the comments on Anderson Cooper 360 amid nationwide protests following the death of George Floyd.
"Everybody's trying to get their way. And you're forced to pick a side – you're either for or against the police, for or against blacks or whites, [but] the third option is that we honor what we have in common," McPherson said. "We have more similarities than differences, and if we were to focus on that – all of us are on a journey. We all bleed red ... [and] we all want to get along and have peace. And so we've got to take steps to bridge that gap."
One strategy toward unity, he said, is to "acknowledge that we have blind spots."
"A blind spot is you not knowing what you don't know," he said. "There are a lot of times we don't even know when we're offending somebody. … When you say 'I don't see color,' [you may be] trying to build a bridge but in fact the person of color just feels like you invalidated everything that they are. And when you say you don't see color, you're telling someone you don't see them and that you do not acknowledge what they've been through."
Another strategy is to ask someone who thinks differently, "Help me understand your perspective."
"If it has to be 'my way versus your way,' we're never going to get anywhere,'" McPherson said.
McPherson encouraged the CNN audience to view everyone – even their opponents and those they disagree with – as image bearers of God.
"Everybody was made in the image of God – every person. Even the people who are looting were made in the image of God. They're just doing bad things, but they're still made in the image of God and have the potential to live productive lives," he said. "And if we can see them not through the name of a looter, or a thug or all the names we give people – and [instead] see God's potential in them, and treat them that way, then we can start to move the ball forward."
Photo credit: CNN Screenshot
---
Michael Foust has covered the intersection of faith and news for 20 years. His stories have appeared in Baptist Press, Christianity Today, The Christian Post, the Leaf-Chronicle, the Toronto Star and the Knoxville News-Sentinel.