Michael Foust
| ChristianHeadlines.com Contributor
| Friday, June 7, 2019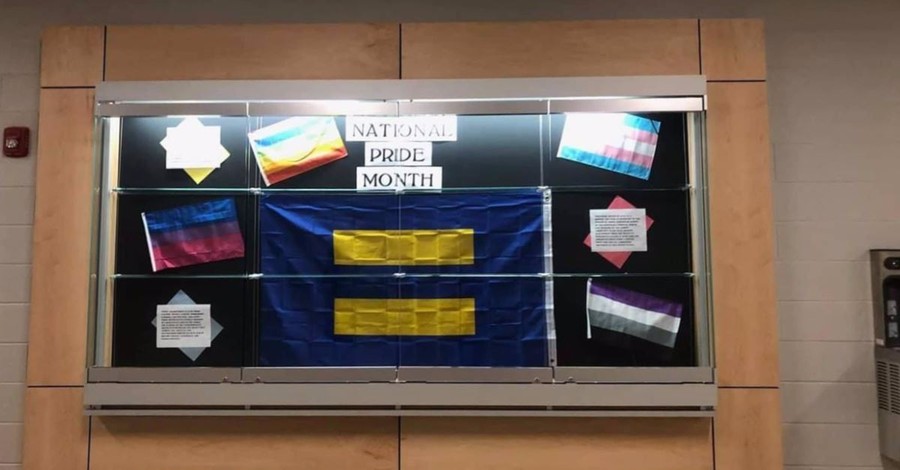 Two California middle schools raised gay pride flags Monday to little fanfare, while a similar action at a Virginia middle school stirred controversy.
Sylvandale Middle School in San Jose, Calif., raised the gay pride flag in recognition of June as being LGBT Pride Month, placing it just below the American flag atop the pole.
Juan Cruz, the superintendent of Franklin-McKinley School District, participated in the ceremony.
"We try to make a safe, inclusive environment – regardless of their sexual orientation – for all youth. That's why we're here today," Cruz said, according to the East Bay Times. 
Antioch Middle School in Antioch, Calif., also raised the gay pride flag. The Antioch School Board had voted 3-2 on May 29 to officially recognize LGBT Pride Month. Antioch Middle School was the only school to raise the flag, according to EastCountyToday.net.
Meanwhile, an indoor LGBT Pride display at Powhatan Middle School in Powhatan, Va., has resulted in some pushback from parents. The display was sponsored by the Multicultural Student Association and included the more well-known gay pride flag along with the asexual flag, the transgender flag, the bisexual flag and the equality symbol. 
"We were promoting the idea that while people may have personal beliefs about the LGBTQ community, they cannot judge, attack and bully people for who they are," Alexander Campbell, a member of the organization, told WWBT television. 
Four parents complained, the superintendent said. The display eventually was removed, although the superintendent said it and other displays were taken down in preparation for the school year ending.
On social media, several people said the display should not have been permitted, WWBT reported. 
"Absolutely does not belong in the school system," one person wrote.
Another person added, "This is highly inappropriate at the middle school level."
Related:
Mom Outraged after Gay Rights Book Read to 2nd Graders: 'It Caused Her to Question Her Faith'
Kindergarteners Learn Transgender Kids Are 'Born This Way' in NEA-Sponsored Event
Outrage Ensues after Book Featuring Gay Characters is Removed from Children's Book Fair
Michael Foust is a freelance writer. Visit his blog, MichaelFoust.com.
Photo courtesy: Powhatan Community Forum Facebook Page
---
---