Michael Foust
| ChristianHeadlines.com Contributor
| Wednesday, June 29, 2022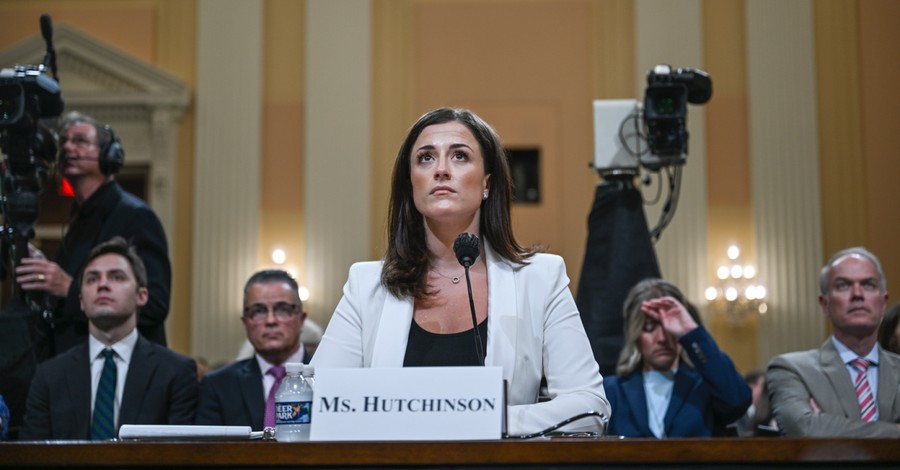 A former aide to Trump Chief of Staff Mark Meadows told the House January 6 committee that a White House attorney warned the administration about possible criminal charges and that President Trump wanted to attend the demonstration on the capitol steps but was stopped.
The aide, Cassidy Hutchinson, also testified that Meadows had said Trump believed Vice President Pence deserved to be targeted by rioters, who had chanted "Hang Mike Pence."
Meanwhile, the committee also read text messages from Fox News' Sean Hannity and Laura Ingraham to Meadows.
Here are five key takeaways from Hutchinson's testimony:
1. Meadows Warned that January 6 Could 'Get Real Bad'
Hutchinson told committee members that she didn't understand the potential magnitude of what might happen on January 6 until four days before that day.
On January 2, she said, Rudy Giuliani had asked her, "Are you excited for the 6th? It's going to be a great day." After Hutchinson expressed confusion over what Giuliani said, she said he responded, "We're going to the capitol."
After Giuliani left the White House on January 2, Hutchinson asked Meadows about January 6.
"I found Mr. Meadows in his office on the couch," she said. "He was scrolling through his phone. I remember leaning against the doorway and saying, 'I just had an interesting conversation with Rudy, Mark. It sounds like we're going to go to the capitol.' He didn't look up from his phone and said something to the effect of: There's a lot going on, Cass, but I don't know. Things might get real, real bad on January 6."
2. White House Counsel Warned Trump's Team
Pat Cipollone, the White House legal counsel, had warned Trump's team not to allow the president to go to the capitol.
"On January 3, Mr. Cipollone had approached me knowing that Mark had raised the prospect of going up to the capitol on January 6," Hutchinson said. "Mr. Cipollone and I had a brief private conversation where he said to me: We need to make sure that this doesn't happen. This would be legally a terrible idea for us. We have serious legal concerns if we go up to the capitol that day. … We're going to get charged with every crime imaginable if we make that movement happen."
Cipollone was concerned about the team being charged with "obstructing justice or defrauding the electoral count," she said.
Trump wanted to go to the capitol with his supporters but was prevented from doing so, Hutchinson said.
After the rioters entered the capitol building, Hutchinson said Cipollone told Meadows, "Something needs to be done, or people are going to die, and the blood is going to be on your f'ing hands."
3. Trump Believed Pence 'Deserves it'
Hutchinson told committee members that Meadows initially rebuffed calls from Cipollone to take action when rioters entered the capitol.
"I remember Pat saying something to the effect of, 'Mark, we need to do something more. They're literally calling for the vice president to be f'ing hung.' And Mark had responded something to the effect of, 'You heard him, Pat. He thinks Mike deserves it. He doesn't think they're doing anything wrong,' to which Pat said something, 'This is f'ing crazy, we need to be doing something more.'"
4. Hutchinson Was 'Disgusted' by Trump's Actions
After rioters entered the capitol on January 6, Trump sent out a 2:24 p.m. tweet that sparked outrage by some in the White House, Hutchinson said. The tweet said, in part, "Mike Pence didn't have the courage to do what should have been done to protect our Country."
"It was un-American. We were watching the capitol building get defaced over a lie, and it was something that was really hard in that moment to digest, knowing what I've been hearing down the hall and the conversations that were happening," she said. "Seeing that tweet come up and knowing what was happening on the Hill, and it's something that I … still struggle to work through the emotions of that."
Meadows, she said, later sought a pardon from Trump.
5. Sean Hannity and Laura Ingraham Texted Meadows
The committee read January 6 texts from Fox News' Sean Hannity and Laura Ingraham to Meadows, who previously provided his text messages to the committee. The texts were sent after rioters entered the capitol.
"Hey Mark, the president needs to tell people in the Capitol to go home," Ingraham wrote. "This is hurting all of us. He is destroying his legacy and playing into every stereotype."
"Can he make a statement. I saw the tweet. Ask people to peacefully leave the capital," Hannity texted.
Donald Trump Jr. texted Meadows about his father, "He's got to condemn this s--t. Asap."
Hannity, on January 7, texted Meadows: "No more stolen election talk. … Impeachment and 25th amendment are real."
Photo courtesy: ©Getty Images/Brandon Bell/Staff
---
Michael Foust has covered the intersection of faith and news for 20 years. His stories have appeared in Baptist Press, Christianity Today, The Christian Post, the Leaf-Chronicle, the Toronto Star and the Knoxville News-Sentinel.
---
---