Michael Foust
| ChristianHeadlines.com Contributor
| Monday, January 18, 2021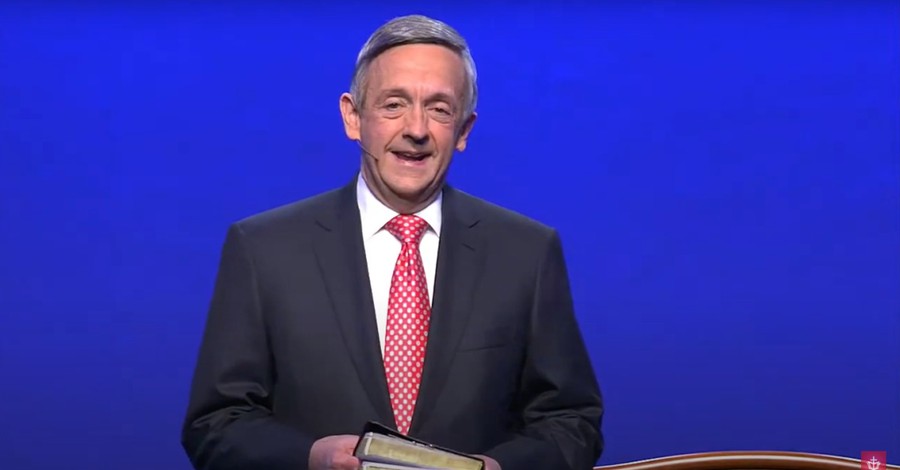 ---
One of President Trump's most well-known evangelical supporters is urging Christians to pray for the Biden-Harris administration while holding it accountable when it "violates God's law."
Robert Jeffress, pastor of First Baptist Church in Dallas, Texas, said Sunday that God placed Joe Biden in the White House – just as God places all presidents in power. The message was titled, "How should Christians respond to President Biden?"
"Daniel 2:21 says it is God who establishes kings and removes kings," Jeffress said. "God is the one who determines all authority. He's in control of all of it. … There is no government that exists anywhere at any time in history that was not established by God."
Jeffress was one of President Trump's most vocal supporters the past four years, regularly talking to the president on the phone and appearing at White House events. Jeffress said he spoke to Trump on the phone last week. He said he told Trump he would go down as the "the most pro-life, pro religious liberty president in history."
Jeffress, though, says he's not "depressed" or "discouraged" over the election results. That's because, he said, "even though the occupant of the Oval Office is changing," the "occupant of the throne in heaven is not changing at all."
"God is on his throne in heaven," Jeffress said. "... There was no panic in heaven over the election. There is nothing that happens outside the sovereign plan of God. Does that mean everything Joe Biden is going to do is going to be great? No. God can use imperfect people. … God uses imperfect, wrong things that people do, and for which people will be held accountable – He uses those to accomplish His perfect will."
The Bible, he said, commands Christians to "obey" and pray for government leaders.
"We are to obey the governing authorities," Jeffress said, referencing Romans 13:1-2. "If we resist government, it's the same as resisting the God who put government into place. Ladies and gentlemen, we don't have any right as Christians to overthrow a government we don't like. … Think about Jesus. Did He call for an overthrow of the Roman government? No, and they were the ones who would put Him to death. Instead, He said, 'Pay your taxes to that evil government. Render unto Caesar the things that are Caesar's.' And what about Paul? Did he say, 'Turn over the Roman government [and] get rid of it?' ... No, he said, 'Be in subjection to the governing officials.'"
Jeffress, referencing 1 Timothy 2:1-2, said Christians are told in Scripture to pray for their leaders.
"We are to pray for Joe Biden, and we are to pray for Kamala Harris, and we are to pray for every elected official," he said. "... We don't just pray for the government leaders we voted for – the ones that we like or the ones that we support. We are to pray for all of them. Why? So that we might live a tranquil and quiet life in all godliness and dignity. We ought to pray for their wisdom in what they do. And we pray, most of all, that they would leave us alone to practice our faith."
Jeffress acknowledged major differences between evangelicals and the Biden administration on the subjects of abortion, same-sex marriage and gender fluidity. Jeffress predicted increased "friction" between the society and the church in the near future.
"Those things that were celebrated virtues that were [long ago] celebrated, the new culture condemns. Those things that were unspeakable, a few decades ago, are now celebrated," he said. "... There is going to be pressure whenever the church condemns what society is celebrating. And I believe that's what we're going to see happen very, very quickly over these next four years."
Christians who voted for President Trump, Jeffress said, have no reason to be fearful.
"Ladies and gentlemen, if you have trusted in Jesus Christ for the forgiveness of your sins, you have a loving God who is watching out for your life," he said. "You are in the grip of God if you're a Christian, and no election is going to change that. God has a plan He's working out. And that plan is for your good. … We have no reason to fear. The mission hasn't changed. And the captain of our ship, Jesus Christ is in control."
Related:
Franklin Graham Urges Christians to Pray for Joe Biden: America Must 'Work Together for the Good'
Photo courtesy: First Baptist Dallas
Video courtesy: First Baptist Dallas
---
Michael Foust has covered the intersection of faith and news for 20 years. His stories have appeared in Baptist Press, Christianity Today, The Christian Post, the Leaf-Chronicle, the Toronto Star and the Knoxville News-Sentinel.