Michael Foust
| ChristianHeadlines.com Contributor
| Tuesday, September 11, 2018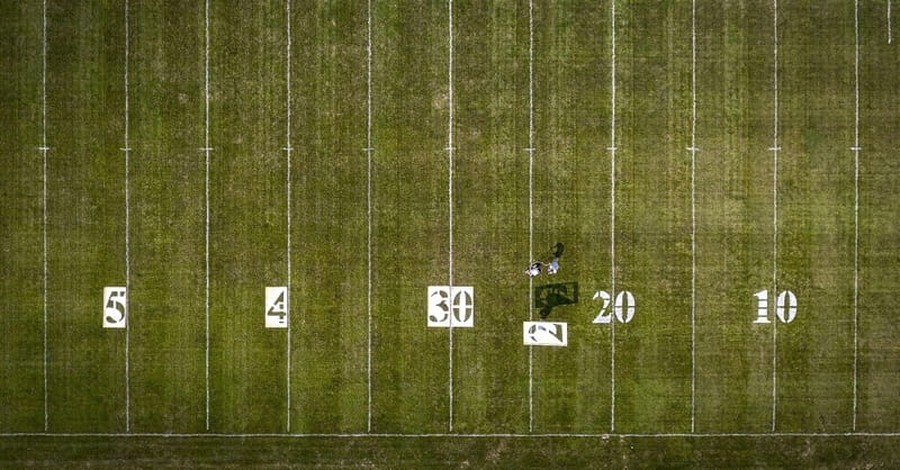 Officials at a Louisiana high school Friday painted over a business logo because it contained a cross symbol and the word "Christ" in a move that "baffled" the business owner. 
Billy Weatherall, the owner of Christ Fit Gym, said he paid $3,500 for his business logo to be painted in the end zone at Benton High School. The end zone logo displayed a cross, the name of the business, and "1 Timothy 4:8."
But hours prior to the Friday night football game, the logo was covered with paint. Weatherall won a temporary injunction preventing the logo from being painted over, but not before it already was covered. 
Weatherall sued the Benton Football Booster Club.
"It's a battle over the mind of a child," his attorney, Ryan Gatti, told KSLA-TV. Students were ordered to paint over the logo, Gatti said. 
"Just let that sink in. They were told to spray paint over the name of Christ," Gatti said.
Weatherall said he's been asked to withdraw the lawsuit but is refusing to do so.
"It's a slow fade," he told KSLA. "And I promise you, if I don't stand up for this right now, it ain't stopping with the logo on the field. They'll be coming for ads next. They'll be coming for what's in the programs. It's just not gonna stop right here, I promise you it will not stop with this.
"But what we need to do, we need to take a stand and just say no, enough is enough. We aren't going to stand for it."
The stadium has signs from church sponsors, too, he noted. 
Americans United for Separation of Church and State sued the school district in February, alleging it was unconstitutionally promoting religion. 
The school district's lawyer told KSLA: "A challenge to the logo was received from counsel for the plaintiffs in a pending federal lawsuit alleging improper endorsement of religion in the schools. The School Board's legal counsel advised the administration that the logo should be removed pending consultation with the Court, as alleged violations had just been discussed with the Court."
Michael Foust is a freelance writer. Visit his blog, MichaelFoust.com.
Photo courtesy: Unspalsh/Brandon Mowinkel
---
---