Michael Foust
| ChristianHeadlines.com Contributor
| Tuesday, April 23, 2019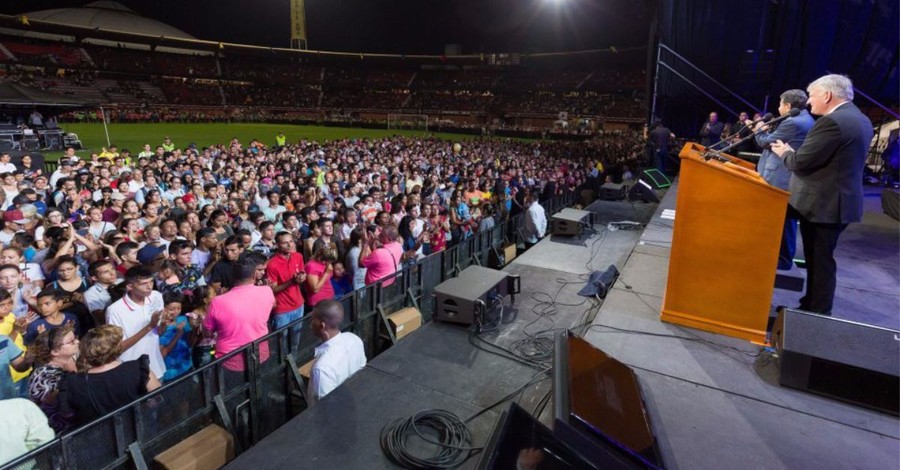 ---
A region of South America with a seemingly bleak future heard the hope-filled message of Christ last week.
More than 94,000 citizens of Colombia and Venezuela attended Franklin Graham's Festival of Hope and an additional 22,000 an accompanying kid-friendly event Thursday through Saturday in Cucuta, Colombia, which is situated on the Colombia-Venezuela border. The city has absorbed a mass exodus of Venezuelans in recent years as that country has faced an economic crisis and a food shortage.
According to the Billy Graham Evangelical Association website, more than 7,550 people accepted Christ. 
"We see economic problems in the world, political problems in the world, we see wars, we see hunger, and we wonder if there is a God and if He cares about us," Graham told the crowd Saturday, a day before Easter.
Jesus, he added, is the answer. 
"He's not still hanging on the cross," Graham said. "He's alive. He's here tonight in this stadium. And if you're willing to call on His name and trust Him tonight, God will forgive you of your sins. You can have peace tonight with Jesus Christ."
An estimated 1 million Venezuelans have crossed the border into Colombia in recent years, searching for food and work. Many of those have landed in Cucuta, crossing the nearby Simon Bolivar Bridge.
Approximately 22,000 attended a child-centric FestiKids event Thursday. On Saturday, an estimated 42,500 people came to the final night of the Festival of Hope, bringing attendance for the two-day Festival to 94,000. 
More than 450 churches participated. 
"It's even better than I expected," said Cucuta pastor Edgar Miller, referencing participation by churches.
The next step, Miller said, includes local churches contacting Christians and getting them involved in a congregation.
Michael Foust is a freelance writer. Visit his blog, MichaelFoust.com.
Photo courtesy: BGEA