Michael Foust
| ChristianHeadlines.com Contributor
| Thursday, October 3, 2019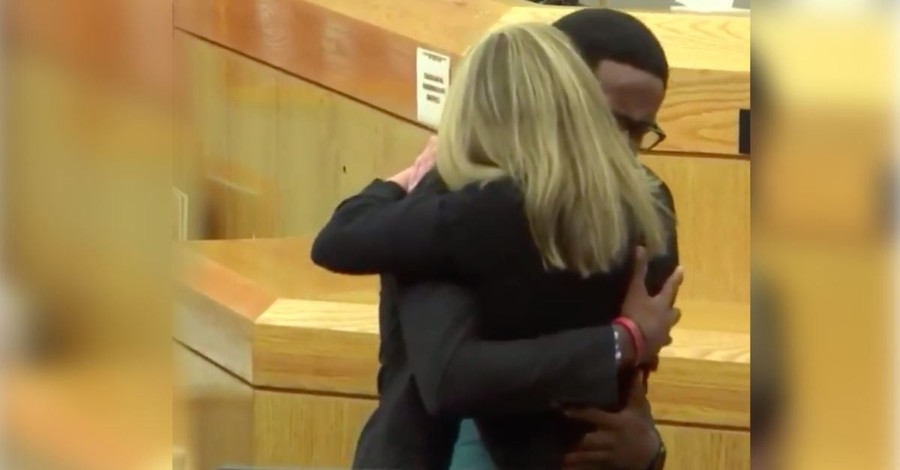 The brother of a man shot and killed in his own apartment by a former Dallas police officer shocked the courtroom and sparked a national debate Wednesday by forgiving his brother's killer and urging her to turn her life to Christ. 
The brother, Brandt Jean, then hugged the officer who had killed Botham Jean. The interaction even brought the judge to tears. 
"I forgive you," Jean said before urging the former officer to "... Give your life to Christ."
Amber Guyger was convicted of murder and sentenced to 10 years in prison for the 2018 fatal shooting of Botham Jean. Guyger had mistakenly entered the wrong apartment and believed he was in her apartment. 
Brandt Jean, who is 18, took the witness stand after the sentencing and addressed Guyger.  
"I don't want to say twice or for the hundredth time ... how much you've taken from us. I think you know that," Jean said. "But ... I hope you go to God with all the guilt [and] all the bad things you may have done in the past. Each and every one of us may have done something that we're not supposed to do. If you truly are sorry – I know I can speak for myself, I forgive you. And I know if you go to God and ask Him, He will forgive you."
As he spoke, sobbing could be heard throughout the courtroom. 
"But I love you just like anyone else. And I'm not gonna say I hope you rot and die just like my brother did, but I personally want the best for you," Jean added. "And I wasn't gonna ever say this in front of my family or anyone, but I don't even want you to go to jail. I want the best for you. Because I know that's exactly what Botham would want you to do. And the best would be [to] give your life to Christ."
Seconds later, Jean turned to Judge Tammy Kemp and asked, "Can I give her a hug? Please?"
Kemp, wiping away tears, responded, "Yes."
Jean and Guyger hugged in front of the courtroom for nearly a minute. 
BREAKING: In stunning moment, Botham Jean's brother embraces Amber Guyger after her sentencing for his brother's murder.

"I don't even want you to go to jail. I want the best for you, because I know that's exactly what Botham would want." https://t.co/sWaPUtS0kj pic.twitter.com/xPAIKQLh6z

— ABC News (@ABC) October 2, 2019
Later, Kemp gave Guyger a Bible. 
Some on social media said Brandt Jean went too far. 
"Why on earth would anyone with a brain hug his brother's murderer?" one person on Twitter asked.
Most people on social media, though, were in awe at the moment. 
"There is hope for the country with young men like this," one person wrote. "If only there were more."
Michael Foust is a freelance writer. Visit his blog, MichaelFoust.com.
Related:
Dallas Youth Pastor Mistakenly Killed by Off-Duty Police Officer
Photo courtesy: ABC News Screenshot
---
---