Michael Foust
| ChristianHeadlines.com Contributor
| Thursday, November 21, 2019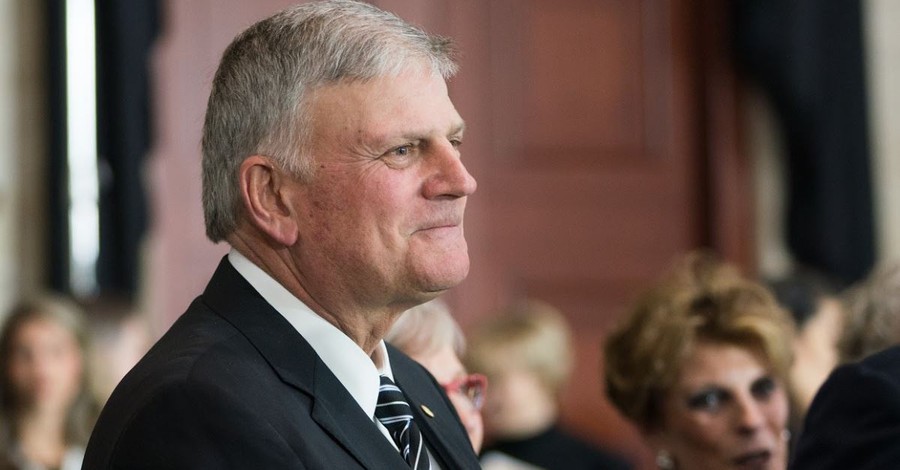 ---
Evangelist Franklin Graham on Thursday defended Chick-fil-A's decision to change its donation strategy, saying he had called CEO Dan Cathy and was assured the company had not caved and remains committed to Christian values. 
On Monday, the Chick-fil-A Foundation unveiled a "more focused giving approach" that will concentrate on the areas of education, homelessness and hunger. Beginning in 2020, the Foundation will exclusively fund Junior Achievement USA, Covenant House International, and local food banks. 
Chief Operating Officer Tim Tassopoulos told Bisnow.com that the Foundation no longer would donate to the Fellowship of Christian Athletes and the Salvation Army – two ministries that have been at the heart of criticism by LGBT groups.  
"Has Chick-fil-A caved?" Graham asked in a post on Facebook. "Some are saying they've rolled over, that they've conceded to the LGBTQ protests because they released a statement about their charitable giving. They announced that in 2020 they're giving to fight hunger and homelessness and support education. What's wrong with that?
"I picked up the phone and called Dan Cathy," Graham said, referencing the Chick-fil-A CEO. "Dan was very clear that they have not bowed down to anyone's demands, including the LGBTQ community. They will continue to support whoever they want to support. They haven't changed who they are or what they believe. Chick-fil-A remains committed to Christian values. Dan Cathy assured me that this isn't going to change. I hope all those who jumped to the wrong conclusion about them read this."
Nothing Chick-fil-A does, Graham said, will appease LGBTQ groups. 
"In my opinion, the gay movement wouldn't ever be happy with Chick-fil-A unless they were open on Sunday, gave all of their charitable donations to LGBTQ organizations, and flew the rainbow flag over their stores!" Graham wrote. "Their hatred for Chick-fil-A is rooted in founder Truett Cathy's strong stand for biblical 'traditional' values and his desire to honor God."
Graham also said he visited a Chick-fil-A restaurant this week
"No fast food chain does a better job," he said. "I went through the drive-thru at Chick-fil-A yesterday morning, and I thought I might get dinner there – but a whole lot of other people had the same idea! A Chick-fil-A sandwich with waffle fries sounds really good right now!"
Related:
Despite Change, Chick-fil-A 'Still Isn't LGBTQ-Friendly,' Gay Groups Say
Mohler: Chick-fil-A's Decision Sets Bad 'Precedent' for Christian Ministries
Salvation Army Releases Statement following Chick-fil-A's Decision to Halt Donations
Chick-fil-A Fans Outraged after Company Caves, Halts Donations to FCA, Salvation Army 
Chick-fil-A's Sales Have Doubled Since LGBT Boycott Began in 2012 
Michael Foust is a freelance writer. Visit his blog, MichaelFoust.com.
Photo courtesy: Getty Images/Pool