Michael Foust
| ChristianHeadlines.com Contributor
| Thursday, January 14, 2021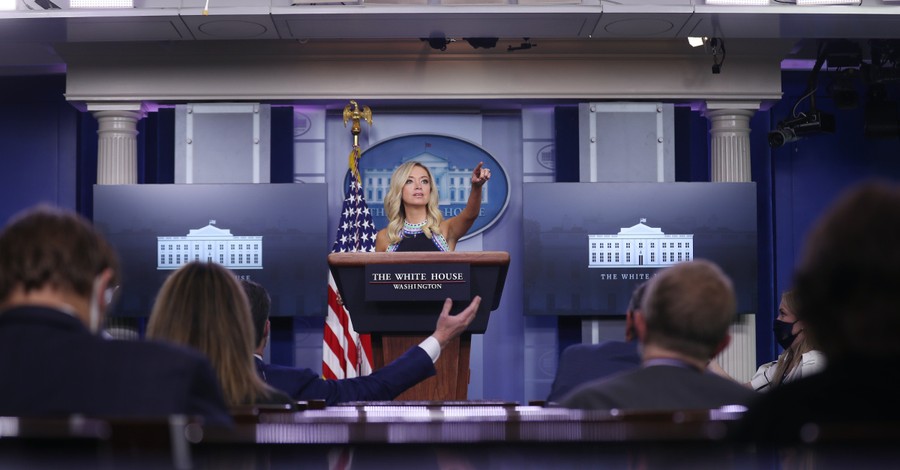 ---
Calling it a "truth reckoning," a Forbes editor is warning the business world not to hire Kayleigh McEnany or any of President Trump's former press secretaries because – he says – "those who lied for Trump" must be held accountable.
Randall Lane, the chief content officer of Forbes Media and editor of Forbes Magazine, argues in a new Forbes.com column that "as American democracy rebounds," the country needs "to return to a standard of truth when it comes to how the government communicates with the governed."
Forbes, he noted, tilts to the right. Its chairman and editor-in-chief is Steve Forbes, who ran for president as a Republican in 1996 and 2000.
"This isn't cancel culture, which is a societal blight. (There's surely a nice living for each of these press secretaries on the true-believer circuit.)," he wrote. "Nor is this politically motivated, as Forbes' pro-entrepreneur, pro-growth worldview has generally placed it in the right-of-center camp over the past century — this standard needs to apply to liars from either party.
"It's just a realization that, as Daniel Patrick Moynihan famously said, in a thriving democracy, everyone is entitled to their own opinions, but not their own facts. Our national reset starts there."
Trump had four press secretaries: Sean Spicer, Sarah Sanders, Stephanie Grisham and Kayleigh McEnany. Lane also criticized Kellyanne Conway, a Trump counselor who often was an on-air spokeswoman.
The column was posted the day after a mob of Trump supporters stormed into the capitol building in an attack that left five dead. Among the dead was a law enforcement officer.
"Yesterday's insurrection was rooted in lies. That a fair election was stolen. That a significant defeat was actually a landslide victory. That the world's oldest democracy, ingeniously insulated via autonomous state voting regimens, is a rigged system," Lane wrote. "Such lies-upon-lies, repeated frequently and fervently, provided the kindling, the spark, the gasoline.
"... In this time of transition – and pain – reinvigorating democracy requires a reckoning," Lane added. "A truth reckoning. Starting with the people paid by the People to inform the People."
Lane argued that, from the first day of the administration, Trump and his press secretaries lied.
"[U]p has been down, yes has been no, failure has been success. Sean Spicer set the tone with the inauguration crowd size -- the worst kind of whopper, as it demanded that people disbelieve their own eyes," Lane wrote. "The next day, Kellyanne Conway defended Spicer's lie with a new term, 'alternative facts.' Spicer's successor, Sarah Huckabee Sanders lied at scale, from smearing those who accused Trump of sexual harassment to conjuring jobs statistics. Her successor, Stephanie Grisham, over the course of a year, never even held a press conference, though the BS continued unabated across friendly outlets. And finally, Kayleigh McEnany, Harvard Law graduate, a propaganda prodigy at 32 who makes smiling falsehood an art form.
"All of this magnified by journalists too often following an old playbook ill-prepared for an Orwellian communication era."
The business world, Lane argued, must reject those who "don't follow the civic norms" of telling the truth. Lane's column ran under the headline, "A Truth Reckoning: Why We're Holding Those Who Lied For Trump Accountable."
He acknowledged that public relations includes "spins and omissions and exaggerations." But "ultimately in PR," he argued, "core credibility is the coin of the realm."
"Don't let the chronic liars cash in on their dishonesty. Press secretaries like Joe Lockhart, Ari Fleischer and Jay Carney, who left the White House with their reputations in various stages of intact, made millions taking their skills – and credibility – to corporate America," Lane wrote, referencing former press secretaries for Presidents Clinton, George W. Bush and Obama. "Trump's liars don't merit that same golden parachute. Let it be known to the business world: Hire any of Trump's fellow fabulists above, and Forbes will assume that everything your company or firm talks about is a lie. We're going to scrutinize, double-check, investigate with the same skepticism we'd approach a Trump tweet. Want to ensure the world's biggest business media brand approaches you as a potential funnel of disinformation? Then hire away."
Photo courtesy: ©Getty Images/Chip Somodevilla/Staff
---
Michael Foust has covered the intersection of faith and news for 20 years. His stories have appeared in Baptist Press, Christianity Today, The Christian Post, the Leaf-Chronicle, the Toronto Star and the Knoxville News-Sentinel.