Michael Foust
| ChristianHeadlines.com Contributor
| Wednesday, February 1, 2023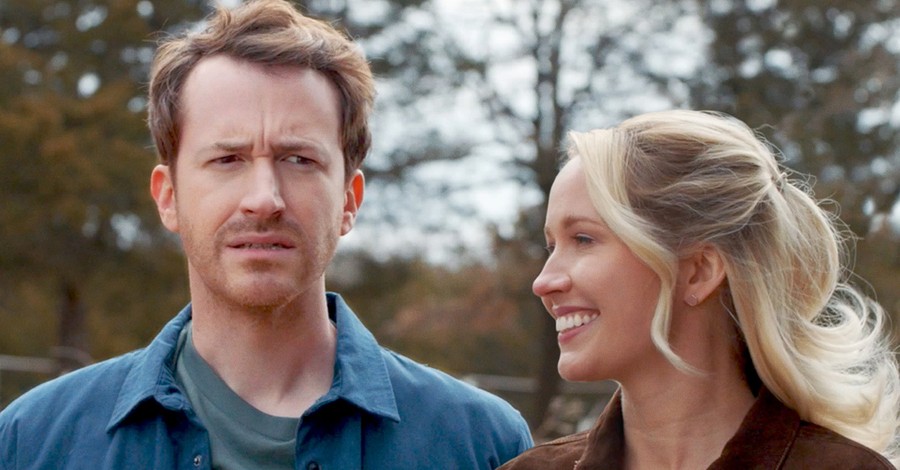 A new film by the husband-and-wife team of David Hunt and Patricia Heaton has a life-affirming, adoption-centric message that reminds audience members that everyone is "known to God," they say.
The comedy film, Unexpected, is based on the book Enslaved by Ducks and tells the story of a couple battling infertility who accumulate various types of animals to try and fill the emotional void. Halfway through the film, the couple faces the possibility of adoption.
It stars Joseph Mazzello (Bohemian Rhapsody, The Social Network) and Anna Camp (The Help, 5000 Blankets) in the lead roles. Hunt directed it, and Heaton produced it.
"My goal as director from Day 1 was always to make people laugh and entertain people – but once I got people disarmed to then reach in and squeeze their hearts, and just try and tell the story in a way that shows how we're all connected and how life-affirming it is," Hunt (Amazing Grace, 24) told Christian Headlines. "... In the eyes of God, we're all made of the same stuff."
The turning point in the movie comes when a young woman learns she is pregnant and chooses not to have an abortion. ("I just can't," she says.) Camp's character, Amy, views the growing baby as a "gift from God" but has trouble convincing her husband, Bob, to adopt it. That's because Bob is addicted to Zoloft and is scared of everything in the world.
"I love comedy," Heaton (Everybody Loves Raymond, The Middle) told Christian Headlines. "I think that's the way into a lot of subject matter that can be really tricky."
Although the film is based on Enslaved by Ducks, the book itself does not include an adoption angle. That was added by Hunt. Rodney Patrick Vaccaro wrote the script.
Hunt wanted the movie to focus on a couple who "go on a journey of adoption."
"We found in the people that we've sort of test-screened it with, so many people have come up to us and said, 'Oh, that's my journey – [people] that we had no idea their kids were adopted,'" Hunt said.
The film, Heaton said, includes "these wonderful aerial shots" that are "kind of a God's-eye view of all these people going through their personal struggles."
There is, she said, a "sense of compassion in the movie for all of us in this human struggle that we are going through."
"And there's a great sense of hope about all their situations – situations that don't always turn out the way we've planned," Heaton said. "So I think it's just a really beautiful, funny movie."
The 1905 hymn His Eye Is on the Sparrow is featured prominently in the film. The original song was inspired by multiple verses, including Psalm 32:8, Matthew 6:26 and Matthew 10:29-31.
"What that song signifies is that the lives that you're watching in this movie – they're small lives, they're people you might pass on the street, never notice, never get to know – but everybody is known, right? Everybody has a story. Everybody's known to God," Heaton told Christian Headlines. "And so that song is about that Scripture, He cares for you. … That's why that song is in there."
Photo courtesy: ©iTunes, used with permission.
---
Michael Foust has covered the intersection of faith and news for 20 years. His stories have appeared in Baptist Press, Christianity Today, The Christian Post, the Leaf-Chronicle, the Toronto Star and the Knoxville News-Sentinel.
---
---