Michael Foust
| ChristianHeadlines.com Contributor
| Friday, June 21, 2019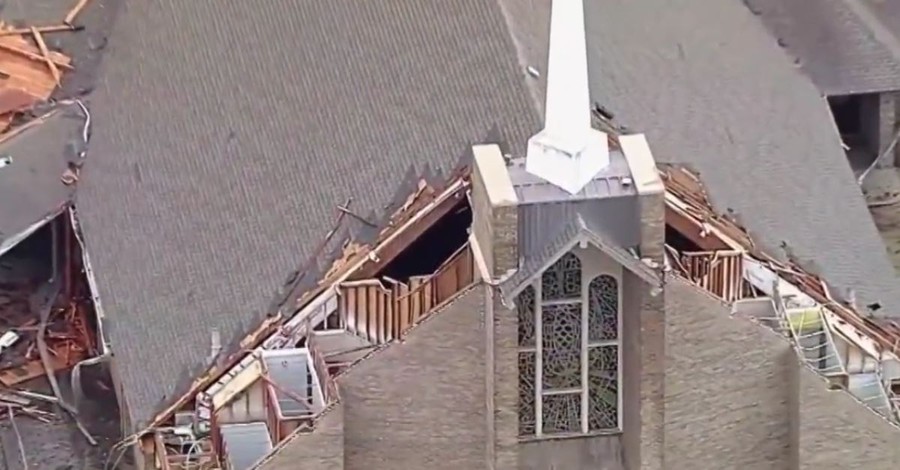 A Texas pastor is crediting divine intervention for saving lives from a major storm that damaged his church's building.
Highland Terrace Baptist Church in Greenville, Texas, was preparing to hold its mid-week service Wednesday night when pastor Chet Haney and his congregation decided to cancel. Half an hour later, much of the building was destroyed. 
"It was a funny feeling, because about 5:30 [p.m.] everything was normal," he told KTVT-TV in Dallas-Fort Worth. "Without hesitation, we all decided together: We better tell everybody to stay home. Thank the Lord we did, because in 25 minutes we didn't have a church anymore in terms of the building." 
The National Weather Service says straight-line winds, not a tornado, slammed the region. Winds peaked at 85 mph.
The storm tore a hole into the roof of the worship center. Much of the roof caved in and was destroyed. 
"It's actually my granddaughter's Sunday School room – it's completely demolished. Something fell out of the sky and landed on top of it," Haney said. 
The Sunday School room, he told KXAS, would have been filled with children if services had been held. 
Church member Wynema Payne had arrived early for choir practice.
"Within three seconds, we heard a loud boom and the roof here was taken off and deposited in that Sunday School class probably 30 feet from us," Payne said.
The church's 40-year-old organ and a Steinway piano were both soaked by rain.
"We're kind of on pins and needles about how damaged they could be," Haney said.
The strong winds tore limbs off trees and ripped roofs off buildings throughout Greenville, which is situated 50 miles northeast of Dallas. Thousands of residents were left without power. 
No injuries were reported. 
Michael Foust is a freelance writer. Visit his blog, MichaelFoust.com.
Photo courtesy: Screenshot CBS News
---
---