5 Christian Leaders' Views on the Coronavirus and the End Times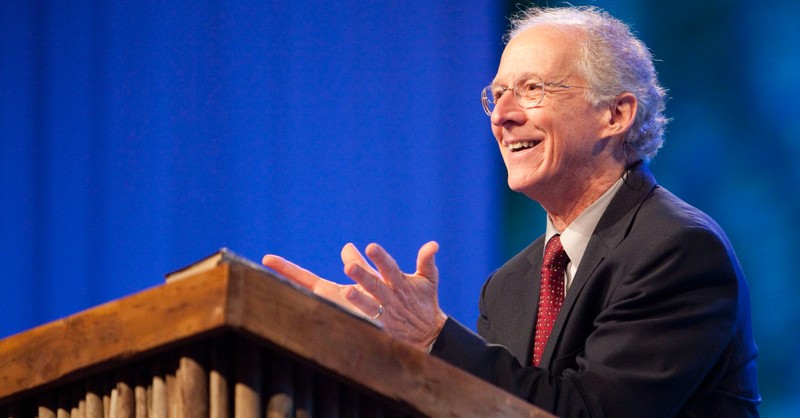 Is the coronavirus pandemic a sign of the End Times?
What might God be telling us?
How should Christians react to the virus' rapid spread and the worldwide economic crisis?
Here are what five prominent Christian leaders in recent weeks have said about the correlation between the coronavirus, the End Times and God's Word.
Photo courtesy: Micah Chiang/Creative Commons, image cropped and resized
1. David Jeremiah

Jeremiah, pastor of Shadow Mountain Community Church, preached a sermon March 22 titled, "Is The Coronavirus In Bible Prophecy?"

"Let's face it, this whole pandemic thing feels like something we've read about in the Bible. Or to say it another way, this is the most apocalyptic thing that has ever happened to us. ...

"What in the world is going on? Is there a connection between COVID-19 and the End Times? Are we living in the last days before the return of Jesus Christ? Is all that is happening to us at this moment a sign that the world is coming to an end? How do we know if the coronavirus is a sign?

"... Let's define what a sign is. A biblical sign is an event or a symbol or an object or a place or a person whose existence indicates something important on God's plan for the future."

Jeremiah read from Matthew 24:7: "For nation will rise against nation, and kingdom against kingdom. And there will be famines, pestilences, and earthquakes in various places."

"So is the coronavirus, a sign of Jesus coming? Is this the pestilence Jesus is talking about?" Jeremiah asked. "Probably not. It does not perfectly qualify as a prophetic sign. I could not stand here and say to you and have any confidence in saying it that this is the fulfillment of number three on Jesus sign list of Matthew 24. But it surely is a picture of it, isn't it? It surely does remind us that such signs exist, and such things will happen.

"... While this may not be a sign of the future, it's a sign for today."

The coronavirus, Jeremiah said, is a sign for today of the vulnerability of life, the credibility of the Bible, the uncertainty of life, the scarcity of hope, the sufficiency of Jesus and the urgency of salvation.

Photo courtesy: David Jeremiah Facebook

2. Anne Graham Lotz

"While my age and recent chemotherapy put me at risk, I am more concerned about the fear the coronavirus has provoked than I am of the virus itself. We seem to be caught up in a national panic," Lotz wrote in a March 13 blog.

"... I remember the words of Jesus. He warned us that at the end of time there would be pestilences. In the last few years, we have endured SARS, the swine flu, ebola, avian flu, MERS, West Nile virus, and now the coronavirus. Could COVID-19 be one more sign that our redemption is drawing near? Is the End in sight? Is Jesus coming … soon? If so, is fear the proper response?

"When Isaiah's life was shaken, he responded by looking up. As a result, he had a fresh vision of the Lord. [Isaiah 6:1]

"This is the time to look up … from our knees! Let's ask God to give us a fresh vision of Himself. Because, God is our refuge and strength, an ever-present help in trouble. Therefore, we will not fear … [Psalm 46:1-2]

"Since He who dwells in the shelter of the Most High will rest in the shadow of the Almighty. I will say of the Lord, 'He is my refuge and my fortress, my God, in whom I trust.' Surely, he will save you from … the deadly pestilence … You will not fear the terror of night … nor the pestilence that stalks in the darkness, nor the plague that destroys at midday. A thousand may fall at your side, ten thousand at your right hand, but it will not come near you … [Psalm 91:1, 2, 5-7]

"This is a time to pray for ourselves, our families, our nation, and all those worldwide whose lives are being devastated by the death and disruption this disease is causing. You and I need to make sure we are right with God so that we are ready to meet Him whenever the time comes. And then join me in helping someone else get right with God. Let's pull out all the stops as we tell others that it's possible to have peace in the midst of the storm and confident hope for tomorrow, claiming Jesus' promise, Surely I am with you always, to the very end of the age. [Matthew 28:20]"

Photo courtesy: ©Getty Images/Brian Blanco/Stringer

3. Jimmy Evans

Evans, author and senior pastor of Gateway Church in Southlake, Texas, delivered a sermon March 28 titled, "This Is Not the End." It examined the relationship between the coronavirus and the End Times.

"If you become fearful when someone talks about the End Times, it's either because you don't understand it or someone may have taught you wrong in the past. I'm telling you it is the most comforting thing in the world," Evans asserted.

People, he said, are "fearful of the unknown."

"That's why God gives us prophecy, because He's telling us the future in advance," Evans said.

Evans read from Matthew 24:3-8. The latter two verses read: "For nation shall rise against nation, and kingdom against kingdom: and there shall be famines, and pestilences, and earthquakes, in divers places. All these are the beginning of sorrows."

"We're not in the tribulation," Evans said. "This is not the end, we're not going to go through the tribulation. ... We're in the beginning of sorrows, and I think that we've been there since 1948 when Israel became a nation. We're seeing all those things – the famines, the earthquakes, the pestilences. We're right now in a worldwide pestilence, but we've also seen many other diseases ... that are certainly pestilences. Nation rises against nation, kingdom against kingdom – all of those kinds of things are happening. So we're in a season that Jesus described as the beginning of sorrows."

"... Every time there's a bad economic event, people are asking me, 'Do you think that this is a worldwide financial meltdown? Is the economy going to collapse?' By the word of Jesus, I'm telling you, this will pass, and there will be an economy and life when Jesus returns."

Photo courtesy: Jimmy Evans Facebook

4. John Piper

John Piper

"Jesus has all knowledge and all authority over the natural and supernatural forces of this world," Piper said in a Feb. 28 interview.

"He knows exactly where the virus started, and where it's going next. He has complete power to restrain it or not. And that's what's happening. Neither sin, nor Satan, nor sickness, nor sabotage is stronger than Jesus. He's never backed into a corner; he is never forced to tolerate what he does not will. 'The counsel of the Lord stands forever, the plans of his heart to all generations – Psalm 33:11.

"'I know that you can do all things,' Job says in his own repentance, 'and that no purpose of yours can be thwarted' – Job 42:2. So the question is not whether Jesus is overseeing, limiting, guiding, governing all the disasters and all the diseases of the world, including all their sinful and satanic dimensions. He is. The question is, with our Bibles open, how are we to understand this? Can we make sense out of it," Piper questioned.

"... All natural disasters – whether floods, famines, locusts, tsunamis, or diseases – are a thunderclap of divine mercy in the midst of judgment, calling all people everywhere to repent and realign their lives, by grace, with the infinite worth of the glory of God. And the basis for that building block is Luke 13:1-5. Pilate had slaughtered worshipers in the temple. And the tower in Siloam had collapsed and killed eighteen bystanders. And the crowds want to know from Jesus, just like I've been asked, 'Okay, make sense of this, Jesus. Tell us what you think about these natural disasters and this cruelty. These people were just standing there, and now they're dead.'

"Here's Jesus's answer in Luke 13:4–5: 'Those eighteen on whom the tower in Siloam fell and killed them: do you think that they were worse offenders than all the others who lived in Jerusalem? No, I tell you; but unless you repent [he shifts from them to you], you will all likewise perish.'

"Now, that's the message of Jesus to the world at this moment in history, under the coronavirus -- a message to every single human being. Me, and you … and everybody who's listening, and every ruler on the planet, every person who hears about this, is receiving a thunderclap message of God, saying, 'Repent,'" the pastor asserted.

"And I think the Chinese authorities should especially pay attention, who have recently – and I just read another article yesterday – become so increasingly harsh and repressive against the followers of Christ.

"Repent and seek God's mercy to bring your lives – our lives – into alignment with his infinite worth," Piper concluded.

Photo courtesy: John Piper Facebook

5. Michael Brown

Brown, an author and the host of the Christian show The Line of Fire, told the Washington Post he sees the coronavirus "as a trial run to see how we respond to calamity and hardship."

"If we're shaken now, how are we going to react when it really gets wild?" he asked.

Brown went into further detail on his website.

The coronavirus, he said, is an opportunity for the gospel.

"I have heard numerous 'prophetic' perspectives, with Christian leaders offering their viewpoints. And I have heard numerous 'secular' perspectives, with political pundits and scientists offering their viewpoints," Brown wrote. "And while these are certainly important questions to consider, the biggest question for us is this: What does God want to accomplish through this crisis?"

Brown referenced Jesus' story of the man born blind in John 9. Asked if the man was blind because he or his parents sinned, Jesus responded, "It isn't because this man sinned. It isn't because his parents sinned. This happened so that God's work could be shown in his life. While it is still day, we must do the work of the One who sent me. Night is coming. Then no one can work. While I am in the world, I am the light of the world."

Jesus then healed the man.

"[Jesus] only stated that this was a divine opportunity. The blindness was an opportunity for healing," said Brown, who has a forthcoming book on the subject, When the World Stops: Words of Faith, Hope, and Wisdom in the Midst of Crisis. "That is where we find ourselves today, and I believe God wants us to seize this unique moment in history. To recognize how things can turn on a dime. How, suddenly, non-praying Americans are praying. How the table has been set for a massive harvest and awakening.

"So, let's step back and ask the Father for His heart. For His perspective. … America today is a ripe harvest field, more than we have seen in many years. Let us seize the moment. Let us redeem the crisis. Is it not time?"

Photo courtesy: Michael Brown Facebook