Michael Foust
| ChristianHeadlines.com Contributor
| Thursday, January 16, 2020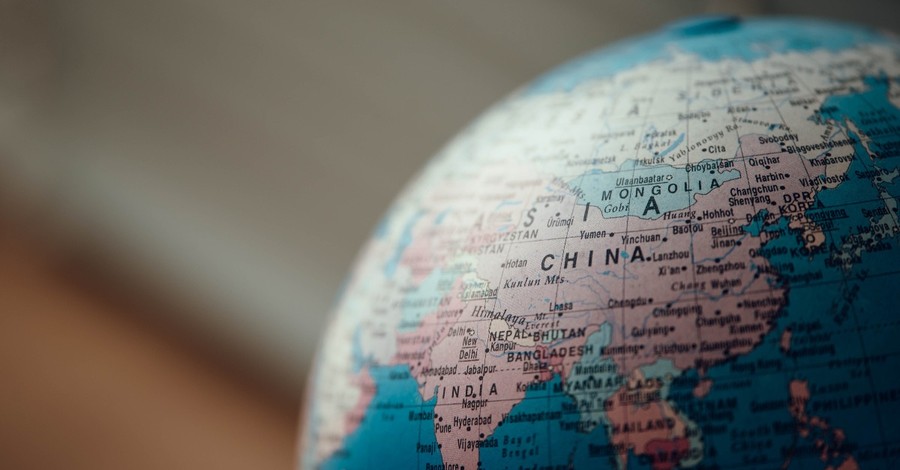 Christians in China experienced an unprecedented level of surveillance, control and restrictions of their beliefs within the past year, according to Open Doors' 2020 World Watch List, which saw the Communist nation rise four spots in the annual ranking of countries that persecute Christians the most.
China jumped from 27 to 23 on the list, driven by the government's desire to "Sinicize" Christianity and other religions – meaning to make religious beliefs "fall in line" with the government's interpretation of Communism.
The World Watch List, released annually, lists the 50 most dangerous countries for Christians to live.
North Korea remains No. 1 on the list, followed by Afghanistan, Somalia, Libya, Pakistan, Eritrea, Sudan, Yemen, Iran and India.
There were at least 5,576 government-approved attacks on churches last year in China, an increase from 171 the previous year.
China is home to an estimated 97,200,000 Christians. They comprise about 6 percent of the population, according to Open Doors' estimates.
Open Doors is calling China's persecution of Christians a "human rights nightmare"
"The Chinese government is nearly single-handedly responsible for the steep increase in churches and Christian buildings attacked in 2019," said David Curry, president and CEO of Open Doors. "Their newest policies are penalizing minority Christians in unprecedented ways. If they continue down this path they will be the single largest violator of human rights worldwide."
Open Doors listed multiple examples of the persecution of Christians in China:
- The online sale of Bibles banned.
- Teachers and medical staff pressured "to sign documents saying they have no religious faith."
- Elderly people told that their pensions "will be cut if they don't renounce" Christianity.
- Churches destroyed and crosses removed.
- Pastors jailed.
- Landlords pressured by government officials "to cancel rental contracts with churches."
- Christians and church officials monitored.
- Children under the age of 18 forbidden from attending church.
Curry is urging the U.S. government to address China's religious liberty violations in future trade deals.
"Phase one of the United States' new trade deal with China doesn't change the fact that China is a massive violator of human rights, particularly religious freedom violations against Christians, Muslims and Tibetans," Curry said. "Phase two must address this if we are to see normalized relations."
Churches within China must register either with the Three-Self Patriotic Movement (if they're Protestant) or the Chinese Patriotic Catholic Association. Because such congregations face extreme regulations, millions of Christians in the country worship in underground congregations.
China: Why it's No. 23 on the 2020 World Watch List from Open Doors USA on Vimeo.
Related:
Chinese Pastor Sentenced to 9 Years in Prison for Preaching Gospel
Chinese Panel: Bible Must Be Re-Interpreted to 'Keep Pace with the Times'
China Demolishes 3,000-Seat Megachurch during Worship Service
China Edits Pastor's Sermon, Deletes 'God Made Heaven and Earth'
China Beats and Arrests Pastor for Not Removing Church's Cross
Missionary Helped Lead 1,000 North Koreans to Christ Before Being Killed, Report Says
Former Atheist who 'Mocked' Jesus now Teaches at Christian Seminary: 'My Eyes Were Opened'
China: Children Cannot Become Christian until They're 18
Trump Admin. Blasts China on Religious Persecution: 'The Stain of the Century'
Michael Foust is a freelance writer. Visit his blog, MichaelFoust.com.
Photo courtesy: Chuttersnap/Unsplash
Video courtesy: Open Doors USA
---
Michael Foust has covered the intersection of faith and news for 20 years. His stories have appeared in Baptist Press, Christianity Today, The Christian Post, the Leaf-Chronicle, the Toronto Star and the Knoxville News-Sentinel.
---
---