Michael Foust
| ChristianHeadlines.com Contributor
| Monday, July 1, 2019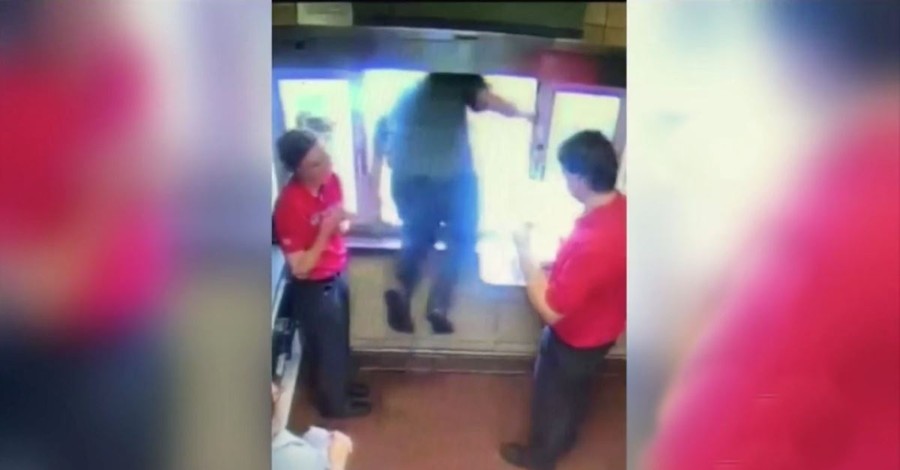 Chick-fil-A is known for its excellent customer service, but a Georgia store employee took that reputation to the next level Wednesday by leaping through the drive-thru window to save a choking child.
Logan Simmons, 19, was working at the drive-thru window in Flowery Branch, Ga., when a car pulled up with a 6-year-old boy in the backseat, choking. The seatbelt was tangled around his neck, and the mother was asking strangers for help, WSB-TV 2 reported.  
Simmons, a manager at the restaurant, jumped out the drive-thru window. 
"I think it was the quickest option," he said. "It was right there."
Simmons pulled out his pocket knife and cut the boy loose.
"I'm still kind of shocked right now myself that all this has happened," Simmons said. "... "You could see he was turning red and losing pigmentation in his face." 
The boy's mother later phoned Simmons and thanked him for his heroics. 
Simmons' mother said her son only mentioned the incident in passing.  
"He'd been home for a couple of hours and he said nonchalantly, 'I saved a kid's life today,' and I was like, 'What?'" Teri Simmons told WSB, adding she was "amazed he didn't panic." 
Flowery Branch is about 45 miles northeast of Atlanta.
Chick-fil-A is the third largest restaurant in the United States based on sales, but it ranks No. 1 among consumers when gauging other factors, such as customer service and food quality. 
Chick-fil-A finished No. 1 in the American Customer Satisfaction Index for the fourth straight year in the annual survey released last month. Chick-fil-A received a score of 86, outpacing No. 2 Panera Bread (81) and four restaurants that tied at No. 3 with a score of 80: Arby's, Chipotle Mexican Grill, Papa John's and Pizza Hut. Subway, Domino's and Starbucks were next on the list, tied with a score of 79. McDonald's finished last (69). 
Related:
Chick-fil-A, with a Mission to 'Glorify God,' Is Now 3rd Largest Restaurant in U.S.
Texas Governor Signs 'Save Chick-fil-A' Bill into Law
Chick-fil-A to Become 3rd Largest Restaurant Chain, Despite Being Closed on Sundays
College Tells Protesting Students: Chick-fil-A Is Staying on Campus
Chick-fil-A to Become 3rd Largest Restaurant Chain, Despite Being Closed on Sundays
Michael Foust is a freelance writer. Visit his blog, MichaelFoust.com.
Photo courtesy: Screenshot WSB-TV 2
---
---