Michael Foust
| ChristianHeadlines.com Contributor
| Updated: Sep 20, 2019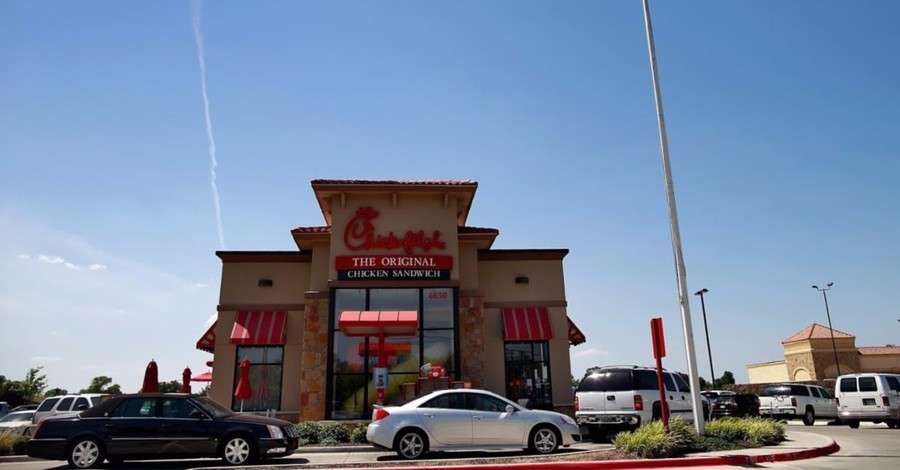 Editor's Note 9/20/2019 at 7:35 AM: This amounts in paragraph 11 have been corrected to say "billion" instead of "million.
---
Chick-fil-A's annual sales have more than doubled since LGBT and liberal groups began calling for a boycott of the restaurant in 2012, according to a new analysis. 
In 2012, when controversy arose over the CEO's comments about same-sex marriage, sales totaled $4.6 billion, up from $4.1 billion the year before.
In 2018, sales totaled $10.46 billion, making it the third-largest restaurant in the United States behind McDonald's and Starbucks.
The boycott may have driven a few customers away, although it apparently attracted far more. The chain also has opened nearly 700 new restaurants since the boycott began, according to the Journal & Courier newspaper, which reported the data in a Sept. 17 story and examined the effectiveness of the boycott.  
"The only ones who seem to have any kind of beef with the wildly popular chicken restaurant are a minivan-size group of squeaky extremists on the far left," Glenn T. Stanton, director of global family formation studies at Focus on the Family and the author of Myth of the Dying Church, told Christian Headlines. "They've concluded that Chick-fil-A is bigoted without the slightest bit of evidence – only that their founders believe in natural marriage. Their position sits very well with the rest of us."
The LGBT issue blog Towleroad in 2011 criticized Chick-fil-A's ties to Christian and conservative organizations that opposed the legalization of same-sex marriage. The headline read, "If you're eating Chick-fil-A, you're eating anti-gay," the Journal & Courier reported. The blog received moderate media attention that year, but the issue received far more attention in 2012 when Chick-fil-A CEO Dan Cathy was asked about the company's support of the traditional family and replied, "Well, guilty as charged."
"We are very much supportive of the family – the biblical definition of the family unit," he told the Biblical Recorder. "We are a family-owned business, a family-led business, and we are married to our first wives. We give God thanks for that."
Cathy's comments led to calls for boycotts and pledges by mayors in Boston and Chicago to oppose new restaurants opening in their cities. That, in turn, led Mike Huckabee to launch a Chick-fil-A Appreciation Day on Aug. 1, 2012. Hundreds of thousands of customers took part, and the chain broke sales records for a single day.
Since 2012, its sales have set a record each succeeding year, growing from $4.6 billion in 2012 to $5 billion, to $5.7 billion, to $6.7 billion, to $7.9 billion and to $9 billion in 2017, according to Restaurant Business. It reached $10.46 billion in sales in 2018.
Chick-fil-A was named America's favorite fast-food restaurant in a survey of customers this year. 
Still, it continues to face opposition. Officials in San Antonio and Buffalo blocked Chick-fil-A from opening restaurants in their local airports. A segment of the faculty and students at Purdue University and the University of Kansas vocally oppose it, too. 
Northwestern University management professor Brayden King said the success of a boycott can't be judged solely by economics. 
"I think the activists would say the boycott against Chick-fil-A is successful even if they didn't get people who typically go to Chick-fil-A to stop buying Chick-fil-A sandwiches," he told the podcast Freakonomics. "The reason they would say it was successful is because they got the media to pay attention."
Stanton said Chick-fil-A will remain popular with the public. 
"Not only have they doubled their sales in the last few years, but they have won the prize for the fast-food establishment with the highest customer service rating the last four years running," he said. "Bigoted businesses do not tend to rate well in customer satisfaction. Chick-fil-A was won this vaulted spot because it is their pleasure to serve everyone who comes through their doors and do so with all graciousness."
Related:
Chick-fil-A Employee Performs CPR, Saves Stranger's Life: 'God Placed Me' There
Chick-fil-A on Campus Promotes Inclusion and Freedom, Purdue Tells Upset Faculty
Protesters at New Toronto Chick-fil-A Outnumbered by Customers, 100 to 1
Kansas Faculty: Chick-fil-A on Campus Makes Students Feel Less 'Safe'
Chick-fil-A Worker Prays over Customer in Viral Pic – the 'Spirit Led Him' 
Chick-fil-A Manager Changes Flat Tire for 96-Year-Old WWII Veteran
Chick-fil-A Worker Leaps out Drive-Thru Window, Saves Choking Boy
Chick-fil-A, with a Mission to 'Glorify God,' Is Now 3rd Largest Restaurant in U.S.
Michael Foust is a freelance writer. Visit his blog, MichaelFoust.com.
Photo courtesy: Getty Images/Tom Pennington/Stringer
---
---