Michael Foust
| ChristianHeadlines.com Contributor
| Monday, July 15, 2019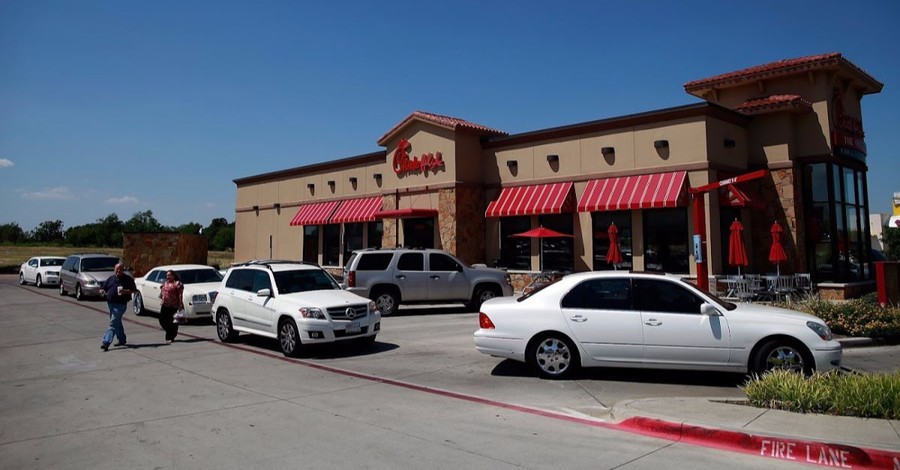 Yet another Chick-fil-A worker is being recognized for going the extra mile. 
Daryl Howard, the manager of a Chick-fil-A in Severn, Md., was taking orders last week when a regular customer – a 96-year-old World War II veteran known as "Mr. Lee" – entered the restaurant. 
"He was shaking, almost in tears saying he barely made it to the store on three tires because one was bad," Rudy Somoza, another store manager, told CNN.
So, Howard did what only seemed natural for a Chick-fil-A employee. He left the restaurant to change the tire.
"As soon as he finished his sentence, Daryl informed me he needed to help this gentleman right now," Somoza said. "So, Daryl jumped into action without hesitation." 
Howard enjoys helping people, Somoza said. 
"His action of kindness was beautiful. Daryl has always been so helpful to anyone in need and deserves this recognition," Somoza said.
Two weeks ago, a worker at a Georgia Chick-fil-A leaped through the drive-thru window to save a 6-year-old boy who was choking in the backseat of a car, Christian Headlines reported. 
Chick-fil-A became the third-largest fast-food restaurant this year. Its corporate purpose is "to glorify God by being a faithful steward of all that is entrusted to us and to have a positive influence on all who come into contact with Chick-fil-A."
The company website highlights a quote from Chick-fil-A founder Truett Cathy, who said, "We should be about more than just selling chicken. We should be a part of our customers' lives and the communities in which we serve."
Related:
Chick-fil-A Worker Leaps out Drive-Thru Window, Saves Choking Boy
Chick-fil-A, with a Mission to 'Glorify God,' Is Now 3rd Largest Restaurant in U.S.
Texas Governor Signs 'Save Chick-fil-A' Bill into Law
Chick-fil-A to Become 3rd Largest Restaurant Chain, Despite Being Closed on Sundays
College Tells Protesting Students: Chick-fil-A Is Staying on Campus
Chick-fil-A to Become 3rd Largest Restaurant Chain, Despite Being Closed on Sundays
Michael Foust is a freelance writer. Visit his blog, MichaelFoust.com.
Photo courtesy: Getty Images/Tom Pennington/Stringer
---
---