Michael Foust
| ChristianHeadlines.com Contributor
| Tuesday, September 17, 2019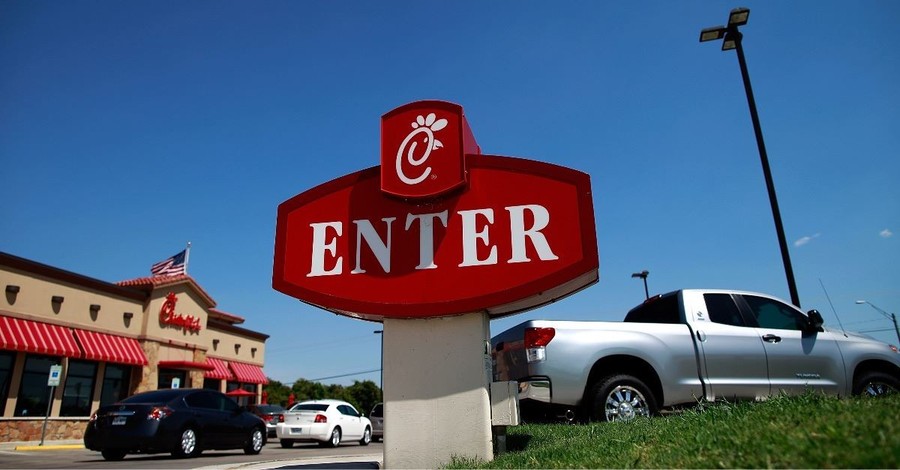 When a Chick-fil-A worker in California saw a man in cardiac arrest last week, he sprinted into action – and helped save the man's life.
Tauya Nenguke, a 22-year-old man who is a manager of a Chick-fil-A in Chula Vista, Calif., was outside the restaurant last Wednesday evening when he noticed someone on the ground on the other side of the parking lot. At first, he thought the person was having car trouble, but then he realized it was a medical emergency.
The stranger was in cardiac arrest and unconscious, ABC 10 News in San Diego reported.   
Security video footage shows Nenguke running across the parking lot to the stranger, whose friend was trying to help.
"He wasn't breathing or anything. His eyes were rolled back into his head," Nenguke said.
Nenguke – who wants to be a nurse and has taken pre-nursing classes – began performing CPR. He also taught the man's friend how to perform chest compressions. They rotated until paramedics arrived. 
Later, Nenguke learned his actions had saved the man's life, ABC 10 reported. 
"There wasn't any hesitation on my part. I knew that was the place where God placed me at that moment," Nenguke said. "That was truly a real big eye-opener to my calling to be in health care. Because at the moment, it was like instinct took over."
Nenguke hopes to enroll in a nursing program next year. 
"This [was] my time to use what I've learned to save this man's life," he said.
It's not the first time this year that a Chick-fil-A employee has helped save someone's life. This summer, a worker in Georgia jumped out the drive-thru window to assist a 6-year-old boy who was in the backseat of a car, choking. The seatbelt was tangled around his neck, and the mother was asking strangers for help.
Chick-fil-A is the third-largest fast-food chain in the United States in sales. Its official corporate purpose is "to glorify God by being a faithful steward of all that is entrusted to us and to have a positive influence on all who come into contact with Chick-fil-A." 
Related:
Chick-fil-A on Campus Promotes Inclusion and Freedom, Purdue Tells Upset Faculty
Protesters at New Toronto Chick-fil-A Outnumbered by Customers, 100 to 1
Kansas Faculty: Chick-fil-A on Campus Makes Students Feel Less 'Safe'
Chick-fil-A Worker Prays over Customer in Viral Pic -- the 'Spirit Led Him' 
Chick-fil-A Manager Changes Flat Tire for 96-Year-Old WWII Veteran
Chick-fil-A Worker Leaps out Drive-Thru Window, Saves Choking Boy
Chick-fil-A, with a Mission to 'Glorify God,' Is Now 3rd Largest Restaurant in U.S.
Michael Foust is a freelance writer. Visit his blog, MichaelFoust.com.
Photo courtesy: Getty Images/Tom Pennington/Stringer
---
---