Michael Foust
| ChristianHeadlines.com Contributor
| Tuesday, October 29, 2019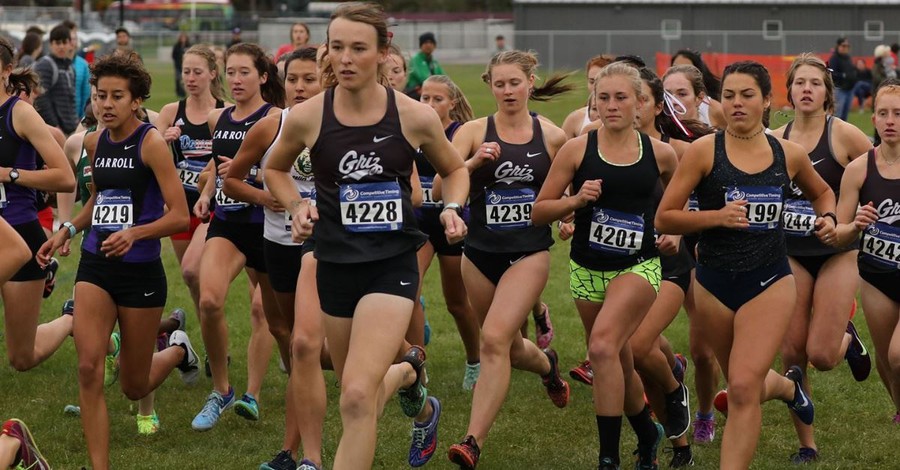 A biological male runner who identifies as a female was named the Big Sky Conference women's cross country athlete of the week last week, sparking – yet again – a debate over fairness in women's sports and the collegiate rules that govern transgender athletes.
The University of Montana's June Eastwood won the honor after finishing second in a field of 204 runners at the Santa Clara Bronco Invitational in Sunnyvale, Calif. It was only the latest impressive finish for Eastwood, who finished first at an Oct. 4 meet and third at a Sept. 21 race.
But last year Eastwood was known as Jonathan Eastwood and competed on the Montana men's cross country and track teams. Eastwood finished seventh in May 2018 in the men's 1,500-meter run at the conference's outdoor championship.    
Eastwood's picture and bio as a male athlete is still listed on the athletic department's website as a former member of the men's team. Now, though, Eastwood identifies as a female athlete and is listed on the website as June Eastwood and a member of the women's team.  
Eastwood won multiple state titles as a male in high school, according to KULR-TV in Billings, Mont.
Under NCAA rules governing transgender athletes, Eastwood had to sit out one year and undergo testosterone suppression treatments for 12 months in order to compete as a female. Eastwood, though, assumed the NCAA rules would be more defined. 
"I thought that the rules would be a little more strict and less vague," Eastwood told KULR. "I thought there would be some definite numbers that they might be looking for." 
The website LetsRun.com noted there is "no mention of a minimum testosterone level that must be achieved or a minimum level of medication that must be taken" in the NCAA rules.
"Contrast that to the International Olympic Committee, which requires that [a male to female] transgender athlete 'must demonstrate that her total testosterone level in serum has been below 10nmol/L for at least 12 months prior to her first competition,'" the LetsRun.com website said.
Joanna Harper, an expert on transgender athletes and an advisor to the International Olympic Committee, said "there are some weaknesses" in the NCAA policy. Harper is transgender. 
Martina Navratilova, a professional tennis player who came out as a lesbian in 1981, stirred controversy earlier this year when she said male-to-female transgender athletes have unfair advantages.
"Simply reducing hormone levels – the prescription most sports have adopted – does not solve the problem," Navratilova wrote. "A man builds up muscle and bone density, as well as a greater number of oxygen-carrying red blood cells, from childhood. Training increases the discrepancy. Indeed, if a male were to change gender in such a way as to eliminate any accumulated advantage, he would have to begin hormone treatment before puberty. For me, that is unthinkable."
Related:
'No One Thinks It's Fair,' Girl Track Star Says after Losing to Transgender Athletes
House Democrats Vote to Let Boys Play on Girls' Teams
Department of Education Will Investigate State Rule Requiring Biological Girls to Compete against Transgender Girls in Athletics
Transgender Girl Wins State Track Championships in Connecticut
Martina Navratilova: It's 'Cheating' to Allow Trans Athletes in Women's Sports
What Does the Bible Say about Gender & Transgender Issues?
What the Transgender Debate Means for the Church
Michael Foust is a freelance writer. Visit his blog, MichaelFoust.com.
Photo courtesy: University of Montana
---
---