Michael Foust
| ChristianHeadlines.com Contributor
| Friday, October 16, 2020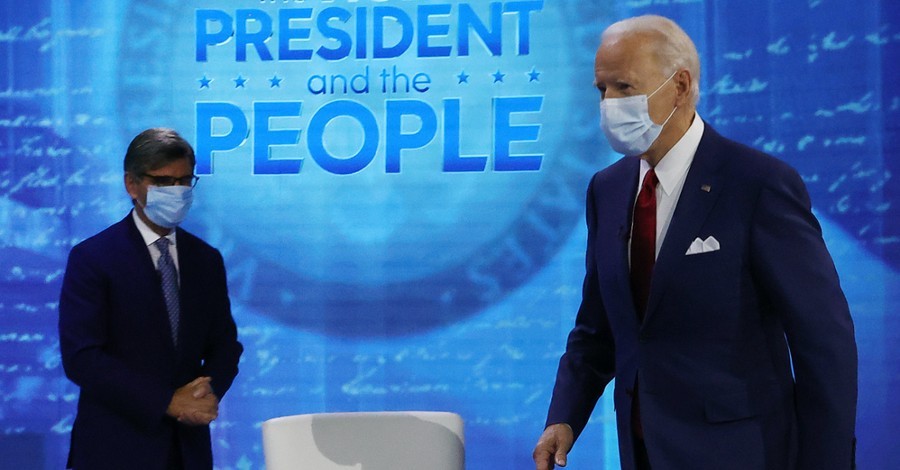 ---
Democratic presidential nominee Joe Biden said Thursday he is "open" to adding seats to the U.S. Supreme Court and will announce his position prior to Election Day.
Speaking at an ABC town hall in Philadelphia, Biden said his position will depend on how the nomination of Amy Coney Barrett is handled by the Senate, which is expected to vote on her confirmation prior to Election Day, Nov. 3.
The court has had nine seats since 1869.
"It depends on how much they rush this," Biden said, asserting the Senate should be debating COVID-19 stimulus relief instead of taking up Barrett's nomination.
Moderator George Stephanopoulos replied: "Right now it looks like they're going to have a vote around Halloween. … If they vote on it before the election, you are open to expanding the court?"
"I'm open to considering what happens from that point on," Biden said.
Stephanopoulos asked, "But don't voters have a right to know where you stand?"
"They do have a right to know," Biden said.
"So you'll come out with a clear position before election day?" Stephanopoulos asked.
"Yes," Biden replied. "Depending on how they handle this."
Biden urged viewers: "Vote for a senator who in fact reflects your general view on constitutional interpretation, and vote for a president who thinks is more in line with you. … If you oppose my position, vote for Trump, vote for Republicans who shares that view."
It's the closest Biden has come this year to saying he supports adding seats to the U.S. Supreme Court, a position backed by many prominent Democrats. Barrett would replace the late Justice Ruth Bader Ginsburg.
Earlier in the conversation, Stephanopoulos noted that one year ago Biden had said, "I would not get into court packing. I would not pack the court."
"That's not what you're saying now," Stephanopoulos said. "Is the nomination of Judge Barrett reason enough to rethink your position?"
"If I had answered the question directly then all the focus would be on, 'What's Biden going to do if he wins?' Instead of on, 'Is it appropriate what is going on now?'" Biden said, referencing the potential confirmation of Barrett, days before the election. "I have not been a fan of court-packing because then it just generates what will happen."
Biden implied a court-packing move by Democrats would spark a court-packing war: "Whoever wins, it just keeps moving in a way that is inconsistent with what is going to be manageable."
"So you're still not a fan?" Stephanopoulos asked.
"Well, I'm not a fan. It depends on how this turns out … how it's handled,"
Biden asserted that the "Constitution implies that the way the people have a right to determine who's going to be on the court is how they vote for their senators and their president."
"The president is president for all four years, isn't he?" moderator George Stephanopoulos asked.
"He is. But once an election begins, by implication, it is inconsistent with the constitutional principles, in my view. You get disagreement among scholars on this, but I believe it's inconsistent, when millions of people have already voted, to put someone on the court. I think it should have been held until this election is over – see what the makeup of the senate is going to be. If the president wins this election, he should be able to go for it."
Recent:
Amy Coney Barrett Defends Her Pro-Life Beliefs: It's the 'Position of the Catholic Church'
'I Believe in the Power of Prayer': Amy Coney Barrett Thanks Americans for Encouragement
Roe v. Wade Is Not a 'Super Precedent' That Can't Be Overturned, Amy Coney Barrett Says
Photo courtesy: ©Getty Images/Chip Somodevilla/Staff
---
Michael Foust has covered the intersection of faith and news for 20 years. His stories have appeared in Baptist Press, Christianity Today, The Christian Post, the Leaf-Chronicle, the Toronto Star and the Knoxville News-Sentinel.