Michael Foust
| ChristianHeadlines.com Contributor
| Monday, September 23, 2019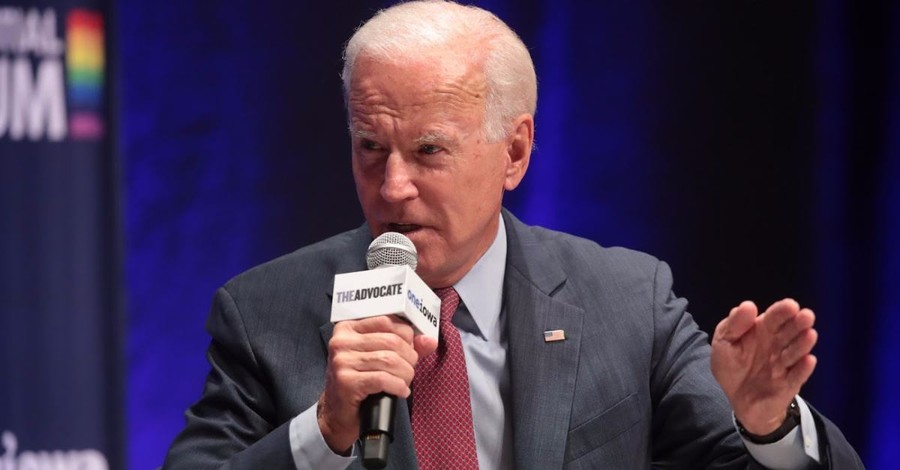 Democratic presidential candidate Joe Biden said Saturday he supports a nationwide ban on conversion therapy for those who have unwanted same-sex desires, and he also believes Obamacare should cover sex-reassignment surgery.
Biden and other Democratic candidates took part in the LGBTQ Presidential Candidate Forum, which was held in Cedar Rapids, Iowa, and sponsored by The Advocate, GLAAD, One Iowa and The Gazette.
"We should outlaw nationally, the conversion therapy – there should be a law against it, period," the former vice president said. "And I've proposed that for a long time."
Such proposals have sparked concern from the religious community. When Maine's governor signed a bill this month outlawing conversion therapy, the Christian Civic League of Maine said the law would "equate sound Biblical counseling with torture and abuse under the name of conversion therapy," according to World.
Biden also said sex-reassignment surgery should be covered under Obamacare. The forum moderator noted that Iowa politicians had moved to deny "Medicaid coverage for gender-affirming surgery."
"Obamacare … does cover the surgery. It does cover transgender people. … [But] along came Trump and by executive order he struck all of that out of the Affordable Care Act," Biden said. "I would reinstate it all. Every single American, every LGBTQ person as well as anyone else should be able to have full health care without any limitation."
Hospitals, he added, should be required to perform gender-reassignment surgery. Some religious hospitals, including Catholic ones, prohibit such surgeries from being performed in their facilities.
"No hospital can tell you you can't get the service," Biden said of his position. "It is simply against the law when I'm president."
On another subject, Biden said prisoners should be able to decide if they are housed with males or females.
"In prison, the determination should be that your sexual identity is defined by what you say it is [and] not what in fact, the prison says it is," he said.
Biden is the Democratic frontrunner, according to Real Clear Politics' polling average. U.S. Sen. Elizabeth Warren (Mass.), who is running 10 points behind Biden and in second in the polling average, also pledged her support for the LGBT community.
Warren, at the forum, supported taxpayer-funded sex-reassignment surgery as part of her Medicare for All proposal. Warren, too, was asked to comment on the change in Iowa law for sex-reassignment surgery.
"Equal means equal. And that is true everywhere. It's true in the workplace. It's true in marriage, and it's true in health care," Warren said. "... This is a direct commitment from the federal government, to every single person in this country, that you will have the full range of health care services that you need. It is an affirmation that health care is a basic human right for every human being and we will fight."
Another LGBT-themed event – a town hall – will be held Oct. 10 and broadcast by CNN. The Human Rights Campaign Foundation will host it.
Related:
Baptist‌ ‌Church‌ ‌Makes‌ ‌History,‌ ‌Calls‌ ‌Transgender‌ ‌Pastor‌ ‌
Coffee Shop Tells Customer To Leave Due to Biblical Views on Homosexuality
Merriam-Webster Redefines 'They' to Include a Non-Binary Person
Elementary Teacher Comes Out as Non-Binary Transgender to K-5 Students  
Man Regrets Transgender Surgery and Life as Women, Says Media 'Misled' Him
4-Year-Old Boy Has 'Gender Dysphoria,' Should Dress Like a Girl, Judge Rules  
Kindergarteners Learn Transgender Kids Are 'Born This Way' in NEA-Sponsored Event
Michael Foust is a freelance writer. Visit his blog, MichaelFoust.com.
Photo courtesy: Getty Images/Scott Olson/Staff
---
---