Michael Foust
| ChristianHeadlines.com Contributor
| Tuesday, March 19, 2019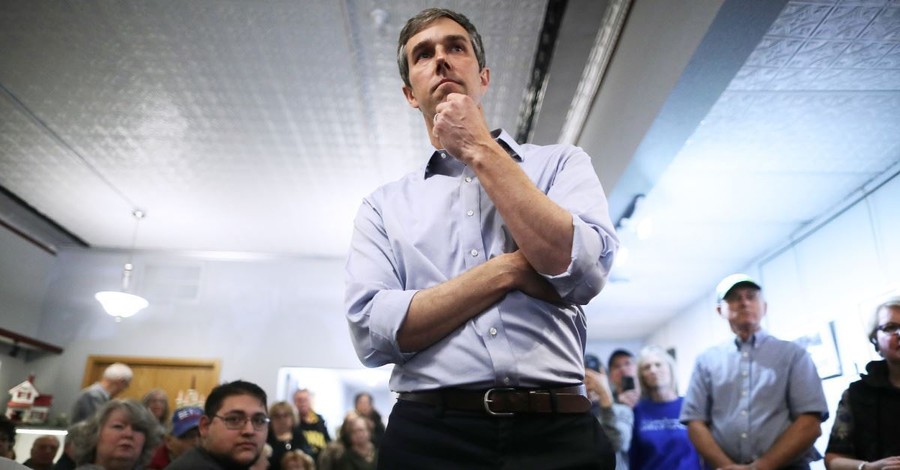 Democratic presidential candidate Beto O'Rourke said Monday he supports third-trimester abortions, adding that it's a decision that should be left up to the woman. 
Speaking in Ohio, O'Rourke fielded a question from a voter who is presumably pro-life.
"Are you for third-trimester abortion?" the woman asked. "Are you gonna protect the lives of third-trimester babies? Because there's really not a medical necessity for abortion. It's not a medical emergency procedure, because typically third-trimester abortions take up to three days to have, so you would, in that sense, if there was an emergency, the doctors would just do a C-Section, and you don't have to kill the baby in that [instance]. So, are you for or against third-trimester abortions?"
Here's Beto O'Rourke at a campaign event in Cleveland responding to a question about third-trimester abortions: "That should be a decision that the woman makes. I trust her." pic.twitter.com/nBrlazlMob

— Alexandra DeSanctis (@xan_desanctis) March 18, 2019
O'Rourke said he backed such abortions. 
"The question is about abortion and reproductive rights, and my answer to you is that should be a decision that the woman makes," O'Rourke responded to applause. "… I trust her."
Earlier this year, Omar L. Hamada, a Nashville-based OB/GYN, sparked a social media debate when he asserted there is no medical reason for third-trimester abortion to be legal. 
"I want to clear something up so that there is absolutely no doubt. I'm a Board Certified OB/GYN who has delivered over 2,500 babies," he wrote on Twitter. "There's not a single fetal or maternal condition that requires third-trimester abortion. Not one. Delivery, yes. Abortion, no."
Hamada discussed the issue in detail on Fox News' Fox & Friends. 
"There's absolutely no reason to kill a baby before delivery in the third trimester," he said. "Not a fetal or maternal indication – what we say in medicine. If there's a problem, and there are problems in the third trimester, both with the babies and with the mom that require delivery, just deliver the baby. We don't have to kill it."
Michael Foust is a freelance writer. Visit his blog, MichaelFoust.com.
Photo courtesy: Getty Images/Chip Somodevilla/Staff
---
---