Michael Foust
| ChristianHeadlines.com Contributor
| Thursday, October 31, 2019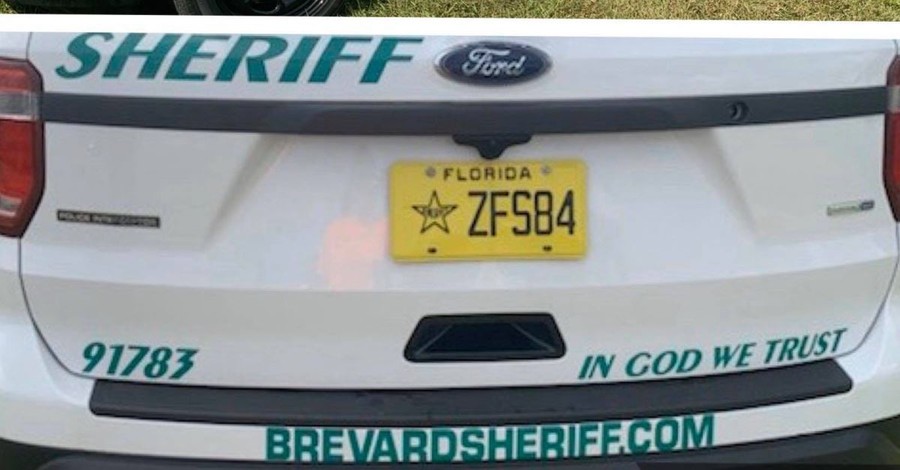 A Florida county's placement of "In God We Trust" decals on patrol cars is an "inappropriate" inclusion of religion in the public square, an atheist group says.
The Brevard County Sheriff's Office said on its Facebook page over the weekend that its new vehicles in the coming months and years would include a "patriot theme," with an American flag on the side and the phrase "In God We Trust" on the back. The latter is the national motto. 
"To us there is no greater honor than to live in the greatest country in the world and serve as a law enforcement officer in Brevard County where our citizens love us, trust us and protect us just as much as we love, trust and protect them," the Facebook post said.
But the Freedom From Religion Foundation – a coalition of atheists, agnostics and skeptics – is urging the sheriff's office to abandon the plan and to remove the stickers. 
"Spending taxpayer time placing religious messages on patrol cars is beyond the scope of secular government," Annie Laurie Gaylor, co-president of the group, wrote in a letter to Sheriff Wayne Ivey. "Further, in a time when citizens nationwide are increasingly distrustful of law enforcement officers' actions, it is frightening and politically dubious for the local police department to announce to citizens that officers rely on the judgment of a deity rather than on the judgment of the law."
The letter calls "In God We Trust" a "controversial national motto." Placing the motto on vehicles, the group says, "implies a religious test for employment" and sends non-religious citizens an "appearance of bias." 
"Citizens should not be made to feel offended, excluded, and like political outsiders because the local government they support with their taxes oversteps its power by prominently placing a religious statement on Office vehicles," Gaylor wrote. 
Ivey, on Facebook, said the "suggestion for the patriotic theme was submitted" by a "very proud veteran" who "made mention of the idea after sharing with me how proud he is of our agency and how passionately we support our veterans."
"The idea was then presented to other members of our outstanding active, reserve and veteran military community who all loved the idea and new design!!" Ivey wrote. 
Related:
Elizabeth Warren Would Consider 'Secular Outreach Coordinator' for Atheists 
Lt. Gov.'s Prayer for Atheist Group Was Unconstitutional, Atheist Group Says
Judge Says She Told Amber Guyger, 'God Can Forgive You and Has'
Tennessee Gov. Declares Day of Prayer and Fasting: 'Give Thanks to God Almighty'
Atheist Group: Judge Committed Ethics Violation by Giving Bible to Amber Guyger
University Officials 'Personally Liable' for Booting Christian Club off Campus, Court Rules
Federal Court Rules Christian Student Group Cannot Be Removed from University for Biblical View on Marriage
'God Won': Georgia School OKs Prayer at Football Games, Despite Atheist Complaints
Judge Bans Prayer, Religious Music at Graduations Following Atheist Suit
Michael Foust is a freelance writer. Visit his blog, MichaelFoust.com.
Photo courtesy: Brevard County Sheriffs Office Facebook
---
---