Michael Foust
| ChristianHeadlines.com Contributor
| Monday, October 21, 2019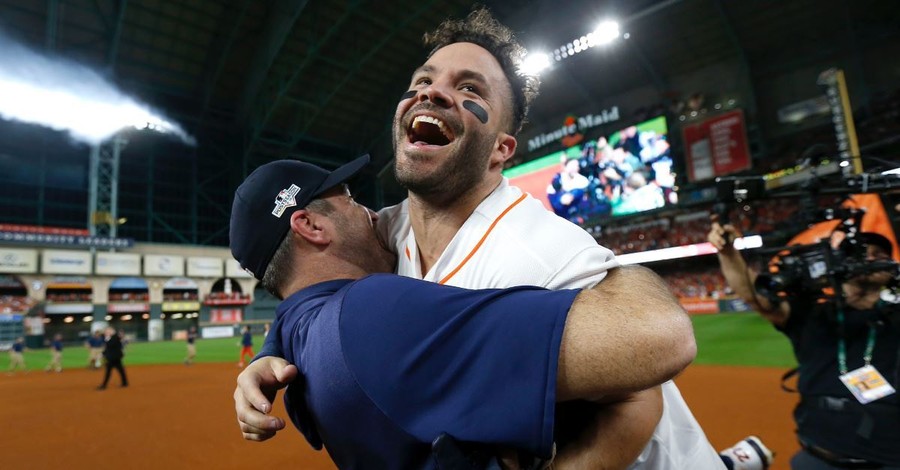 When Jose Altuve of the Houston Astros belted a walk-off homer Saturday to send his team to the World Series, he high-fived coaches, hugged teammates, and pointed to the crowd.
But before all that, he thanked God.
"Running around the bases, the only thing I was thinking was just thanking God and just thinking that we're going to the World Series once again," he told FS1 during a postgame interview. 
Altuve's two-run, ninth-inning homer propelled the Astros to a 6-4 victory over the New York Yankees, who had rallied with two runs in the top of the ninth to forge a 4-4 tie after trailing 4-2. 
Altuve's home run in the sixth game of the ALCS gave the Astros a 4-2 series win and sent them to their first World Series since 2017. They defeated the Los Angeles Dodgers that year. This year, they'll play the Washington Nationals.
Altuve, who often speaks about his Christian faith in public, began his postgame interview on FS1 thanking the Lord. He is a six-time All-Star and was the 2017 American League MVP.
"First of all, I want to thank God and the fans," he said. "... My team has been working really hard to get to this point."
He was facing Yankees closer Aroldis Chapman, who holds the Major League all-time record for fastest pitch (105.1 mph). Altuve's teammate, George Springer, walked on the previous at-bat. 
"I wanted to just get a good pitch to hit," he said.
Altuve refused to take credit for the victory.
"We won the game not because I hit a homer," he said. "Yuli [Gurriel] hit a three-run homer.  Michael Brantley made a really good [defensive] play. [George] Springer just walked, and put some pressure on them. We are working as a team. We don't really have [just] one player. I'm really happy for everybody." 
Altuve also explained why he was waving his teammates off during the home-plate celebration, refusing to let them rip off his shirt. 
"I'm too shy," he said, laughing. "Last time they did that, I got in trouble with my wife." 
In 2015, Altuve explained how he was raised in a family of faith. 
"I grew up in a family that always told me that to achieve success, we needed to have God first," Altuve said then, according to Sports Spectrum. "To achieve success wasn't to get to the major leagues or have the best season in the world. The best success is to live your life the way God wants you to. If you can do that, if you can be good with God, then I think you will have success in your life."
Related:
'I Need Jesus,' Too -- Orlando Magic's Jonathan Isaac on Why He Attends Church
'All Things Come from the Lord,' Says Bo Nix, QB for No. 7 Auburn
Coach of No. 1 Clemson: My Purpose Is 'to Glorify God'
Tim Tebow Says Loving and Serving Others is 'Bigger Than Football'
Michael Foust is a freelance writer. Visit his blog, MichaelFoust.com.
Photo courtesy: Getty Images/Elsa/Staff
Video courtesy: MLB
---
---