Michael Foust
| ChristianHeadlines.com Contributor
| Wednesday, May 15, 2019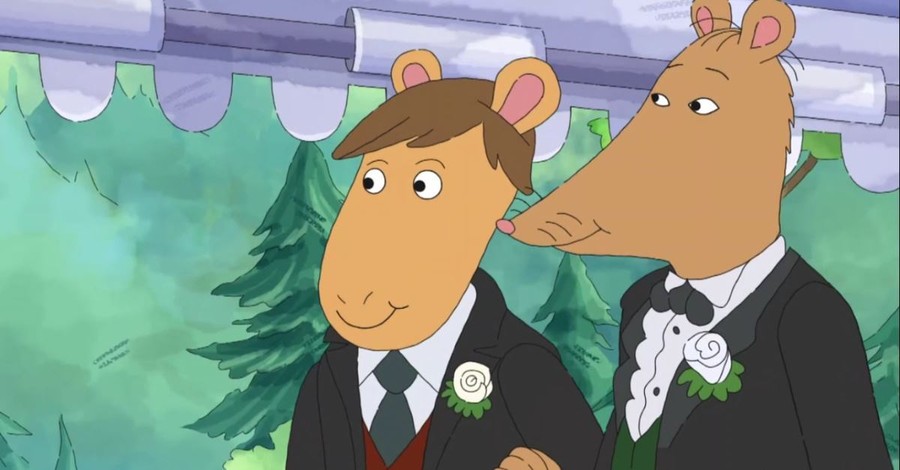 Parents who thought PBS Kids cartoons were a neutral space in the debate over LGBT issues may want to reconsider.
The popular PBS Kids series Arthur broke new ground Monday by inserting a same-sex wedding into the plot, as Arthur and his friends learn their male teacher, Mr. Ratburn, is marrying a man.
The episode, "Mr. Ratburn and the Special Someone," was part of a week of new shows for the series, which debuted in 1996 and follows Arthur, a third-grade aardvark, as he plays and learns about life in the town of Elwood City.
It is the first-ever gay wedding in a PBS children's cartoon, according to those who follow the issue.    
The wedding angle is key to the plot. Early in the show, Mr. Ratburn is seen talking on the phone to a wedding planner. 
"Who's getting married?" a student asks after he hangs up.
"Me," Mr. Ratburn answers. 
Arthur and his friends, though, falsely believe Mr. Ratburn is marrying a woman named Patty, who they consider to be mean. They set a goal of stopping the wedding.
But when the wedding day arrives – with the students in attendance – they are shocked to learn Patty is not the bride.
"Whois Mr. Rathburn marrying?" one of the students asks.
Viewers then see Mr. Ratburn walking down the aisle with another man, Patrick, arm in arm. Patrick winks at the kids. Arthur smiles. The episode skips the ceremony but shows the reception, where Mr. Ratburn and his partner are dancing awkwardly to an upbeat song.  
"It's a brand-new world," one of Arthur's friends says.
Glenn T. Stanton, director of global family formation studies at Focus on the Family, said the episode will frustrate most parents.
"Parents are very tired of their kids' cartoons engaging in radical political messaging rather than simply teaching universally held values such as kindness, hard work, cooperation and friendship," Stanton told Christian Headlines. "These elites who think they know what is best for the rest of us wonder why their influence is shrinking. It's not hard to figure out."
A spokesperson for PBS defended the program.  
"PBS Kids programs are designed to reflect the diversity of communities across the nation," Maria Vera Whelan, the senior director of marketing, communications and social media for children's media and education at PBS, said in a press release. "We believe it is important to represent the wide array of adults in the lives of children who look to PBS Kids every day." 
Sarah Kate Ellis, the president of GLAAD, applauded the show. 
"You know at a very young age if you are trans and gay or bisexual and lesbian," Ellis told The New York Times. "To be able to see yourself reflected is critical."
But Monica Cole of One Million Moms criticized the episode, saying the "discussion of such controversial topics and lifestyle choices should be left up to parents."
"PBS Kids should not introduce this to young children," Cole said. "Just because an issue may be legal or because some are choosing a lifestyle doesn't make it morally correct. PBS Kids should stick to entertaining and providing family-friendly programming, instead of pushing an agenda."
More than a decade ago, the PBS series Postcards from Buster introduced a gay couple into the plot. That episode, though, came under fire and was not distributed nationally by PBS.
Related:
Netflix Launches 'Drag Queen Superhero' Cartoon Series … for Kids?
Avengers: Endgame Included Marvel's 1st Gay Character
Did Shazam! Have a Gay Superhero We Didn't Notice?
Marvel Makes History with Its 1st Drag Queen Superhero
Michael Foust is a freelance writer. Visit his blog, MichaelFoust.com.
Photo courtesy: PBS
---
---