Michael Foust
| ChristianHeadlines.com Contributor
| Friday, November 13, 2020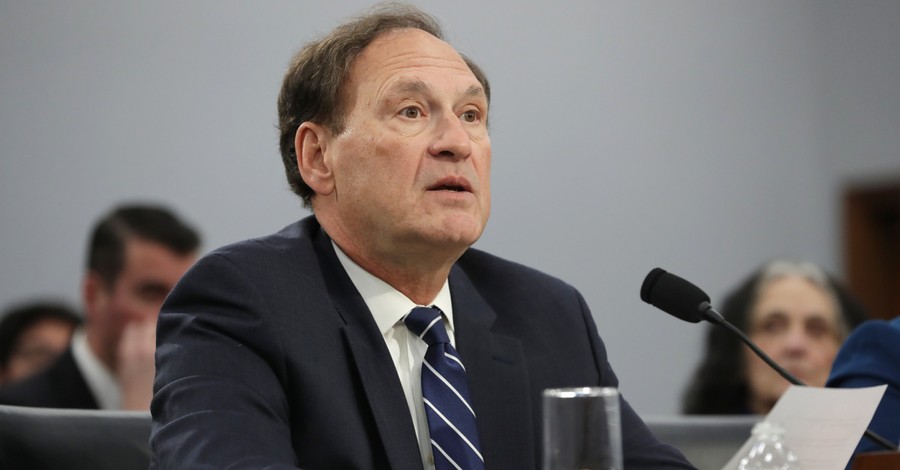 U.S. Supreme Court Justice Samuel Alito on Thursday delivered an unusually blunt warning about the future of religious liberty and free speech in the United States, saying both were in danger if the justices don't step in and protect them.
Alito's comments came during a speech in a virtual gathering of the Federalist Society, a group of conservatives and libertarians dedicated to reforming the legal system.
Alito, who was nominated by President George W. Bush, has been known as a staunch supporter of religious liberty and free speech, although his comments left little doubt how he will lean in future cases involving those two issues.
"It pains me to say this, but in certain quarters, religious liberty is fast becoming a disfavored right," said Alito, who is Catholic. The pandemic, he bemoaned, "has resulted in previously unimaginable restrictions on individual liberty," even though Alito said he was not "diminishing the severity of the virus' threat to public health."
Alito used frank language discussing several high-profile cases, including one involving the Little Sisters of the Poor, a Catholic order of nuns who run homes for the elderly poor. The Obama administration tried forcing the Little Sisters to carry health insurance covering contraceptives and abortifacients.
"The Little Sisters are women who have dedicated their lives to caring for the elderly, regardless of religion. They run homes that have won high praise," Alito said. "… Despite this inspiring work, the Little Sisters have been under unrelenting attack for the better part of a decade. … If they did not knuckle under and violate a tenet of their faith, they faced crippling fines – fines that would likely have forced them to shut down their homes.
"The current administration tried to prevent that by adopting a new rule, but the states of Pennsylvania and New Jersey – supported by 17 other states – challenged that new rule. Last spring, the Little Sisters won their most recent battle in the Supreme Court – I should add by a vote of 7 to 2. But the case was sent back to the court of appeals, and the Little Sisters legal fight goes on and on."
Alito mentioned other cases, too, including the high-profile one involving Jack Phillips, a cake artist and Christian who was told by the state of Colorado he must design a cake for a same-sex wedding or risk violating the law.
Alito lamented the comments by a member of the Colorado Human Rights Commission who criticized Phillips.
"She said that freedom of religion had been used to 'justify all kinds of discrimination throughout history, whether it be slavery, whether it be the Holocaust,'" Alito said before giving his own commentary: "... For many today, religious liberty is not a cherished freedom."
Often, he said, cases arise when no one has been legally harmed.
"As far as I'm aware, not one employee of the Little Sisters has come forward and demanded contraceptives onto the Little Sisters plan," he said. Phillips' stance, he said, did not "deprive any same-sex couple of a wedding cake."
Alito also criticized the Supreme Court for its refusal to protect churches and other houses of worship during the pandemic. He mentioned a Nevada case, in which a church unsuccessfully tried to overturn the state's restrictions.
At the time of the case, Nevada's governor allowed casinos to operate at 50 percent capacity but limited churches to only 50 individuals. The Supreme Court declined to get involved.
"The size of the building doesn't matter, nor does it matter if you wear a mask and keep more than six feet away from everybody else," Alito said. "And it doesn't matter if the building is carefully sanitized before and after a service. The state's message is this: Forget about worship and head for the slot machines, or maybe a Cirque du Soleil show."
The Constitution's Free Exercise Clause, he said, "protects religious liberty."
"You will not find a craps clause or a blackjack clause or a slot machine clause," he said, sarcastically. "But the court nevertheless deferred to the governor's judgment, which just so happened to favor the state's biggest industry and the many voters it employs."
Religious liberty, he warned, "is in danger of becoming a second-class right."
"The question we face is whether our society will be inclusive enough to tolerate people with unpopular religious beliefs," he said.
Related:
Supreme Court Strikes Blow to Obamacare's Abortion/Contraceptive Mandate
Photo courtesy: ©Getty Images/Chip Somodevilla/Staff
Video courtesy: The Federalist Society
---
Michael Foust has covered the intersection of faith and news for 20 years. His stories have appeared in Baptist Press, Christianity Today, The Christian Post, the Leaf-Chronicle, the Toronto Star and the Knoxville News-Sentinel.
---
---