Michael Foust
| ChristianHeadlines.com Contributor
| Thursday, March 28, 2019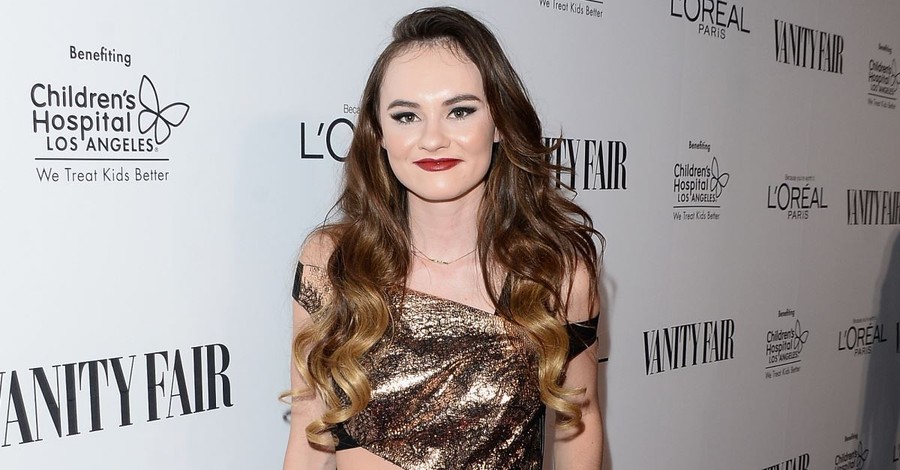 The lead actress in the faith-based hit film I Can Only Imagine told an audience Wednesday how she turned down roles in mainstream films that required nudity – angering her manager – before God opened the door for her to appear in more wholesome projects.
Madeline Carroll, 23, told an audience at the National Religious Broadcasters convention that she started acting when she was around three and had little problem getting family-friendly roles during her childhood years. She played opposite Kevin Costner in the 2008 movie Swing Vote. 
But soon, during her tween and teen years, the opportunities changed. One such opportunity came after Swing Vote. 
"This really big door opened for me at that time, and I was going to get to play a superhero," she said, not disclosing details but adding it wasn't a Marvel movie. "... God kind of laid everything before me -- fame, money, fortune. I wasn't gonna have to audition again, I was getting a ridiculous amount of money for the first movie, getting more for the second. And I ... read the script. And it just wasn't something that I knew God wanted me to do. And I ended up passing on it and turning it down."
She remembers her mother telling her: "It's better, Madeline, to err on the ways of righteousness than err on the ways of the world."
God blessed her decision, she said, but the opportunities for roles gradually grew worse during her high school years.
"I was going to be the – you know – teenage girl that wanted to sleep with everybody in the school," she said, describing roles she rejected. "And it was really devastating for me, because I had [gone] from so much happening to literally nothing happening."
Her agents were mad at her for turning down roles, she said. Yet as a Christian, Carroll said, she wanted to please God. 
Around age 19, she turned down a role that required nudity, upsetting her manager. 
"I said, 'I don't want to do that.' And she said, 'Well, you know, you're crazy. ... You're going to make all this money' and the fame and all that stuff. And I said, 'Well, I just don't want to do that.' She said, 'Madeline, if you don't want to do nudity, I don't know what to tell you. Because that's literally all there is in this industry.'" 
Carroll said she hung up the phone, crawled to her bathroom, and began crying out to God.
"And I say 'God, I can't do this anymore. God, I can't hang on to this dream that you've given me anymore.' … And I laid it down before God and I let my dream die. And I truly didn't think that I was ever gonna pick it back up again. … And I said, 'I'm going to call my agents and I'm going to quit.' And literally, the Holy Spirit, I guess pulled me back down to my knees and I said, 'But God, if you've still called me here, and this is what you want from me, then you have to send me something. And better yet, send me something that would edify you. And that's how I'll know that I'm still called to be here."
That opportunity came with the 2018 film I Can Only Imagine, in which she played the lead actor's girlfriend. The movie surprised Hollywood by opening in the Top 5 and ending its run with an $83 million gross. It was made by the filmmaking tandem Jon and Andrew Erwin. 
God brought her and the Erwins together "to reignite my dream," she said.
Carroll was speaking to NRB as part of the launch of the new faith-based studio, Kingdom Studios, that is a collaboration between the Erwins, Kevin Downes and Tony Young. Kingdom will mentor her as a filmmaker. 
"I'm so grateful to them for pursuing their dream and their calling," she said. "And this is an unbelievable moment. It's time for Hollywood to wake up that there are people out there like me, like you that want to do something for His glory."
Her favorite verse is Isaiah 54:17, which she paraphrased: "The heritage of the service of the Lord is triumph over opposition." 
"We already have the triumph over the opposition in this industry," she said. "And I've seen it play out in my own life."
Michael Foust is a freelance writer. Visit his blog,MichaelFoust.com.
Photo courtesy: Getty Images/Matt Winkelmeyer/Stringer
---
---