Michael Foust
| ChristianHeadlines.com Contributor
| Monday, August 31, 2020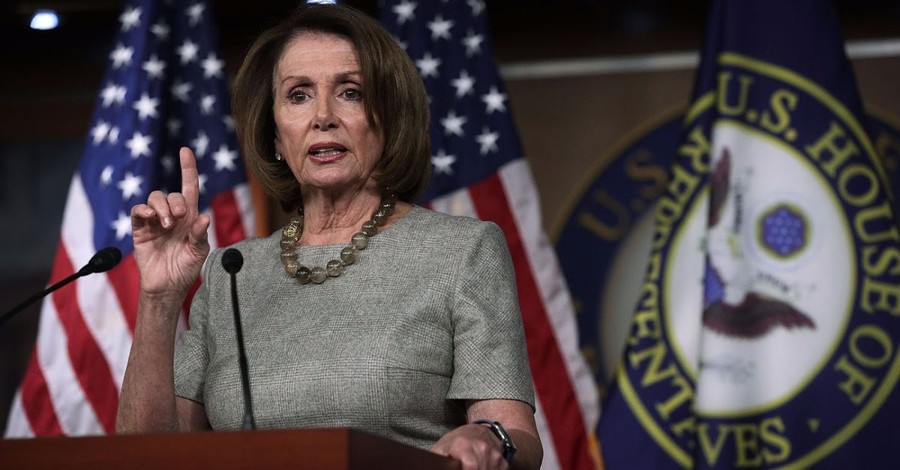 Speaker of the House Nancy Pelosi has told allies that she will push Democratic lawmakers in 2021 to approve federal funding of abortion, thus ending a four-decades-long compromise between the two major parties on one of the most contentious issues in Congress.
At issue is the Hyde Amendment, a legislative provision dating to the 1970s that prohibits federal funds from being used for abortions. It originally passed a Democratic-controlled House and Senate just a few years after Roe v. Wade and has been backed publicly by Democratic presidents, including Presidents Carter, Clinton and Obama. Obama signed an executive order opposing taxpayer funding of abortion in his healthcare plan.
Democratic presidential nominee Joe Biden opposes the Hyde Amendment.
Because the Hyde Amendment must be renewed by each Congress, its future has always been tenuous.
Prior to the amendment, roughly 300,000 abortion were performed each year in the 1970s using taxpayer funds.
Two of Pelosi's legislative allies – Democratic Reps. Barbara Lee (Calif.) and Rep. Diana DeGette (Colo.) – say she told a small group of House Democrats last month the House will not add the Hyde Amendment to budget bills next year, the Los Angeles Times reported.
Democrats are framing the issue as one of justice for lower-income women.
"It's an issue of racial justice and it's an issue of discrimination against low-income women, women of color, women who don't have access to what middle- and upper-income women have in terms of the choice to have an abortion," Lee told the Times.
Pelosi's position marks a major change for the Democratic Party, which did not explicitly oppose the Hyde Amendment in a platform until 2016.
Although the Hyde Amendment is currently safe because Republicans control the White House and the Senate, its future will become questionable if Biden wins and Democrats take the upper chamber.
"We have to make it a priority," Lee said. "This is something that we will have to insist on and hold members of the Senate accountable just as with the House."
DeGette told the Times it's "not just [lawmakers] from safe Democratic districts" who oppose Hyde. Lawmakers from "across the entire Democratic caucus" want to see the law changed, she said.
"These members are pro-choice and pro-choice to them includes repealing the Hyde amendment," DeGette said.
Pro-life groups, though, say Pelosi's push will lead to a major political fight.
"This is a terribly reckless push on the part of Democrats to force taxpayers to fund abortion on demand," Mallory Quigley, spokeswoman for the pro-life Susan B. Anthony List, told the Times. "People don't want to be complicit in abortion with their taxpayer dollars, regardless of how they identify, pro-life or pro-choice."
Biden flipped his position on the Hyde Amendment last year. In 1994, he defended Hyde in a letter to constituents by writing, "Those of us who are opposed to abortions should not be compelled to pay for them." But facing pressure from fellow Democrats and pro-choice groups in 2019, he said he now opposes the Hyde Amendment. The 2020 Democratic platform calls for its repeal.
A 2019 Marist survey showed that Americans, by a margin of 54-39 percent, oppose "using tax dollars to pay for a woman's abortion."
Related:
Democratic Party's Platform Promises Taxpayer-Funded Abortion, 'LGBTQ+ Inclusive' Sex-Ed, Pro-Roe Judges
Biden Pledges Taxpayer Funding for Abortion at Democratic Debate
Kamala Harris Is the 'Most Pro-Abortion of Pro-Abortion Politicians,' Nat'l Right to Life Says
4 Reasons Kamala Harris' Selection for VP Concerns Christian Leaders
Photo courtesy: Getty Images/Alex Wong/Staff
---
Michael Foust has covered the intersection of faith and news for 20 years. His stories have appeared in Baptist Press, Christianity Today, The Christian Post, the Leaf-Chronicle, the Toronto Star and the Knoxville News-Sentinel.
---
---