5 Key Takeaways from the First Republican Debate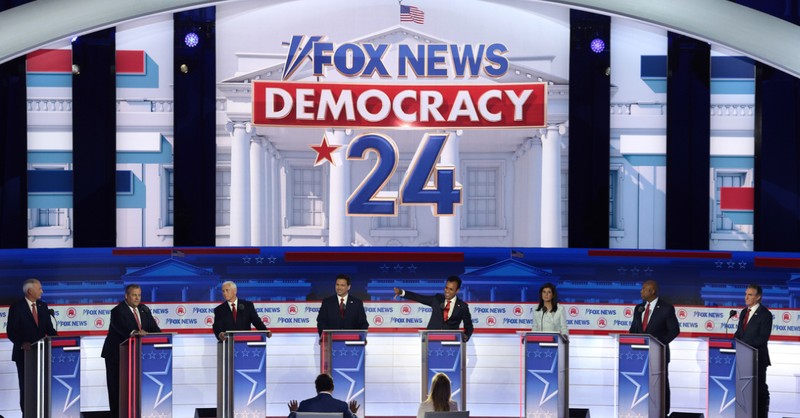 The leading Republican presidential candidates had a spirited back-and-forth discussion during their first debate of the 2024 election season on Wednesday despite the leading candidate – former President Donald Trump – not being on stage.
Trump's absence gave the candidates battling for second – including Ron DeSantis, Mike Pence, Vivek Ramaswamy, Nikki Haley and Tim Scott – more time to talk. All total, eight candidates qualified and were on stage in Milwaukee, Wis.
Here are five key takeaways from the first debate:
Photo courtesy: ©Getty Images/Win McNamee/Staff
1. Abortion Strategies Are Varied

Although all the candidates call themselves pro-life, the debate revealed a difference in strategy in the wake of the overturning of Roe v. Wade.

Nikki Haley said Republicans must be practical on the issue.

"When it comes to a federal ban, let's be honest with the American people and say it will take 60 Senate votes, it will take a majority of the House," Haley said. "... Let's find consensus. Can't we all agree that we should ban late-term abortions? Can't we all agree that we should encourage adoptions? Can't we all agree that doctors and nurses who don't believe in abortion shouldn't have to perform them? Can't we all agree that contraception should be available? And can't we all agree that we are not going to put a woman in jail or give her the death penalty if she gets an abortion? Let's treat this like the respectful issue that it is and humanize the situation and stop demonizing the situation."

Florida Gov. Ron DeSantis defended his signing of a heartbeat abortion ban in Florida. Asked if he would sign a similar abortion ban on the federal level, he responded, "I'm gonna stand on the side of life. Look, I understand Wisconsin is going to do it different than Texas. I understand Iowa and New Hampshire are going to do different, but I will support the cause of life as governor and as president."

Former Vice President Mike Pence supported a federal ban.

"Nikki, you're my friend. But consensus is the opposite of leadership," Pence said. "When the Supreme Court returned this question to the American people, they didn't just send it to the states only. It's not a states-only issue. It's a moral issue. And I promise you, as president of the United States, the American people will have a champion for life in the Oval Office. Can't we have a minimum standard in every state in the nation that says when a baby is capable of feeling pain, an abortion cannot be allowed? A 15-week ban is an idea whose time has come."

Photo courtesy: ©Getty Images/Win McNamee/Staff

2. There Are Differences on Sending Continued Aid to Ukraine

Vivek Ramaswamy was the only candidate on stage who raised his hand and said he would not support more U.S. funding to Ukraine.

"I think that this is disastrous that we are protected against an invasion across somebody else's border when we should use those same military resources to prevent ... the invasion of our own southern border here in the United States of America," Ramaswamy said. "We are driving Russia further into China's hands. The Russia-China alliance is the single greatest threat we face."

Said DeSantis, "I will have Europe pull their weight. … I think our support should be contingent on them doing it."

Pence and Haley disagreed with Ramaswamy.

"Anybody that thinks that we can't solve the problems here in the United States and be the leader of the free world has a pretty small view of the greatest nation on Earth," Pence said. "That is incorrect. We can do both. We've done both. We've been the leader of the free world and the arsenal of democracy for years. The Reagan Doctrine years ago made it clear – we said if you're willing to fight the communists on your soil, we'll give you the means to fight them there so our troops don't have to fight them."

Said Haley, "Less than three and a half percent of our defense budget has been given to Ukraine. If you look at the percentages per GDP, 11 of the European countries have given more than the US. … Putin has said once Russia takes Ukraine, Poland and the Baltics are next. That's a World War. We're trying to prevent war."

Photo courtesy: ©Getty Images/Win McNamee/Staff

3. Everyone Supports Pence's Action on Jan. 6

No candidate indicated opposition to the actions of Pence on Jan. 6, 2021, when the former vice president certified the electoral votes for Joe Biden despite pressure from Donald Trump not to do so.

Said Sen. Tim Scott, "Absolutely, he did the right thing."

Said DeSantis, "Mike did his duty. I've got no beef with him."

Said Haley, "I do think that Vice President Pence did the right thing."

Said Chris Christie, "Mike Pence stood for the Constitution."

Pence also defended his action.

"[When] I put my left hand on Ronald Reagan's Bible, I raised my right hand and I took an oath to support and defend the Constitution of the United States," Pence said. "And it ended with a prayer, 'So help me God.' It was a promise that I made to the American people. But I also made it. It made it to my heavenly Father. Every day for four years, I sought to keep that oath. … The American people deserve to know that the President asked me in his request that I reject or return votes unilaterally – power that no vice president in American history had ever exercised or taken. He asked me to put him over the Constitution. And I chose the Constitution. And I always will. I had no right to overturn the election. And Kamala Harris will have no right to overturn the election when we beat them in 2024."

Photo courtesy: ©Getty Images/Scott Olson/Staff

4. COVID and Schools Remain a Hot Topic

"The decline in education is one of the major reasons why our country is in decline," DeSantis said. "We need education in this country, not indoctrination in this country. And in Florida, we stood up for what was right. … We had schools open during COVID. And a lot of the problems that we've seen are because these lockdown states locked their kids out of school for a year, year and a half. That was wrong. … [In Florida,] we eliminated gender ideology from our K through 12 schools. And we have elevated the importance of American civics and teaching our kids about the Constitution and the Bill of Rights."

Pence said Indiana "doubled the size of the largest school choice program in America" when he was governor. All families in America, he said, deserve school choice.

Photo courtesy: ©Getty Images/Win McNamee/Staff

5. Trump May Have Won by Not Being There

Former President Donald Trump skipped the debate and indicated he may skip all future Republican debates. In hindsight, it may have been a strategically wise decision. Trump leads the field by a wide margin, and few people on stage – outside of long-shot candidates Chris Christie and Asa Hutchinson – went after him.

Haley and DeSantis said the GOP must stop arguing about the 2020 election.

"This election is not about Jan. 6 of 2021. It's about Jan. 20 of 2025 when the next president is going to take office," DeSantis said. "... Here's the thing: Is this what we're going to be focusing on going forward? The rehashing of this? The Democrats would love that."

Said Haley, "We have to look at the fact that three-quarters of Americans don't want a rematch between Trump and Biden. And we have to face the fact that Trump is the most disliked politician in America. We can't win a general election that way."

RELATED:

Photo courtesy: ©Getty Images/Anna Moneymaker/Staff