Maina Mwaura
| ChristianHeadlines.com Contributor
| Monday, May 22, 2023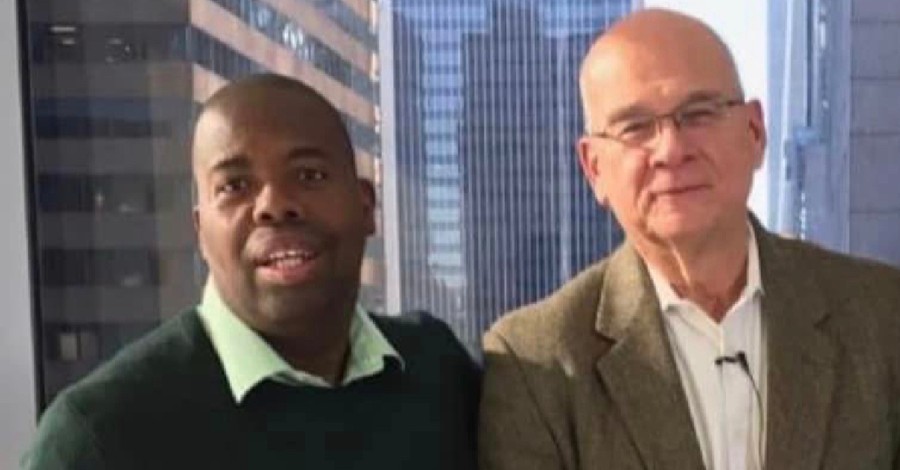 "Hi, my name is Tim Keller." Those few words would begin a seven-year friendship between me and Tim.
It seems like just yesterday I was a new journalist, with only a handful of interviews under my belt. I had decided to step out in faith to launch my journalism career just a few months before reaching out to Tim's team about an interview with the renowned pastor.
Tim took a chance on me and welcomed me into his Manhattan office to ask him questions about his new Christmas book, one I still enjoy today.
I must admit, I was nervous about the interview because, firstly, it was with Tim Keller, and secondly, the interview would be on video. I had only done two other video interviews at the time, but Tim made me and the crew that day feel like we were the only people in the room. It's strange to me, even today, that he would walk into the room telling us his name, very unassuming. This is why I think so many people liked and respected Tim. He didn't take himself too seriously in this star-struck media-driven culture. Tim seemed to have known that he was a servant of God and nothing more.
In my early days in this new role, Tim taught me to always treat people with respect and to be humble and teachable. During my time with him that December afternoon, it became clear to me that Tim wanted to know more about me as much as I wanted to learn more about him. I was deeply impressed by how he asked me and the crew in his small corner office questions about ourselves and our lives.
That one interview later turned into two. A year later, I found myself back at his office.
During my second interview with him, I called ahead to ask if I could bring a friend along with me. I learned another valuable lesson about Tim: he valued community. Tim seemed to deeply enjoy getting to know people and being around them. During my second visit with him, it was as if we picked up right where we left it with the first interview. I can still remember a friend of mine remarking about how similar he was to the man they had seen on the conference stage.
To be honest, I was shocked Tim gave me a third interview. This time, the interview was about race, nationalism and the story of Jonah. It was during this interview that I sensed Tim's heart and began to understand his concern for the Evangelical Church. Every time Tim and I were together, he would ask me questions about the issues of our day, and he seemed to care deeply about my answers. I learned from Tim that we should ask questions and be open to hearing the person out. Although I was the one doing the interviewing, Tim seemed to be the one who was really taking notes of what I was saying. I will miss how he asked and listened to what I had to say. It's a trait that we need more of in the body of Christ.
Ahead of our fourth interview, Tim had told the world that he had been diagnosed with pancreatic cancer. Although the last three conversations were special, this one meant the most to me. I can still remember Tim saying to me, "It's almost like there is no home for people like us in the body of Christ." Then he paused and said, "Heaven is our home."
Although I'm called to be neutral in my assignments as a religion reporter, it sure has gotten harder to interview and type words out without someone disagreeing and putting labels on us journalists. Tim made it easy for me to be myself around him, mainly because he seemed to genuinely care about knowing what I was going through as a man of color. Tim seemed to want to understand what people of color were dealing with and how they navigated life.
Tim was okay stepping into the culture and then challenging those around him to own their faith but also to engage in the culture around them. I cried at the end of my fourth interview with Tim because I didn't know if there would be another. I also broke down as Tim called me a friend during that interview.
My last time with Tim was five months ago. Like the other four times, Tim started off by asking me questions and catching up with me. There was a consistent theme in every conversation that we had, keeping culture front and center and deeply caring about people who are far from God. During our last time together, Tim shared that one thing keeping him up at night was the question of how people far from God would be able to connect the dots to understand salvation. Tim had many gifts, but one of the main gifts Tim had was evangelism, a gift I was given as well. During this last conversation, we spoke about the need to help the younger generation understand the power of forgiveness. Our time went over, which was normal for us when we got together. And as the clock wound down, I can remember telling Tim that I would see him again.
That won't happen in this life, but as I type my last story on Tim Keller, I can't wait to join him in Heaven and interrupt the party that he is having now. In Heaven, our time will not go over, and his faithful assistant Craig won't be able to interrupt, for we will have eternity. I'm deeply thankful for the time that Tim gave me in this life, and I will never forget to help people far from God find Jesus. Tim would have it no other way.
Rest Well, Tim.
The views expressed in this commentary do not necessarily reflect those of Christian Headlines.
Photo courtesy: ©Maina, used with permission.
---
---