Maina Mwaura
| ChristianHeadlines.com Contributor
| Wednesday, April 29, 2020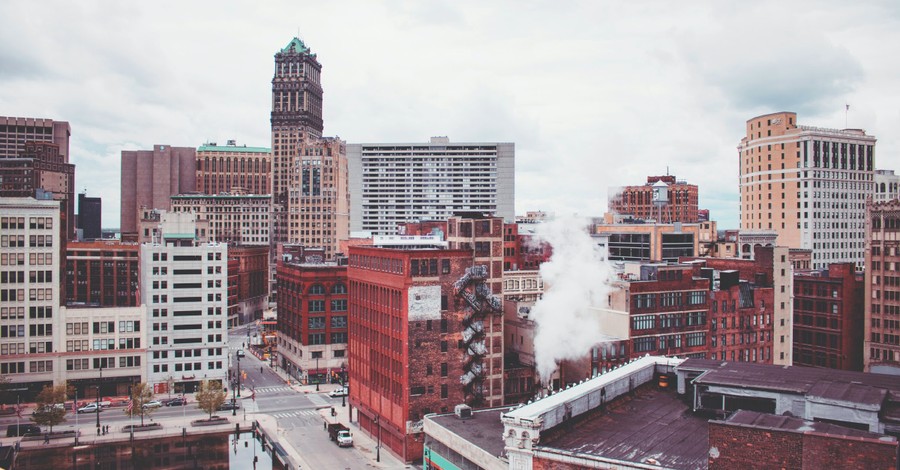 ---
Mention Detroit, and Tommy Conley's face lights up. Conley – who is a Pastor at New Way Christian Center – loves his native city of Detroit and wants others to love it too.
For Conley, Detroit isn't just his hometown, it's a place he feels called to be. Like many urban cities, Detroit has been battered by the effects of the Coronavirus.
While Conley, who has lost countless friends and two uncles in the same week, shares that his faith is still on steady ground, he would admit that there have been days of intense grief and sadness as he has watched those whom he serves struggle or even become ill.
"I've seen better days, but I also hold out hope knowing that God has a plan for all of the things that were going through," Conley shared.
The pastor told Christian Headlines in an interview that he sees himself as a servant of God and knows that he has been called to serve on the frontlines through ministry in the midst of a city's difficult fight against the pandemic.
The following interview has been edited for length and clarity.
Please tell our audience about your love and heart for Detroit?
I have always had a strong love for the city of Detroit. It was the place I was birthed, the place where my children were born, where I got married and where I found Christ. Detroit has such great traditions, we have great people, great entertainment and great food but what has always drawn me to Detroit was a need to see people's lives change for the better. Raised in a blue-collar town we had to work hard for everything. This is why I love this city, because you have to earn it every day.
When did you know that life had changed in your city due to the Coronavirus Pandemic?
I knew life changed in Detroit when I move back in August 2018, before the coronavirus. There was a difference in the people, a difference in the mentality, even a difference in how others interacted with each other. So many people whom I spoke with were beginning to lose hope in the communities with law-enforcement and even with our politicians. That's when I knew things had changed. There seemed to be a distance Within the family structure and also a disconnect with the education system I didn't remember seeing in the past. We also have dwindled in population because of the lack of resources for jobs and skilled trades. So, to be honest I noticed a change before the pandemic, however, the pandemic has caused those issues that I mentioned to worsen and brought the hurts and pains of many front and center.
From your perspective, how has COVID-19 affected the city of Detroit as a whole?
It has affected the city of Detroit tremendously. People are afraid to leave their homes now. They don't want to be around others and fear has set in in a major way. But the light at the end of the tunnel is that we are working together and doing our best to stop the spread of this virus and also to help others like never before. Our front-line people have been tremendous. Police officers, medical people, food service people transportation workers. Our city workers, our governor and mayor everyone is coming together to fight this thing together and it just shows the strength of the city of Detroit and I am proud to know this is the place where I was born and raised.
Have you experienced any personal loss because of COVID-19?
Yes, my previous Barber lost his life to this deadly virus. I've also had several former classmates succumb to this pandemic. I recently just lost two of my uncles on the same day that suffered from this coronavirus and my mom recently just got out of the hospital after battling it for several weeks. So, it has really hit the city of Detroit hard. There's a lot of hurt and pain that people are experiencing as a result of this virus.
How has your ministry changed because of the virus?
Our ministry has changed tremendously because of the virus. We no longer meet on Sundays or Wednesdays for worship service, everything has become virtual where we now meet online. What this time has done has made us re-focus and we reposition ourselves on what's important to our vision. Being active in the community has been a priority as we deal with the needs of the people. We have been serving the families in our area by giving out weekly food boxes. People are hurting in every area of life in our city.
How has your sermon preparation changed through this?
My sermon preparation really has not changed, my focus on sermon topics that I'm preaching has changed. When you're walking through something like this it makes you go deeper in the Word, while at the same time making sure that I focus on Jesus and Jesus alone.
Can you share one spiritual story of how someone in your church has grown spiritually through the pandemic?
Absolutely! I have a member who had COVID-19 for two weeks, who was on the verge of divorce before the virus. To make a long story short, after getting healed of the virus he decided to stay in the marriage and reconcile with his family. He still has a long way to go, but he's on the right road.
What has your prayer life been like through this season?
I would have to say, its way more intense and focused on the hurt and pain that I'm seeing around me daily. However, I find myself praying longer and asking God for a miracle, not for me, but those who I minister to.
How have you learned to trust God through the Pandemic?
I've learned to trust God with everything. I must admit that it's been hard, my mother just got out of the hospital and I'm her primary caregiver, so I'm living it too, so I get it. I'm having a hard time knowing that friends and church members have been lost. I have to keep looking at His word and His promises, which is what is getting me through each day.
Photo courtesy: Doug Zuba/Unsplash