Maina Mwaura
| ChristianHeadlines.com Contributor
| Thursday, June 13, 2019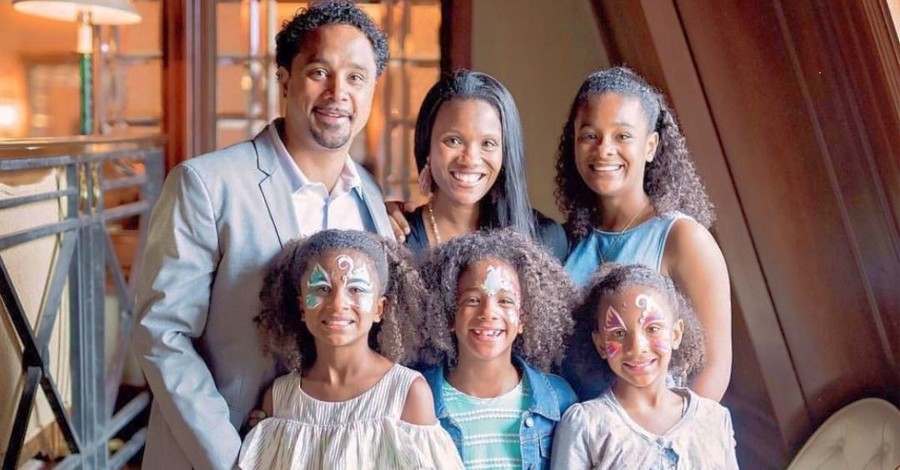 When Jonathan Pitts hit the send button on his computer the afternoon of July 24, 2018, to send the book that he and his wife Wynter had worked on, he felt a sense of relief. He can remember the day like it was yesterday. The family was in Dallas, visiting family and friends. The Pitts had just moved to Nashville where Jonathan had accepted the role of executive pastor at City Church and they were eager to begin their new life.
Four hours after sending the book to the publisher, Jonathan was faced with the overwhelming heartache of losing his wife suddenly and unexpectedly at the age of 38.
Jonathan and Wynter had been married for 15 years. Wynter—the niece of influential pastor Tony Evans—was a successful author, speaker, and entrepreneur who had overcome her own odds. Their best days were ahead of them, with four beautiful girls representing their love for one another.
In a rare interview with Christian Headlines, Jonathan speaks candidly about being a widower and brings us up to date on how he and the girls are doing.
CH: How are you doing?
JP: There's a hopefulness that I've had, even in the moments of thinking that my wife might be leaving this earth. There's a hopefulness I've had—and continue to have—because what I believe is what I believe. It's been the most difficult moment of my life. I, however, believe that for Wynter, it's the most glorious. And that's my perspective. It's a Christian perspective.
CH: Can you walk our audience through the emotional side of losing Wynter?
JP: When I was seeing my wife, my best friend and my lover, not responding medically, I felt like wanting to rise and freak out. And then, the spirit of God inside of me just said, Stay calm. It wasn't like an audible voice. I made the choice to stay calm, and that hasn't been easy. It hasn't been fun. I've had a lot of difficult moments, especially with my kids and walking with them. But I've had a hopefulness that I continue to have. I know that I'll see my wife again. She had a purpose here to serve, and now that purpose is served. God took her home.
CH: If you don't mind, can we revisit Wynter's last day and the season of life you were in at the time?
JP: We were in town wrapping up our time in Dallas. We had just sold our house in Dallas and moved into our house in Nashville. I was finishing up my last day at Dr. Tony Evans' ministry, The Urban Alternative, where I was the executive director. Wynter passed away in Dallas.
I feel like we were in the perfect place for God to take her home. Our family was in Dallas, and we had raised our kids there. We were in a season of a good transition. When Wynter passed away, I felt that maybe we should stay in Dallas, but my oldest daughter said, "Mom would have wanted us to move to Nashville." So, we did, and it has been a good place to be.
CH: What is life like being a single dad?
JP: Psalm 34:18 talks about God being close to the brokenhearted. I've come to learn that the verse means that God is there for us emotionally, but just as much to meet our tangible needs. One of the things God's done for me is bring my sister into my home. She's 41 years old, never been married, and never had kids. She had been praying for a husband and children for her whole adult life.
On the day of my wife's funeral, she walks up to me and says, "Hey Jonathan, I just want to let you know that the Lord already told me if you need me, that I'm yours. I'm there for you." I was naive enough to think that I didn't need her, so I moved to Nashville thinking that I can do this on my own. But within two weeks, I knew that I would need my sister to come help. And she has been an enormous gift to my girls and I.
CH: How are the girls doing? 
JP: I am extremely proud of my girls who are 10, 10, 12, and 15. The hardest thing as a father is walking them through the grief of losing their mother. They are all in counseling and doing well in school. All of them made straight A's in their first year in a new school after losing their mom. The community that we live in here in Franklin has been great for us as a family. A Godsend, really.
CH: What does this Father's Day mean to you?
JP: Father's Day is a reminder to me of the goodness of God. I have an amazing father who loved me well. As a dad, I've not been perfect. Far from it, really. But by God's grace, my girls still hold me in high esteem, just like I held my dad in high esteem. God is perfect, and so this Father's Day, I hold him—the perfect one—in the highest esteem. He has been enough and even more than enough for me.
Photo Courtesy: Jonathan Pitts
---
---