Maina Mwaura
| ChristianHeadlines.com Contributor
| Friday, October 18, 2019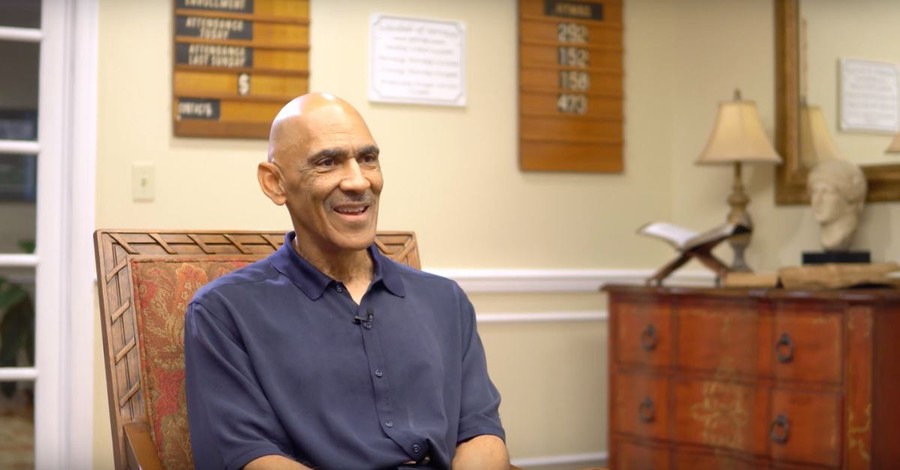 For Super Bowl-winning NFL coach and former NFL player Tony Dungy, the successes that he's enjoyed in life are all because of Jesus. "I've had a lot of roles as a student, a son, [an] athlete, coach, father, all of those, but Christ comes first and that directs everything. I think that's how I keep my balance," Dungy told Christian Headlines in a sit-down interview.
When reflecting on his life, the former NFL coach and father of ten said that sometimes he finds himself in awe of where his life has taken him. "I remember being on the sidelines, we're winning the Super Bowl and there's like a minute left and I know we're gonna win, and thinking how did I get here? How am I, from little Jackson, Michigan, how am I coaching the Indianapolis Colts and we're in the Super Bowl?" Dungy recalled.
"It really is just God's plan and his blessings and so many people kind of pouring into my life and shaping that," he asserted. 
Not only did Dungy's faith guide the trajectory of his career, but it also played a major role in his and his wife's decision to adopt seven of their children.
"My wife always wanted to adopt kids; she'd always talked about it.  She comes from a large family," Dungy told Christian Headlines.
For him, however, it wasn't until 2000 that he knew he too, wanted to adopt children. Dungy explained that he was helping one of his assistant coaches complete the adoption process when he learned that there was a backlog of kids in the city of Tampa waiting to be adopted. 
"I was shocked," Dungy exclaimed. "We always hear about people going overseas and waiting three years to adopt, and she (an adoption agency worker) said, 'no, we had kids who we're trying to place in Christian homes and we don't have enough parents.'"
As a vocal pro-life advocate, Dungy was struck by how little help was offered after mothers contemplating abortion, chose to complete their pregnancies. He said, "My wife and I, you know, had always talked about being pro-life. My wife was going to crisis pregnancy centers and we're talking about the sanctity of life and urging women not to have abortions and then I find out, okay, this is happening. Now they make that good decision and nobody's there on the back end to pick these kids up. That just didn't seem right to me and we felt like we could do something about it."
For Dungy, it was a no brainer. Once he heard these words, he knew that he and his wife were being called to adopt. 
The Dungy's adopted their first son, Jordan, who is now 19-years-old, in culinary school and doing well.
The former NFL coach recalled that bringing Jordan home "was special." 
He said, "It ended up being, just, so unique because he had physical challenges.
"He was born with a congenital defect and as we started learning more about it and taking him to the doctors, we just really believed that God brought him to us."
Dungy noted that God blessed them with the means to be able to provide the best doctors and the best care for their son. Seeing how much of a God moment Jordan coming into their lives was, Dungy and his wife knew that they wanted to welcome more kids into their family. He said, "To know that God brought that together and put him with us, that kind of led us to do the other ones. We said, 'you know this wasn't an accident.'"
As a father, Dungy hopes to instill the love of Christ in his kids. He told Christian Headlines, "My job as a dad is to point my children to the Lord and everything else in life will take care of itself."
Today, when Dungy is not running around with his kids to piano lessons and sports practices, he is a sports broadcaster and author. Dungy has written dozens of books on teamwork and leadership including Uncommon, Quiet Strength and The Mentor Leader.
Dungy's newest book, The Soul of a Team, tells the story of a fictional NFL team looking to turn their season around. The book points out the common issues that hinder a team's success and writes out a plan for good teamwork.
Watch the full interview below:
Photo courtesy: Settle Video Productions
Video courtesy: Settle Video Productions
---
---