Maina Mwaura
| ChristianHeadlines.com Contributor
| Monday, November 16, 2020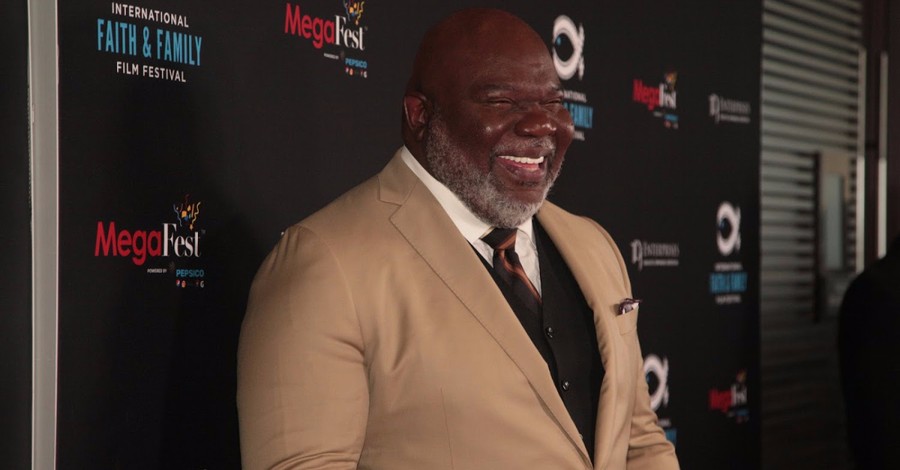 When you say the name Bishop TD Jakes, many people may first think of his popular 2006 book, Woman Thou Art Loosed. Jakes, who is influential in American Evangelical culture, has been called to minister to people and speak into their lives where they need ministering to the most. In his new book, When Women Pray, Jakes works to assure women that God speaks to them right where they are in life and answers their prayers. In his new book, Jakes tells the story of ten women throughout the Bible whose prayers were used to bring about change in their circumstances. He believes women can tap into scriptures through prayer today to bring about the change and freedom that they may need in today's culture. In an interview with Christian Headlines, Jakes is clear that prayer makes a difference. Jakes asserts that just like prayer worked for the ten women he profiled, it can also work for us.
This interview has been edited for clarity and length.
1. How did the idea of the book come into play?
I was inspired to write the book, having come from a lineage of praying women whose lifestyles helped shape mine. Additionally, having created the largest gathering of (predominantly but not exclusively) Black women in the country through my annual signature conference "Woman Thou Art Loosed," the sound of tens of thousands of women praying in a stadium has never left my ear. It left an indelible impression that's badly needed at this time. I think the book will inspire women from all backgrounds. I think it will inspire men also.
2. Why is prayer important?
One of the things the writer of Philippians does is to associate prayer with anxiety. In the King James Version, it says "be anxious for nothing." In another version, the Darby translation, it says "be careful about nothing." These are times of great anxiety. The intersection of the exploding pandemic, joblessness, food shortages and political chaos creates anxiety for all people. If we turn toward our "better angels," our sense of human compassion, our desperate need of divine assistance, we will find sustainability through supplication.
The rest of that verse in Philippians says, "but in everything by prayer and supplication, with thanksgiving, let your requests be made known to God; and the peace of God, which surpasses all understanding, will guard your hearts and minds through Christ Jesus." If ever there was a time we needed peace, it is now.
3. How did you decide, what women in the book you were going to focus on?
It was very difficult to choose only 10 because so many women have had so many impactful roles in scripture. Then as now, their roles were not highlighted. I selected 10 women to represent the entirety of women who helped to shape the continuity of our faith. They affected the worlds they lived in and they continue to affect change today.
4. How do we find our identity in Christ through prayer?
I think that what prayer does is create a deeper relationship with Christ. Without prayer, we are left with religion, but Jesus died so that we might have more than religion and might have a relationship with God. In pursuit of a relationship with God, we get a much clearer understanding of who he is and who we are in him.
5. How does prayer help us in today's challenging times?
I think that most of us feel almost as if our world is spinning out of control. Our stables and traditional worlds have been shattered, and that alone is traumatic. Our norms have been shattered. Our systems have been shaken and our own well-being has become more vulnerable. But prayer anchors us. It enables us to face the vicissitudes of life, more assured that there is someone in charge beyond ourselves. Many of us have been wrestled by uncertainty to a place of humility! We are people who seek, ask and pray. The rest have arrogantly succumbed to familiar rhetoric for comfort, avoiding truth because our arrogance will not admit our limitations and insufficiencies.
6. What has the quarantine season been like for you?
It has been challenging. I am an extrovert by nature. So being an extrovert in isolation is a form of anguish all by itself. Also, it's been challenging to steer our staff of about 300 people through the loss of our norms and becoming comfortable with being uncomfortable. The biggest challenge has been staying connected with our members. Technology is a wonderful thing, but it does not replace the human touch. Because people of color have been disproportionately affected by health disparities and impacted by COVID, I have been almost overwhelmed by people who have died from the virus, families of people who have died from the virus and those made ill from it. Conducting funerals has been challenging. Consoling family members who didn't have the opportunity to be in the same room with loved ones has added to the anguish. Escalating suicides and escalating incidents of domestic violence have made it more difficult to bring peace to a troubled world.
7. Do you think our country/culture will get through the tough times, that we find ourselves in?
I remain hopeful that good people will always triumph over evil. I remain hopeful under the tutelage of our history that we have and can overcome tough times. I am not as concerned about our survival as I am the rate of people who survive and about minimizing the number of casualties emotionally, spiritually and maritally that are a result of the pressure of the times we are in. Prayer changes the hearts of people and people change policies and policies change the culture as we seek to develop new norms. I don't expect to get back to what was but to evolve into what's next. Nothing this massive can happen and we return to the familiar. We must therefore be prepared to embrace change.
8. How did the book minister to you?
I think it reminded me that prayer is not only a form of communication with God but therapeutic for a troubled mind and soul. I think it helped to stabilize my own emotions and feelings of despair over what I see in the news and experience during this time. It renewed my commitment to anchor myself in prayer and reminded me that in spite of the many threats we face as a people, ultimately, we will arise.
9. Did you say everything that you wanted to say in the book?
The thing I have learned about writing books is that it's an ongoing conversation with your generation. At some point you just pause. Every day you learn something new. I have never finished a book with a feeling that it ended. But I decided to end where I did because of the fierce urgency of our times. I see so many troubled people and this book is a clarion call to include prayer in our daily routine. I will not be finished until he is finished with me. The end of the book is merely a comma to an ongoing pursuit of truth. My last breath will be my period.
Photo courtesy: ©Getty Images/Peter Larsen/Stringer
---
---