Maina Mwaura
| ChristianHeadlines.com Contributor
| Monday, November 4, 2019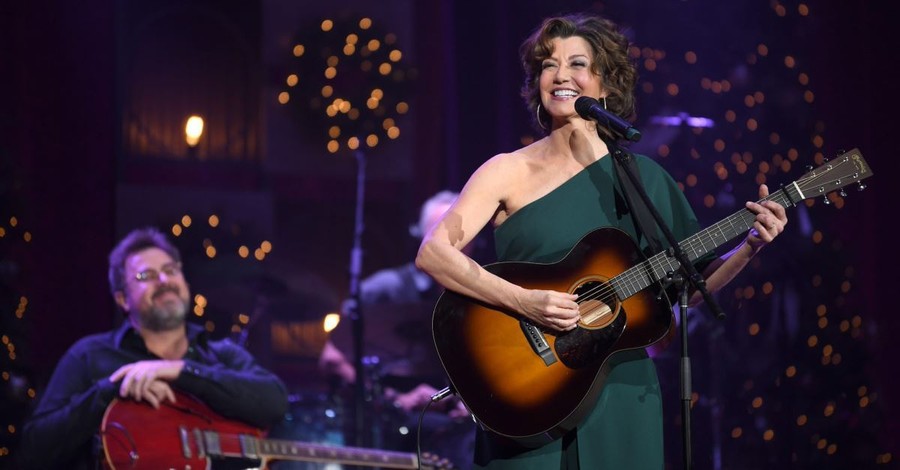 ---
Although she's constantly playing different roles and working on new projects, singer and songwriter Amy Grant holds herself with a calm demeanor. The woman who has released countless number one hits and has won awards in every major music category is thoughtful and calm. 
Currently, Grant is preparing to embark on her annual Christmas tour with Christian music artist Michael W. Smith and her husband, country singer, Vince Gill. Grant told Christian Headlines in an interview that touring is something that she enjoys doing each year and it never gets old for her.
"Christmas is the one time of year where people seem to make the effort to come together," Grant told Christian Headlines. This is just one reason why she loves using this season for missions and outreach, particularly through her music.
Grant is passionate about God's calling on her life to use music to serve him and others. "Whether someone is in a family that looks perfect or is falling apart music can help people in any season they're in," Grant shared.
Another reason the award-winning singer loves being on tour during the Christmas season, is what it offers families. 
"I love families getting together and enjoying one another, which is one of the things that I love about going on tour during the Christmas season," she said.
This year, Grant, too, is in the middle of a changing family dynamic. As she is busy preparing for her annual Christmas tour, she is also helping her daughter plan her wedding. 
When asked how she is balancing everything, Grant quickly asserted that it's all about "remain[ing] present in every situation." 
Many might be overwhelmed by the prospect of having to plan a wedding and a tour at the same time, but Grant assured Christian Headlines that she is simply excited about this season of life. 
There are not many artists in the Christian Contemporary music field who have remained relevant as Grant has. When asked what she thinks of the music career she's had, there is a pause in her voice as she answers the question. "When I think about my career and the songs I've written and sung, I think of moments in my life that I was going through at the time of those songs," she said. 
"Everybody probably thinks that their life has flown by, but for me, I have songs that remind me where I was at certain points in my life," she added. "Music has helped me capture and freeze so many moments in time in my life throughout my career." 
Grant is thankful for her career and is careful not to take it or her fans for granted.  
To show her appreciation to her fans, each Christmas Grant performs a free concert for them. Grant finds it particularly important to perform for her fans around Christmas time as she knows for some the season can be quite difficult. "I know that for some people that there is pain in the music during the Christmas season," she told Christian Headlines. This is why the singer thinks it is so important for everyone to unplug on occasion and simply spend some time with God. "I think sometimes we have to turn off the phones and screens in our life to remind ourselves that Emmanuel is with us," she said.
Grant's dedication to her fans is possibly why they have been loyal to her.
Christian Headlines also asked Grant about her thoughts on Kirk Franklin's recent decision to boycott the Gospel Music Association, Trinity Broadcasting Network and the Dove Awards. Franklin announced that he would be boycotting the organizations after his Dove Awards' acceptance speech was edited to omit a prayer request for 28-year-old Atatiana Jefferson who was babysitting her 8-year-old nephew when she was shot and killed by a police officer in her home. 
Grant told CH, "I was there the night that Kirk spoke, and it was powerful, and I feel terrible for all involved." 
Grant also went onto say that she felt sympathy for her friend Jackie Patillo, president of the Gospel Music Association, whom she ran into a week after the Dove awards.  Patillo has issued an apology and stated that there were missteps.
Grant emphasized that amid the controversy, there is something that should not be lost – Franklin's message. She said the words that Kirk spoke at the Dove Awards show need to be taken to heart by all. Grant is adamant that as people of faith, we must come together and stand against racism and bigotry.
To get tickets to Grant's Christmas tour visit her website.
Photo courtesy: Getty Images/Jason Kempin/Staff