Lori Arnold
| ChristianHeadlines.com Contributor
| Tuesday, February 25, 2020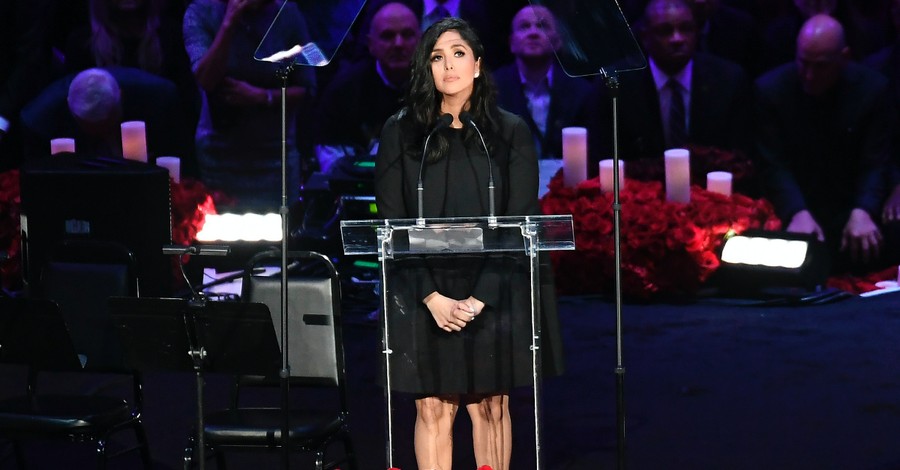 ---
Standing in a darkened arena before 19,000 people, Vanessa Bryant took center stage Monday at a place her late husband, Kobe, mastered for 20 seasons as a superstar guard for the Los Angeles Lakers.
While he scored with his deft ball-handling, she scored the admiration of those quietly gathered in the Staples Center—and millions more watching worldwide through live streaming—as she courageously dodged her own grief in tribute to Kobe, 41, and their daughter, 13-year-old Gianna, who were killed along with seven others in a Jan. 26 helicopter crash. The entourage was heading to a youth basketball tournament in Calabasas, Calif., when the helicopter slammed into a hillside. Heavy fog draped the region at the time of the crash.
"They were funny, happy, silly and they loved life," the grieving wife and mother said. "They were so full of joy and adventure. God knew they couldn't be on this earth without each other. He had to bring them home to heaven together."
During her tribute—the first in a two-hour ceremony that featured world-class athletes, entertainers and music by Beyoncé—Bryant shared private family details from a very public figure, who in the days since his 2016 retirement, took to coaching Gianna, who went by Gigi, and mentoring other young athletes. He also was involved in numerous business ventures including films and content production for ESPN. He won an Academy Award in 2018 for "Dear Basketball," an animated short film, which chronicled his relationship to the game. But, Bryant said, it was his family that mattered most.
"Kobe and Gigi naturally gravitated toward one another," she said. "She was an incredible athlete. She loved to swim, dance and jump into the pool. She was our shepherd and always kept our family together. She was a nice person, leader and teacher. I miss her sweet kisses, smile and burst of laughter. No act of kindness is ever too small to make a difference in someone's life. I miss you every day and I love you."
Gianna loved to bake and watch cooking shows. She knew Mandarin and Spanish. Her favorite entertainment was watching NBA games with Dad and Disney movies with her sissies.
"She was daddy's girl, but I know she loved her momma," Bryant said. "Her smile was like sunshine, taking up her entire face. She had my fire, personality and sarcasm but tender and loving inside. It was pure and genuine."
In a testimony to second chances, Bryant shared about the power of their relationship, which appeared to have transcended a rocky point that nearly ended in divorce. Kobe also admitted to an affair and faced a rape allegation that was later dropped.
"He was my sweet husband, and the beautiful father of our children," his widow said. "He was mine. He was my everything. ... I was his first girlfriend, his first love, his wife, his best friend, his confidant and his protector."
She told the crowd that Kobe once gave her the actual notebook and blue dress from the movie, The Notebook, for their anniversary. "When I asked him why he chose the blue dress, he said it was the scene when Allie comes back to Noah. We had hoped to grow old together like the movie."
Among those also speaking at the memorial were NBA greats Michael Jordan and Shaquille O'Neal, Los Angeles Mayor Eric Garcetti, late show host Jimmy Kimmel and Los Angeles Lakers General Manager Rob Pelinka.
"Even in the valley of loss, we will somehow find a way to have joy," Pelinka said. "Gigi was everything in the world that was good, love and grace and like her dad, her life was about blessing others. Their light is eternal, we will never have to live in the darkness again. One day we will be in heaven again and it will be forever."
Jordan spoke about the big brother role he took with Bryant, who often texted Jordan for advice at odd hours of the day.
"He was trying to be a better person, business, player, family everything ... he was just trying to be a better person," Jordan said. "We could talk about anything that is related to life. I admired his passion, trying to improve each and every day. When Kobe died, a piece of me died. I will live with the memories of knowing that I tried to help in every way I could. Rest in peace little brother."
Proceeds from the invitation-only memorial will benefit the Bryant family's sports foundation, which provides opportunities to young people through sports.
Photo courtesy: ©Getty Images/Kevork Djansezian/Stringer
---
Lori Arnold is a national award-winning journalist whose experience includes 16 years at a daily community newspaper in San Diego and 16 years as writer-editor for the Christian Examiner. She owns StoryLori Media and is a member of the Evangelical Press Association.