5 Takeaways from Day One of the Impeachment Hearings against President Trump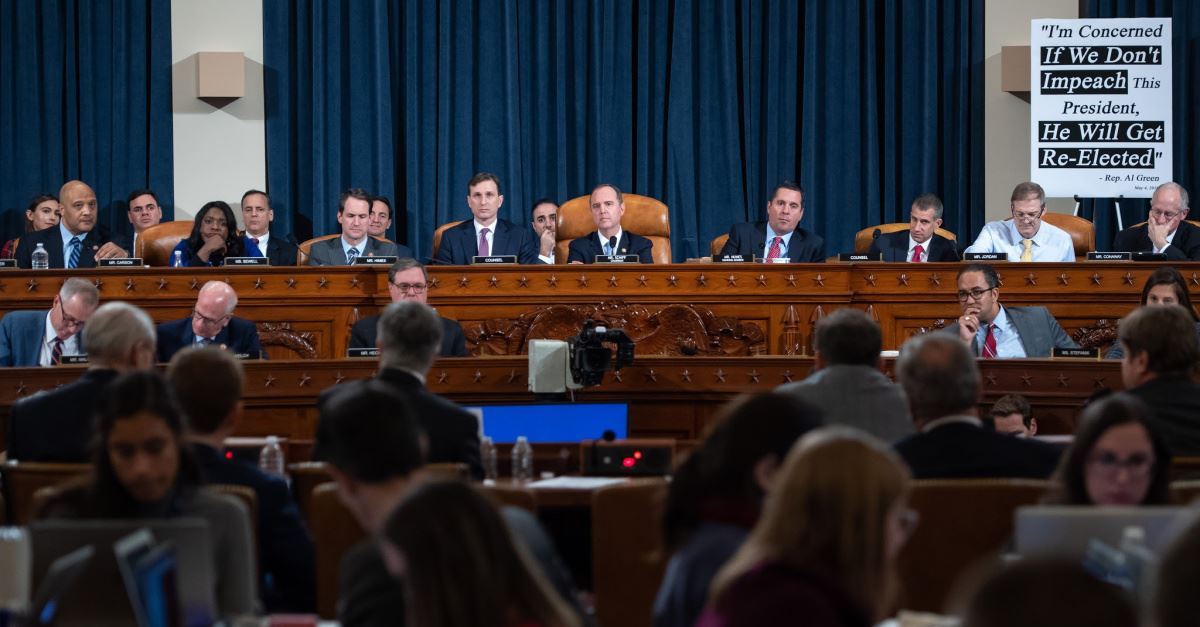 After weeks of sequestered testimony and rampant speculation, the House Intelligence Committee on Wednesday held its first public hearings related to the impeachment inquiry into President Donald Trump over his dealings with Ukraine.
The hearing involved testimony from two top diplomats, Bill Taylor, acting U.S. ambassador to Ukraine, and George Kent, deputy assistant secretary at the State Department. The hearings resume Friday with testimony expected from former U.S. Ambassador to Ukraine Marie Yovanovitch, who was ousted from her position in April.
Here are five takeaways from Wednesday's session:
Photo courtesy:Getty Images/Pool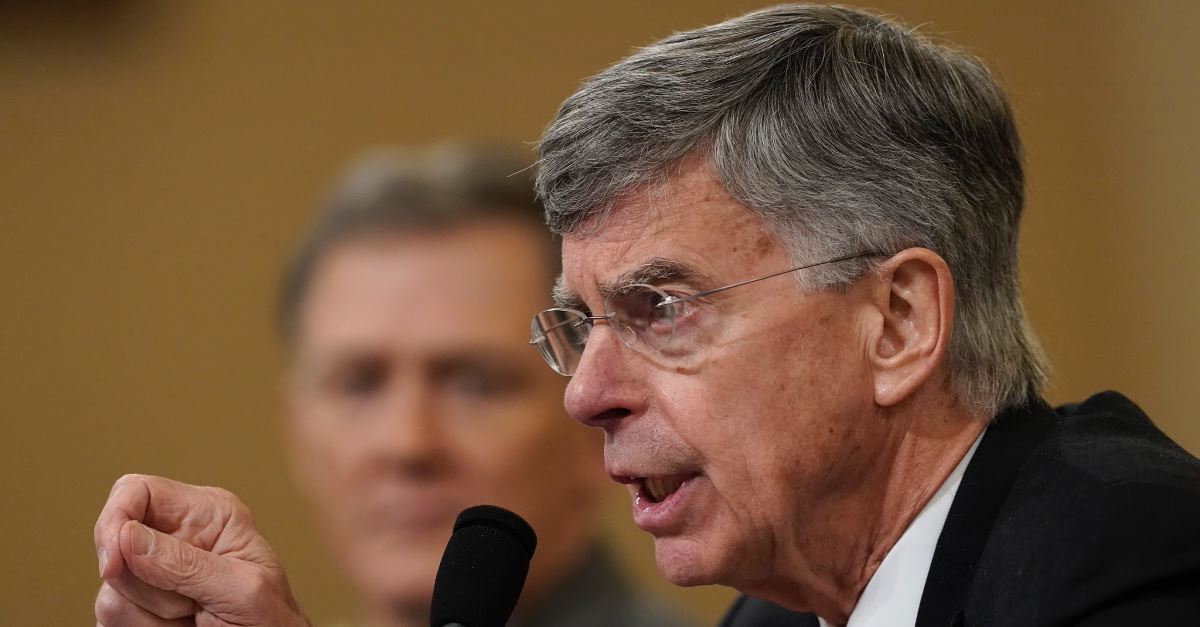 1. President Trumps Conversation with U.S. Ambassador to the European Union
Bill Taylor, acting U.S. ambassador to the Ukraine, offered new information during his opening statement Wednesday, testifying that one of his staff members overheard a July 26 phone call between President Trump and Gordon Sondland, the U.S. Ambassador to the European Union. Taylor's aide said that during the ambassador's call with Trump, the president could be heard asking about "the investigations." The aide later asked the EU ambassador what the President's views were on Ukraine, leading Sondland to reply, "President Trump cares more about the investigations of Biden."
The exchange between the president and Sondland came a day after the highly publicized phone conversation between Trump and Ukraine President Volodymyr Zelensky, which launched the impeachment inquiry.
Taylor told the committee he was unaware of the Trump-Sondland call when he originally testified behind closed doors on Oct. 22 and was adding it to the record now.
Democrats said Taylor's testimony offered further proof that Trump was attempting to pressure Ukraine to interfere in a U.S. election.
Photo courtesy: Getty Images/Win McNamee/Staff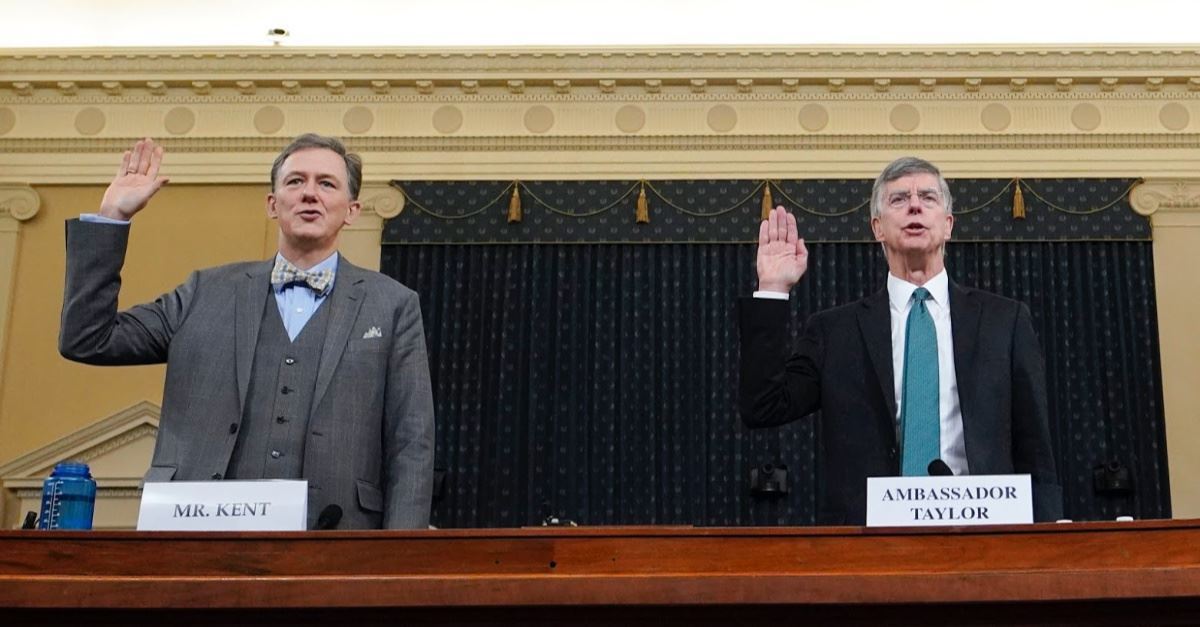 2. Kent and Taylor Testify Rudy Giuliani Was Attempting to "Dig Up Dirt"
U.S. Rep. Val Demings, D-Fla., questioned Kent and Taylor about the agenda of Trump's personal attorney, Rudy Giuliani. She asked whose interests Giuliani was pursuing in his conversations with Ukrainian officials.
"I believe he was looking to dig up political dirt against a potential rival in the next election cycle," Kent responded.
"I agree with Mr. Kent," said Taylor.
Kent later went to call Giuliani's actions "wrong."
Photo courtesy: Getty Images/Pool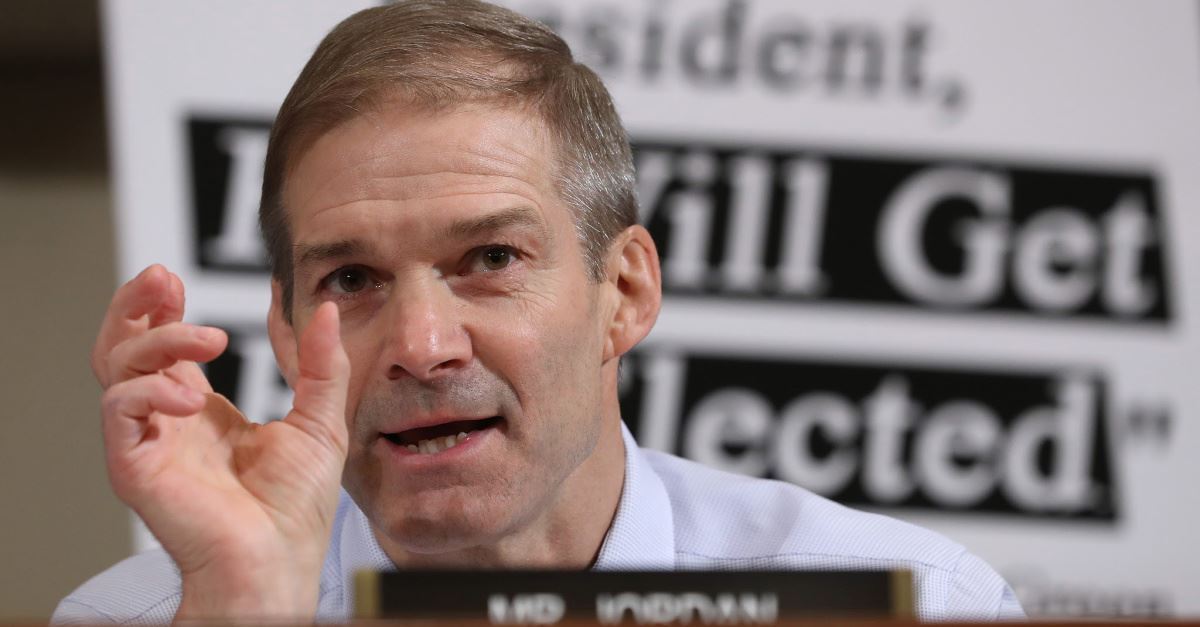 3. Republicans Question "Hearsay" Testimonies
Throughout the hearing, Republicans continued to object to the use of second- and third-hand testimony, adding that Taylor and Kent had not discussed the issue directly with Trump or Giuliani, who was acting as the president's point man for the Ukraine discussions.
"We've got six people having four conversations in one sentence," a frustrated Jim Jordan, R-Ohio, testified at one point.
Outside the hearing room, Giuliani responded to the testimony by tweeting that the entire testimony should be scrapped and expunged.
"Schiff's two star witnesses don't have any facts, only opinion," Giuliani wrote. 
"No firsthand knowledge, only second, third.
"The testimony should be stricken from the record.
"Neither could identify a crime or wrongdoing, not even an opinion about that. This is falling apart on the 1st day."
Photo courtesy: Getty Images/Chip Somodevilla/Staff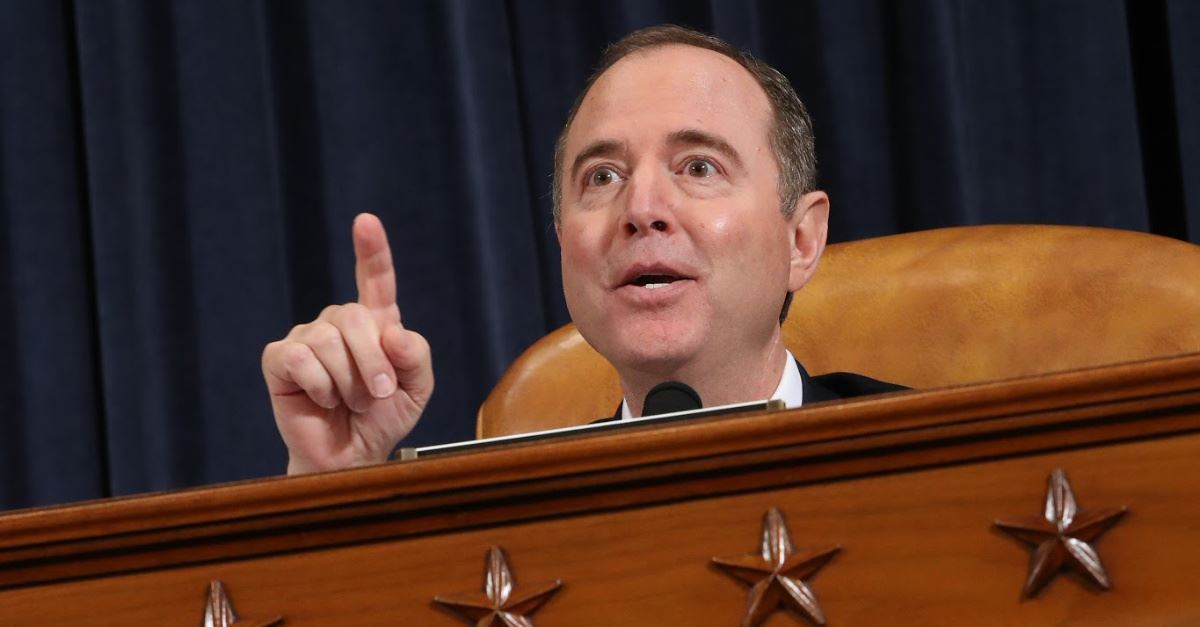 4. Schiff Continues to Protect Whistleblower
At one point during the hearing, Republicans sought out the name of the whistleblower who set the wheels in motion for the impeachment inquiry after expressing concerns about Trump's July phone call with President Zelensky, but the request were nixed by Democratic House Intelligence Committee Chairman Adam Schiff.
Rep. Jordan said shielding the whistleblower unfairly blocks lawmakers and the American public from being able to gauge his credibility, motivation and bias.
"The American people see through all this," Jordan said. "They understand this is unfair."
Jordan's comments prompted a jab from Rep. Peter Welch, D-Vt., who pledged the committee would welcome testimony from the person who prompted the investigation.
"President Trump is welcome to come in and take a seat," Welch said, as laughter rang out in the hearing room.
Following testimony by Taylor and Kent, committee member Mike Conaway, R-Texas, introduced a motion to force the whistleblower to testify, which failed to pass, with 13 Democrats voting against the motion and 9 Republicans voting for it.
Photo courtesy: Getty Images/Chip Somodevilla/Staff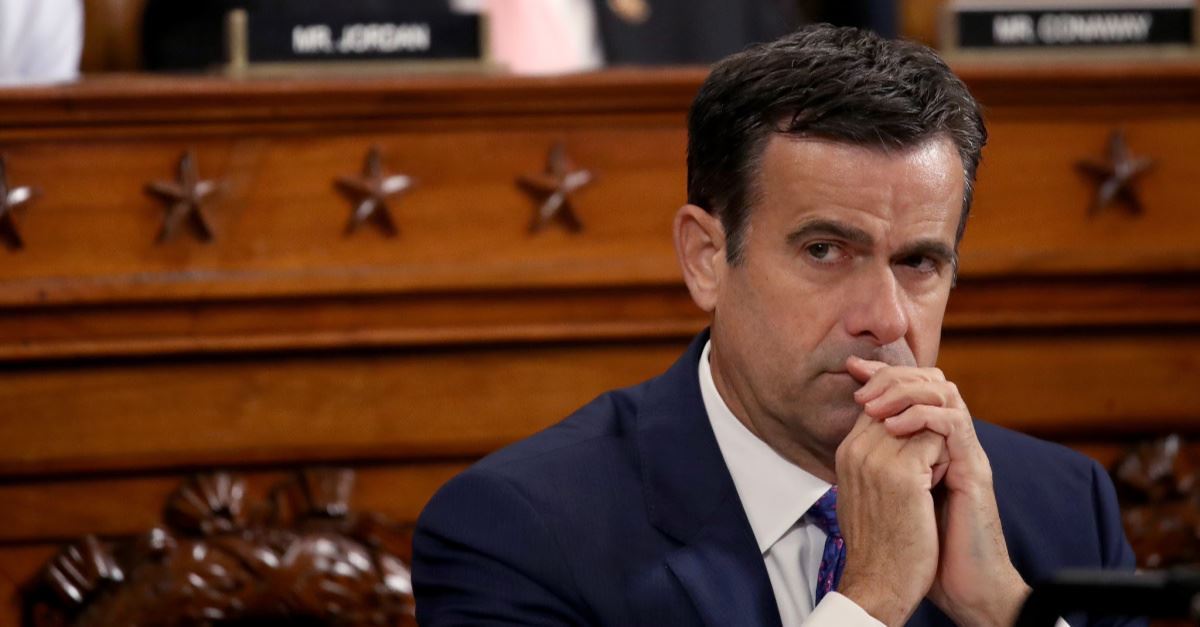 5. Republicans Argue There Was No Evidence of Quid Pro Quo
During testimony by Taylor, Rep. John Ratcliffe, R-Texas read several quotes by Zelensky, in which the Ukraine president insisted he was not pressured by Trump, meaning there was no quid pro quo.
In September, while sitting next to Trump at the United Nations General Assembly, Zelensky declared "nobody pushed me" to open the investigations requested by the U.S. president.
"It's not hearsay, it's not what someone overheard what Sondland said, that was his direct testimony," Ratcliffe said of Zelensky.
Further, Ratcliffe said, the military aid was still released.
"He didn't open the investigations, he didn't call Attorney General Bill Barr," the Congressman argued. "He didn't do anything because he didn't have to."
Photo courtesy: Getty Images/Drew Angerer/Staff
---